This minimalistic gadget transforms any bike into smartphone-powered smart bike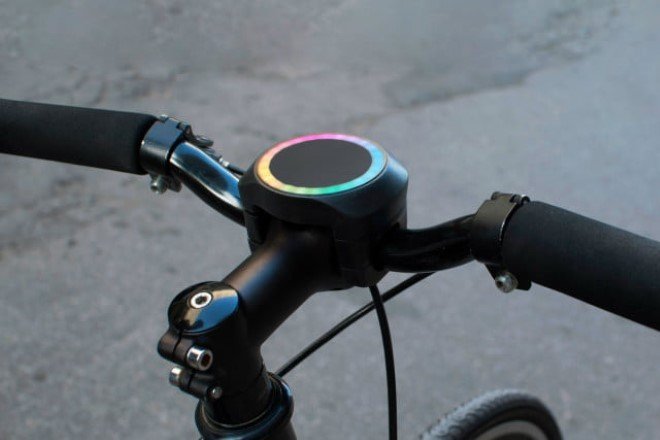 Even with all these fancy fast cars out in the market, many prefer to bike. Why? Because it keeps you fit, it releases you from the fear of getting stuck in traffic, and it's fun. However, many wish that the cycle had more to offer in terms of features since it is quite basic.
Well, this century is all about making peoples' wishes come true so how could this particular desire go unnoticed. The SmartHalo is everyone's dream bicycle accessory – don't believe me? Check out the amount of funds it has raised on Kickstarter!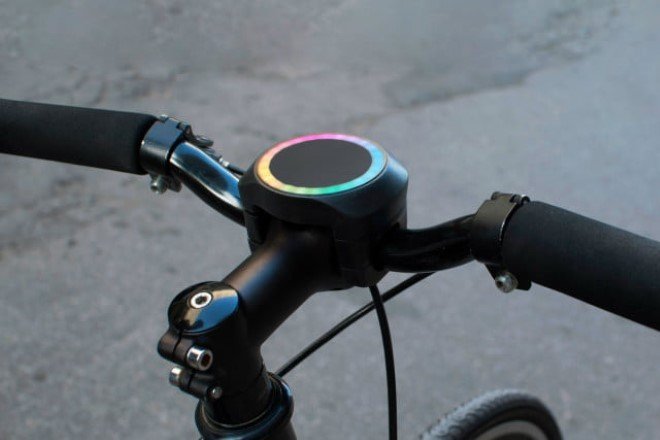 Image: © SmartHalo
So, what is this SmartHalo? It not only consists of low energy LEDs but also crypto-authentication, a gyroscope, accelerometer, and magnetometer. Moreover, it can also connect to your phone via BLE. The SmartHalo is a product of CycleLabs – a group of urban cyclists that truly understand the needs of a rider. While developing this accessory, they adopted the KISS approach i.e. keep it simple stupid or keep it stupid simple. Basically, it is a little circular tracker, alarm, navigator and light as well as a friendly assistant that tells you about the weather forecast and literally begs you to pull over when you're getting a call (that's so cute!).
Image: © SmartHalo
The fundamental feature this SmartHalo offers is that of navigation. All you need to do is enter your destination on your smartphone, be it iOS or Android, and the SmartHalo takes over from there. It directs you through its circular light which looks like a rainbow halo. Moreover, it is weather-resistant meaning you don't have to worry about it getting wet!
Recommended for you (article continues below)
If you are one of those people who forget where they parked or can't spot their bike in a parking full of bicycles, then the SmartHalo is what you need as it gives the exact location of your bike. Similarly, the SmartHalo also works as an automatic tracker that not only measures speed but also the distance travelled and the elevation. The coolest feature is that you don't have to turn the tracker off, it automatically shuts down by estimating the proximity between you and the SmartHalo in unification with the accelerometer. Same goes for the accessory itself, the SmartHalo shuts off when you are done cycling.
Image: © SmartHalo
This isn't it. The SmartHalo is actually smart; it automatically turns on the 250-lumen front light once it gets dark! According to the team's estimation, the 2000mAh battery can last for three weeks of regular cycling. Once it drains out, you can easily charge it with a USB.
What makes this device better than all others is that you don't have to worry about someone stealing it off your bike as it binds with the cycle bars with a military-grade locking system. There is a special key for the lock so the thieves will have a hard time trying to unlock it without the crypto-authenticated key. Similarly, if someone tries to mess around with your bike, the Bike Defender system comes into play by setting off an alarm. It will continue ringing until you reach the crime scene!
Image: © SmartHalo
Surprisingly the SmartHalo isn't as expensive as we thought it would be, it costs only $100 provided you order early as it is for $150 otherwise – still not too bad! If you're an avid cyclist, I'd recommend you to get your SmartHalo ASAP!
h/t: Tree Hugger