The world smallest computer is tinier than a rice grain and can help fight caner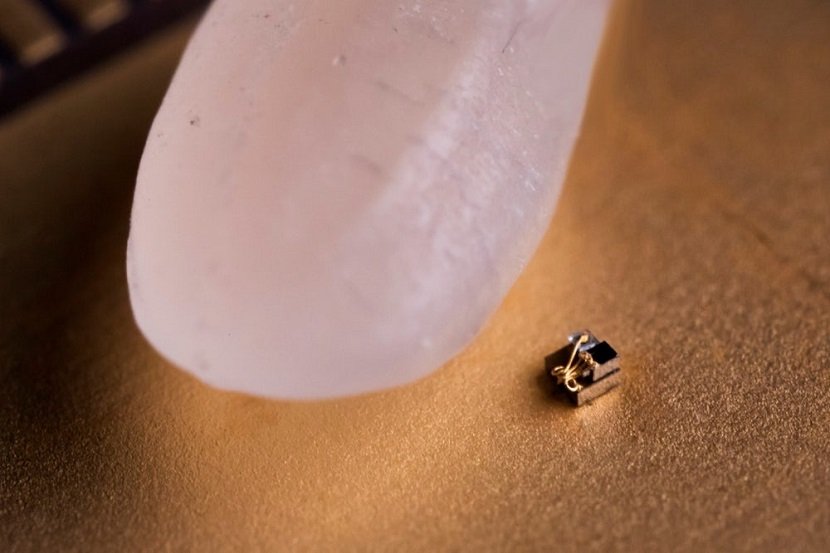 Back in March, IBM unveiled a sand-grain-sized device which became the world's smallest computer. However, the title couldn't stay with them for long as University of Michigan has come up with a 0.3mm (0.01 inch) cube that they identify as a computer which is reported to be ten times smaller than IBM's invention.
This tiny device has a photovoltaic power system, a processor, RAM and a wireless transmitter and receiver that communicates using rhythms of light. Coming towards the operating mechanism of this device, it obtains its energy in the form of light beamed by a base station. The chip powers up and sends data back to this base station using a transmission LED. While many might deem this as foolish, considering both power and data rely on light, the team at University of Michigan has thought it through by incorporating switched capacitors instead of light-sensitive diodes.
As for its application, the tiny computer can act as a precision temperature sensor, monitoring and measuring changes in regions as small as cells with an accuracy of 0.1° C. In order to do so, the device converts temperatures into time intervals and then compares these temperatures with a steady time interval transmitted to the chip by the base station. This technology can be useful to detect and treat cancer. Yes, cancer. Wondering how? According to research, cancer cells have a higher temperature than normal cells which means that this device can detect the anomaly. Gary Luker, a member of the projector, said, "Since the temperature sensor is small and biocompatible, we can implant it into a mouse and cancer cells grow around it. We are using this temperature sensor to investigate variations in temperature within a tumor versus normal tissue and if we can use changes in temperature to determine success or failure of therapy."
Recommended for you (article continues below)
Many are sceptical about this device's identification as a 'computer' as the device loses all its data when the power is drained. This also raises questions about its functionality in the human body as it derives its energy from an external base station. Lead developer, David Blaauw explained, "We are not sure if they should be called computers or not. It's more of a matter of opinion whether they have the minimum functionality required."
Whether it is the world's tiniest computer or not, it surely is a promising technology for biomedical diagnosis and monitoring. We wish the team the best of luck because we surely want to see a cancer-free world!
The research was presented at the 2018 Symposia on VLSI Technology and Circuits recently.
Source: University of Michigan (via: New Atlas)