All You Need to Know About Tesla's Model S

Image Credits: Tesla
The first version of the Tesla Model S came out on June 22, 2012, and through over fifteen iterations, it has evolved significantly. From the first-ever 40kWh model which went from 0 to 60mph in 6.5 seconds and had a range of 139 miles (224km), Tesla managed to achieve a range of 400 miles (644km) and hit 0 to 60mph in less than two seconds with their most recent models.
Recommended for you (article continues below)
Safety Measures on the Tesla Model S
The Model S achieved five-star ratings from the National Highway Traffic Safety Administration (NHTSA) and the European New Car Assessment Program (EuroNCAP), but a few fires and a fatal accident involving the vehicle lead to an uproar regarding its safety.
Elon Musk reassured the public about the Tesla's safety by stating on the website:
The nationwide driving statistics make this very clear: there are 150,000 car fires per year according to the National Fire Protection Association, and Americans drive about 3 trillion miles per year according to the Department of Transportation. That equates to 1 vehicle fire for every 20 million miles driven, compared to 1 fire in over 100 million miles for Tesla. This means you are 5 times more likely to experience a fire in a conventional gasoline car than a Tesla!

For consumers concerned about fire risk, there should be absolutely zero doubt that it is safer to power a car with a battery than a large tank of highly flammable liquid.
Musk said, "While we think it is highly unlikely, if something is discovered that would result in a material improvement in occupant fire safety, we will immediately apply that change to new cars and offer it as a free retrofit to all existing cars."
He also said that "to reinforce how strongly we feel about the low risk of fire in our cars, we will be amending our warranty policy to cover damage due to a fire, even if due to driver error." This will be valid "unless a Model S owner actively tries to destroy the car," he said.
The exterior which greatly contributes to the Model S's safety is the same as other Tesla Models; a large crumple zone due to the absence of an engine, rigid structure, and a floor-mounted battery pack which minimizes rollover risk.
The notable safety features of the Tesla sedan include standard automated emergency braking, standard lane-departure warning, and available adaptive cruise control with semi-autonomous driving mode.
Tesla's Autopilot feature makes use of several cameras, multiple sensors, and radars to detect objects, people, and other vehicles. This includes the Auto Park and Auto Lane Changing features as well as optional features such as Navigation and Summoning. Unfortunately, Tesla's autopilot feature isn't completely autonomous yet and must be used within the driver's supervision.
Tesla Model S Specifications and Features:
Wheelbase: 116.5 in (2,960 mm)
Length: 195.9 in (4,980 mm)
Width (excluding mirrors): 77.3 in (1,964 mm)
Width (including mirrors): 86.2 in (2,189 mm)
Height: 56.5 in (1,440 mm)
Buyers can choose between five colors for their vehicle's exterior, including Pearl White Multi-Coat, Midnight Silver Metallic, Solid Black, Red Multi-Coat, and Deep Blue Metallic.
The Tesla Model S has automatic door handles that pop out when approached and retract once the door closes. Although they do look quite fancy, they cost Tesla a lawsuit claiming that they caused a man's death.
The Model S has room for four to five passengers. Inside the sedan are two displays; one behind the steering wheel and a 17-inch central touch-screen. The central screen conveniently controls all the settings of the vehicle. The sedan also has a custom audio system with 11 speakers.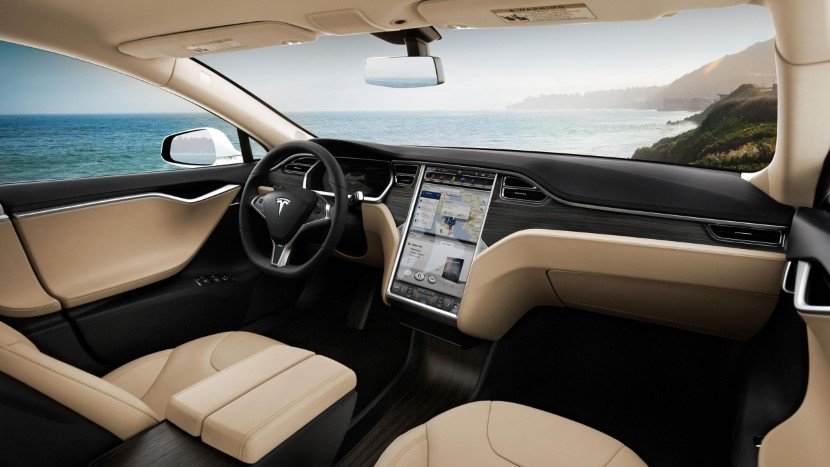 The steering wheel also has two different settings which allow drivers to choose heavy or light steering effort. The sedan has a glorious all-glass roof which offers a seamless view of the sky.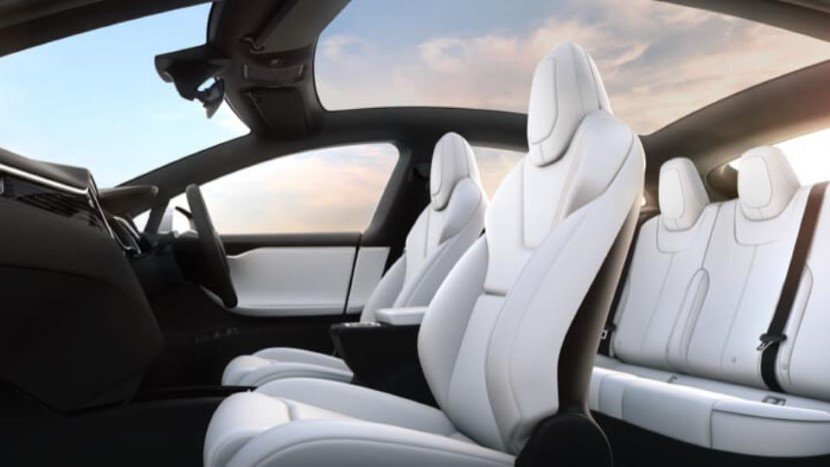 Cargo and Towing Capacity
The Model S has a cargo capacity of 28 cu ft, but towing options have not been mentioned on its website. On the Tesla Info site, it has been stated that "Tesla do not offer a towing option for the Model S, or offer a tow hook or tow hitch. Tesla did not even submit the car for "type approved" for towing and therefore it is generally considered against law to do so."
The Tesla Model S comes with 19" Tempest Wheels and 21" Sonic Carbon Twin Turbine Wheels.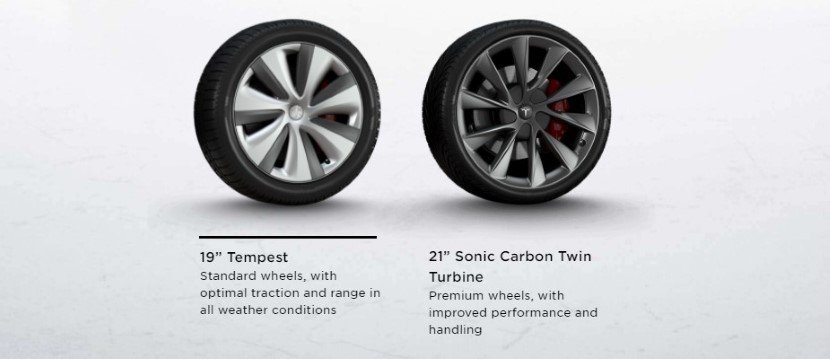 The Tesla Model S is equipped with a 100kWh battery, upgraded from the previous 85kWh battery, making it the electric vehicle with the biggest battery pack and contributing to its record-breaking range.
To charge your sedan, Tesla sends you three different chargers on your purchase. The NEMA 5-15 is a 125V charger that can plug into a wall outlet and charges up to 3 miles of range in an hour. This is the slowest charger available and is good for overnight charging. The NEMA 14-50 is a higher-powered 240-volt wall outlet that can fully charge your Model S in 10 hours. The last adapter can be used if you wish to install an at-home wall connector charging station that can charge the Model S in 6 to 9 hours.
Tesla vehicles can also be charged at public charging stations. These superchargers are installed in over 20,000 locations and can charge your vehicle in 30 minutes to an hour while you take a break. If your destination exceeds the range of your vehicle, it will plot a route to the next supercharger.
The Model S currently has two trim levels listed on its website: Long Range Plus and Performance. However, a Model S Plaid is also expected to come out in late 2021. It can be pre-ordered from Tesla's website.
Long Range Plus:
The Long Range Plus boasts a range of 402 miles, making it the first electric vehicle to have a range over 400 miles (644km), and weighs 4815 pounds (2184kg). It can hit a top speed of 250mph (402kmph) and go from 0 to 60mph in 3.7 seconds. It operates on two electric motors, with a power of 275 HP and 259 HP on the front and rear motors respectively, giving it a total power output of 534 hp. The Long Range Plus starts at $74,990 and can cost up to $91,490.
Performance:
The Performance trim level has a range of 387 miles (623km) and weighs 4929 pounds (2236kg). It has an insane 0 to 60mph time of 2.3 seconds, with a trailblazing top speed of 261mph (420kmph). It also operates on two electric motors, with a power of 275hp and 503hp on the front and rear motors respectively, resulting in a total power output of 778hp. It starts at $94,990 and can cost up to $111,490.
Plaid:
Set to come out in late 2021, the Plaid trim can brutally go from 0 to 60 in sub-two seconds with a top speed of around 200mph (323kmph). It is expected to have three electric motors and a total power output of 1100hp. All that speed will inevitably take a toll on your bank account, as the Model S Plaid comes with an expected price tag of $139,990 (or up to $156,490 with configurations), making it Tesla's most expensive vehicle.
A video from Tesla's official Twitter account shows the Plaid in motion.
In-car footage from Sunday's Plaid Model S run at Laguna Seca pic.twitter.com/rwQDBFCWoH

— Tesla (@Tesla) September 23, 2020
Add-ons on the Tesla Model S
The Full Self-Driving option which includes a Summon function and auto-steer can be purchased for $10,000. The Summon function will allow the car to autonomously back out of the parking space or garage and find its owner from a modest distance via a button on the key fob. For the exterior, Solid Black, Midnight Silver Metallic, and Deep Blue Metallic cost an additional $1500, whereas Red Multi-Coat can be purchased for $2500. For the interior, buyers can buy the black-and-white and cream interiors for $1500. The Sonic Carbon Twin Turbine Wheels will add $4,500 to the price.
Tesla covers the Model S with a four-year or 50,000-mile basic warranty and an eight-year or 15,000-mile warranty for the battery and drive unit.
Tesla may not have achieved perfection in their vehicles yet, but the improvement is evident in every vehicle, and perhaps the future of a near-perfect Tesla vehicle isn't far.