The Most Stunning Satellite Photos of 2015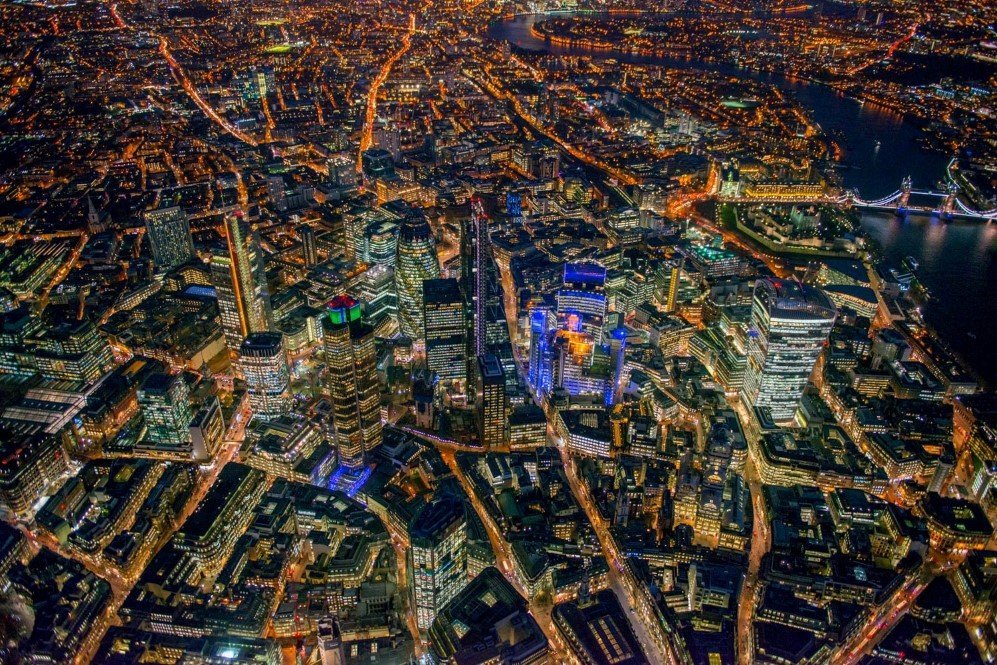 Our planet Earth is full of natural and man-made wonders. But have we ever appreciated the beauty bestowed upon this planet by nature and intricacies of the things man has constructed and the complexities of the systems he has developed? Maybe never? Because things don't appear as beautiful and mesmerizing in their entirety from our line of sight as from miles above the earth.
What if you were given a chance to look down and view the Earth as a whole? And to behold the amazing symmetry and vibrancy of those striking patterns that you might never have experienced before.
Over a year ago, Digital Globes initiated a new project called Daily Overview that aimed to enable people to look down at our own planet Earth from a different perspective which will inspire them to ponder upon its beauty and fragility all at once. Since its initiation Daily Overview have been publicizing one satellite photo at a time of a particular location for the public to see and enjoy.
Recommended for you (article continues below)
Here at Rumblerum, we have tried to appreciate their marvelous work and gather the most stunning satellite photos that were published at Daily Overview over the course of this entire year. Henceforth, enjoy the most stunning satellite photos of 2015 that we have grouped together for you.
See Also: The Best Drone Photos of 2015
---
Marabe Al Dhafra, Abu Dhabi, United Arab Emirates
The villas of Marabe Al Dhafra, Abu Dhabi are home to approximately 2,000 people. The yearly average temperature of this region remains close to 34.5 °C (approx.).
---
Port of Rotterdam, Rotterdam, Netherlands
Two container ships can be seen docked at the Port of Rotterdam in the Netherlands. Container ships as huge as these can weigh up to 300,000 tons and measure up to 1,200 feet (366 meters) in length. The Port of Rotterdam remained the world's busiest port from 1962 to 2002, but was overtaken initially by the port of Singapore and later by the facility in Shanghai, China.
---
Beirut, Lebanon
Beirut is the capital and largest city of Lebanon. Located on a peninsula at the midpoint of Lebanon's Mediterranean coast, Beirut is the country's largest and main seaport.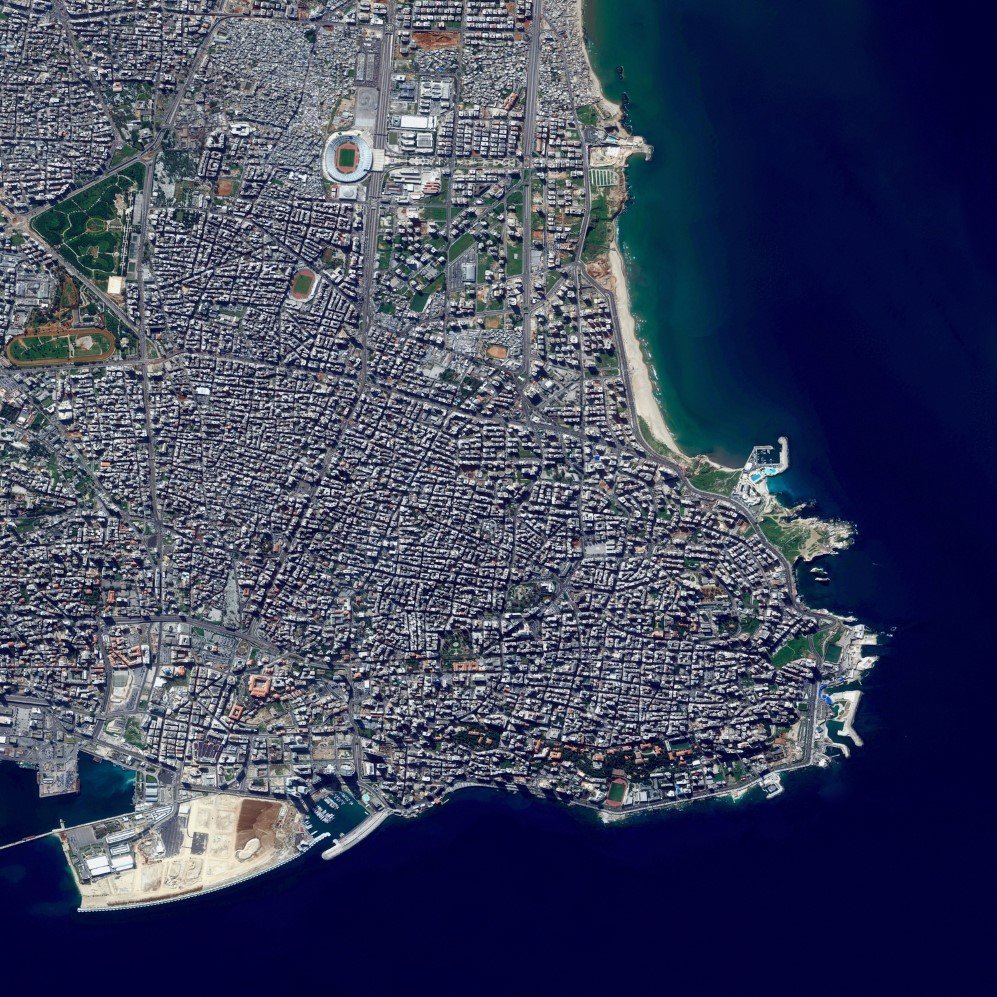 ---
Oil field service ships, Labuan, Malaysia
Located off the coast of Borneo, Labuan, a territory of Malaysia is an offshore support hub for deep-water oil and gas activities in the region.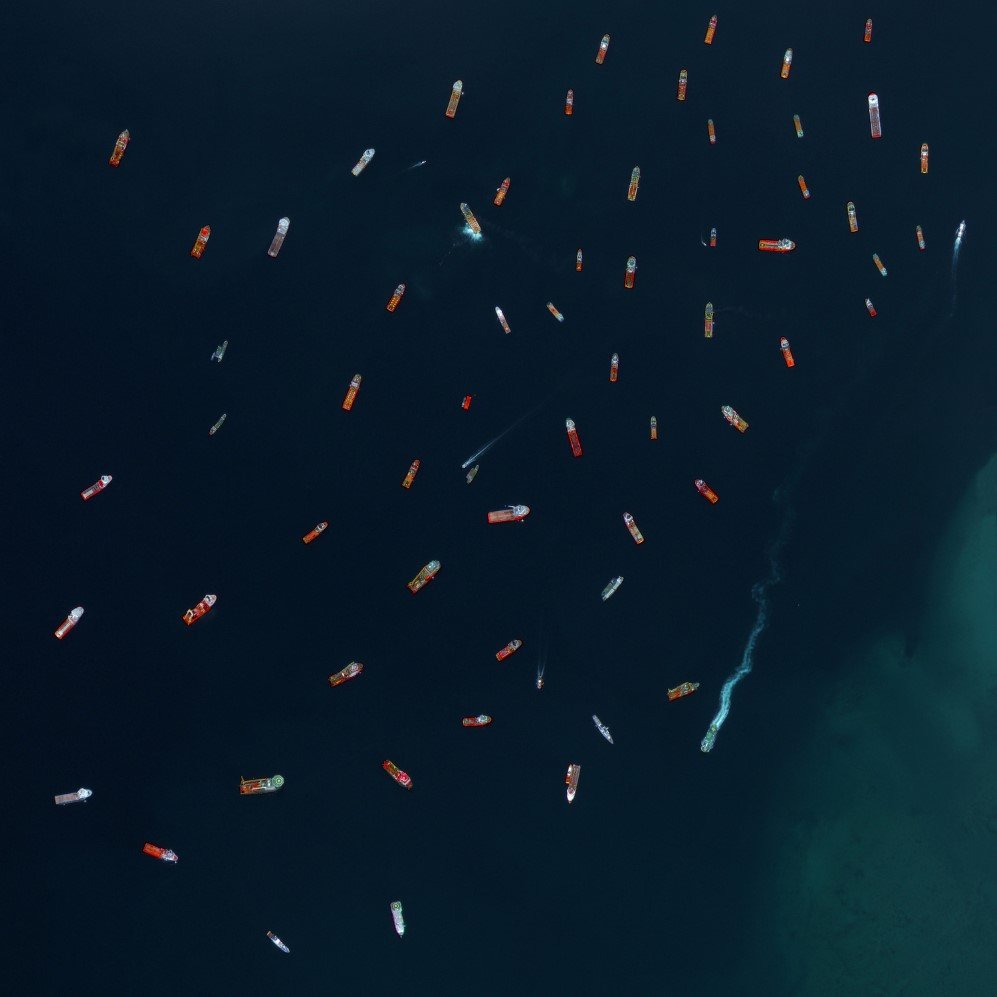 ---
Schönbrunn Palace, Vienna, Austria
Schönbrunn Palace is a 1,441 room complex that constitutes upto 435 acres of spectacular gardens in Vienna, Austria.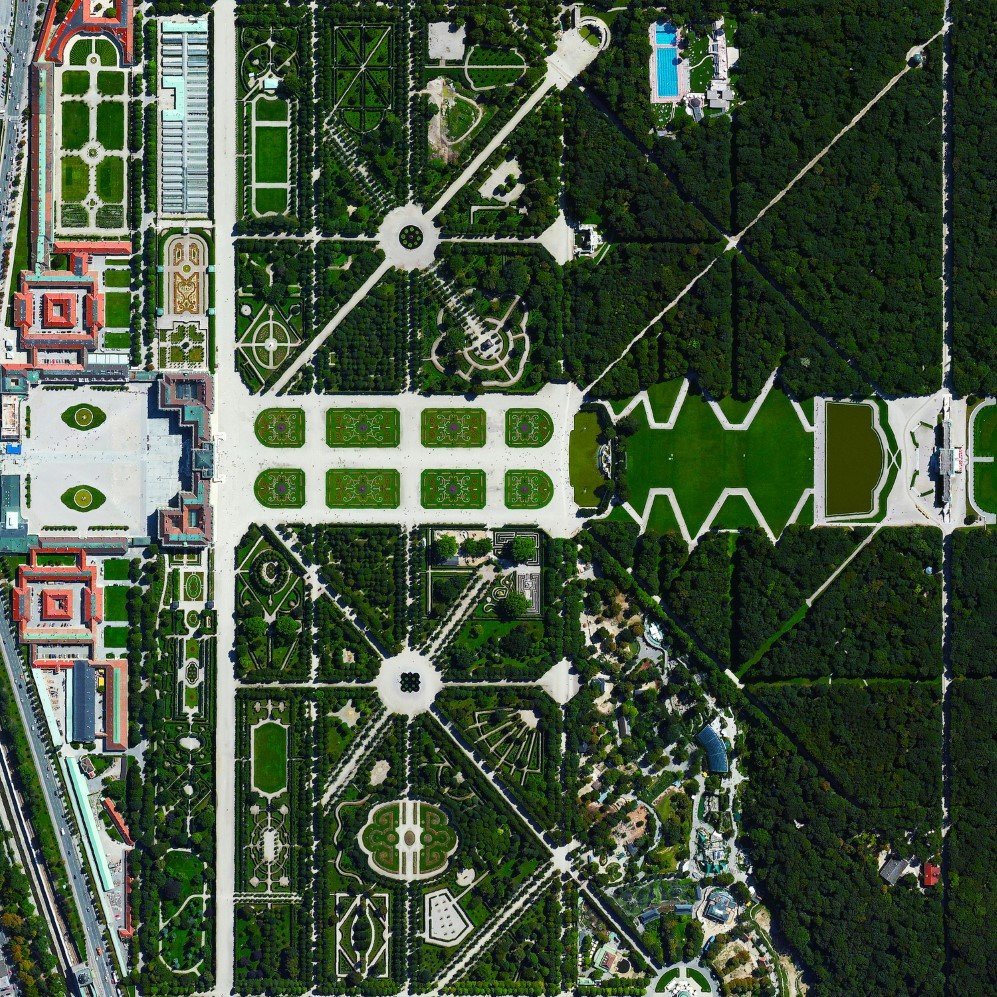 ---
Cattle feedlot, Summerfield, Texas, USA
Cattle are visible at a feedlot in Summerfield, Texas, USA. Once the animals reach a weight of 650 pounds, they are moved to these facilities and placed on a strict diet of specialized animal feed. Over the next three to four months, the cows gain up to 400 more pounds before they are shipped off to slaughter. The lagoon seen at the top of this feedlot gets is glowing color from a high concentration of manure and chemicals.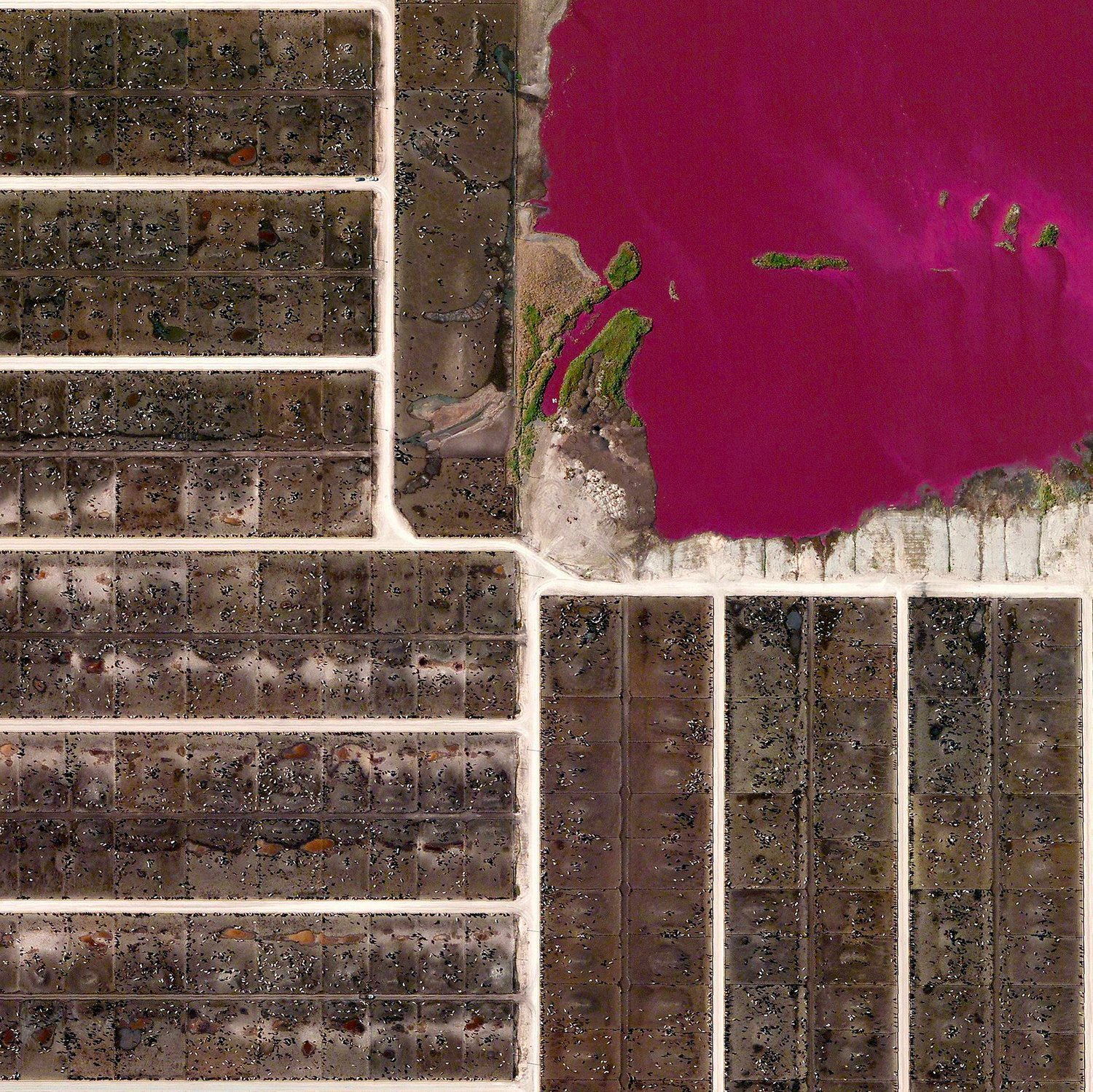 ---
Palamova, Italy
The town of Palmanova, Italy is recognized by its concentric layout known as a star fort. The purpose for this sort of construction was to foil an attack on any individual wall from the two adjacent star points by shooting the enemy from behind. The three rings that surround Palmanova were completed in 1593, 1690, and 1813.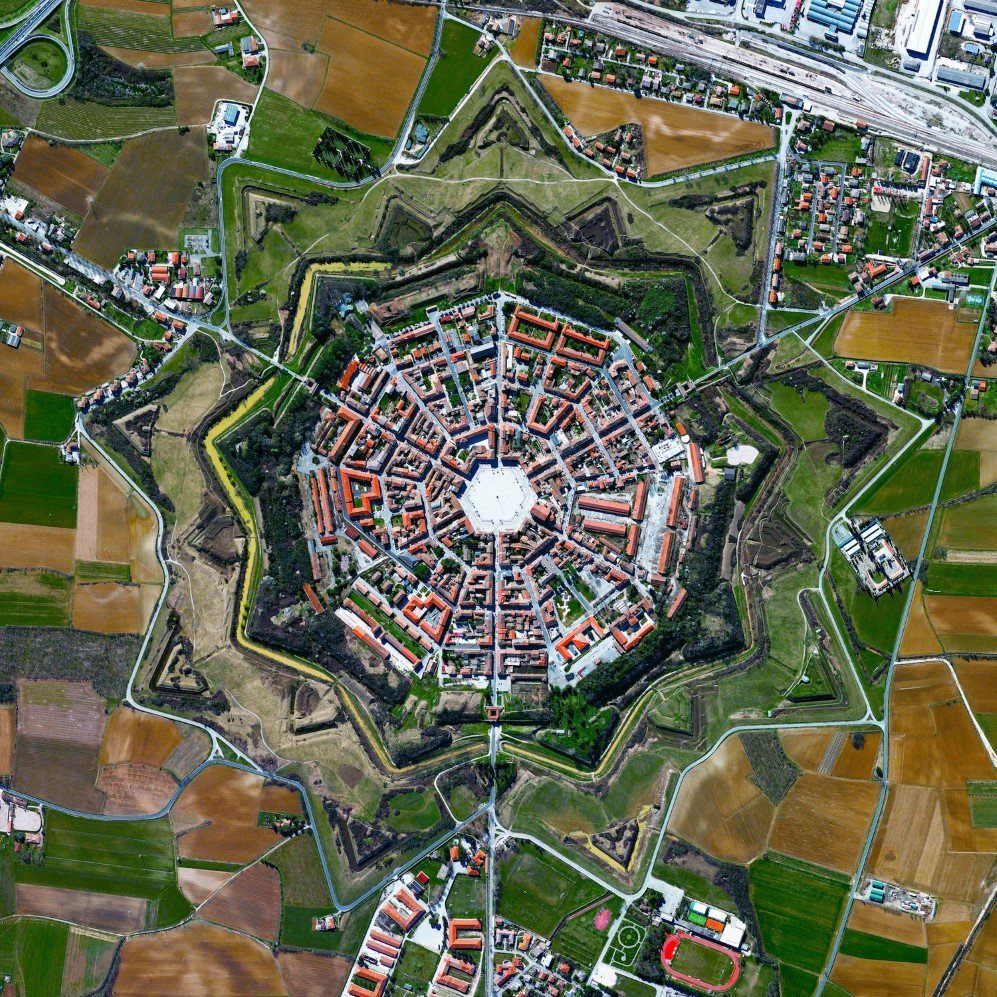 ---
Qinhuangdao Coal Terminal, Qinhua, China
Qinhuangdao Coal Terminal at the Port of Qinhuangdao is the largest coal shipping facility in China. Approximately 210 million metric tons of coal are primarily transported from this port to coal-burning power plants in the major cities in southern China each year.
---
Chimalhuacán, Mexico
Chimalhuacán is a city of more than 600,000 residents. The colorful strip that can be seen across the bottom of the below picture is an open-air market known as a Tianguis. Here, merchants cover their stalls with vibrant canopies to protect themselves from harsh sun and extreme weather.
---
Arrowhead Stadium / Kauffman Stadium, Kansas City, USA
Arrowhead Stadium and Kauffman Stadium are home to the Kansas City Chiefs (football) and Kansas City Royals (baseball). The combined seating capacity of the stadiums is 114,319.
---
Burj Khalifa, Dubai, United Arab Emirates
Standing at 2,717 feet (828m), the Burj Khalifa in Dubai, UAE is the tallest building in the world. It was designed by the Chicago-based architectural firm of Skidmore, Owings & Merrill. It took a staggering amount of USD $ 1.5 billion to build it. Close to 26000 glass panels, all hand cut were used in the exterior cladding of the building.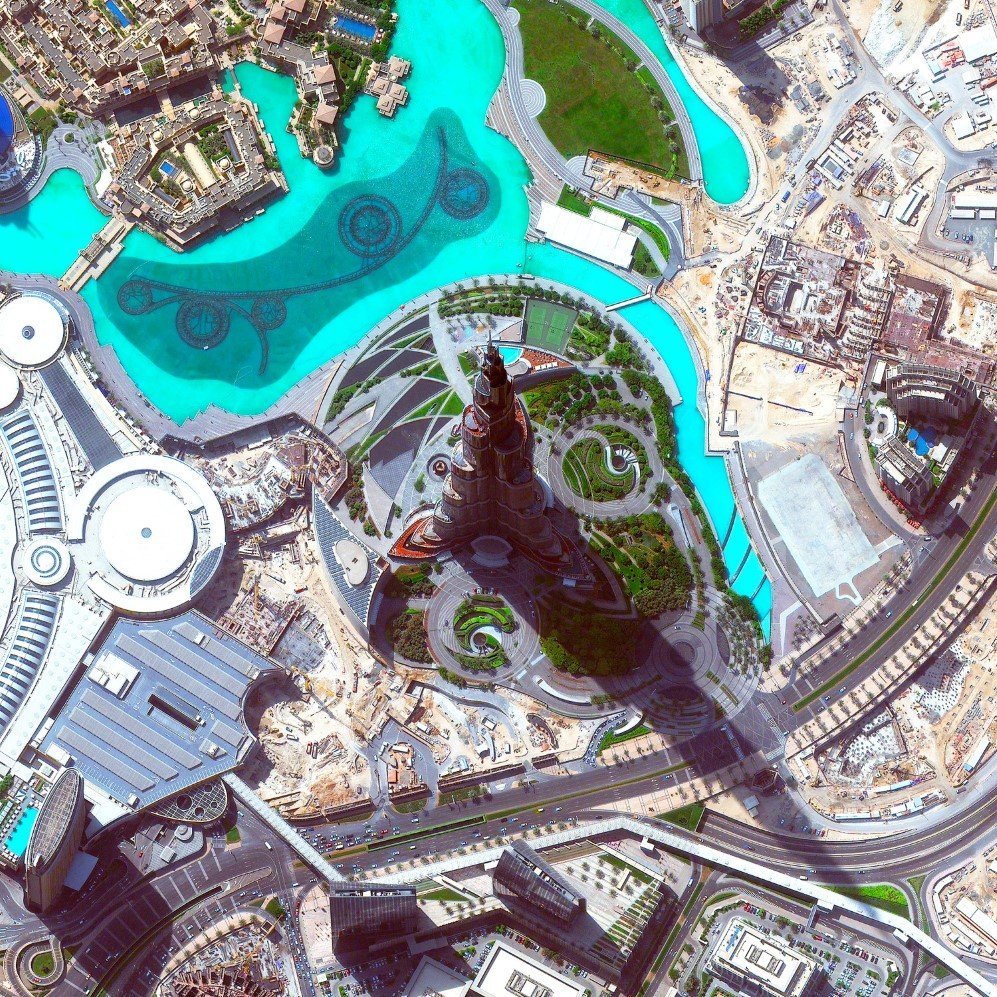 ---
Arlit Uranium Mine, Arlit, Niger
The Arlit Uranium mine is located in Arlit, Niger. More than 3400 tonnes of uranium is extracted from this mine per year upon which the French nuclear power generation as well as the French nuclear weapons program are heavily dependent.
---
Southern California Logistics Airport, Victorville, California, USA
The Southern California Logistics Airport in Victorville, California is a massive transitional hub for commercial aircraft. The facility's boneyard contains more than 150 retired planes.
---
Rice paddies, Yuanyang County, China
Spectacular, terraced rice paddies cover the mountainsides of Yuanyang County, China. Approximately 1.5 square miles of paddies are seen here surrounding the small village of Tuguozhai.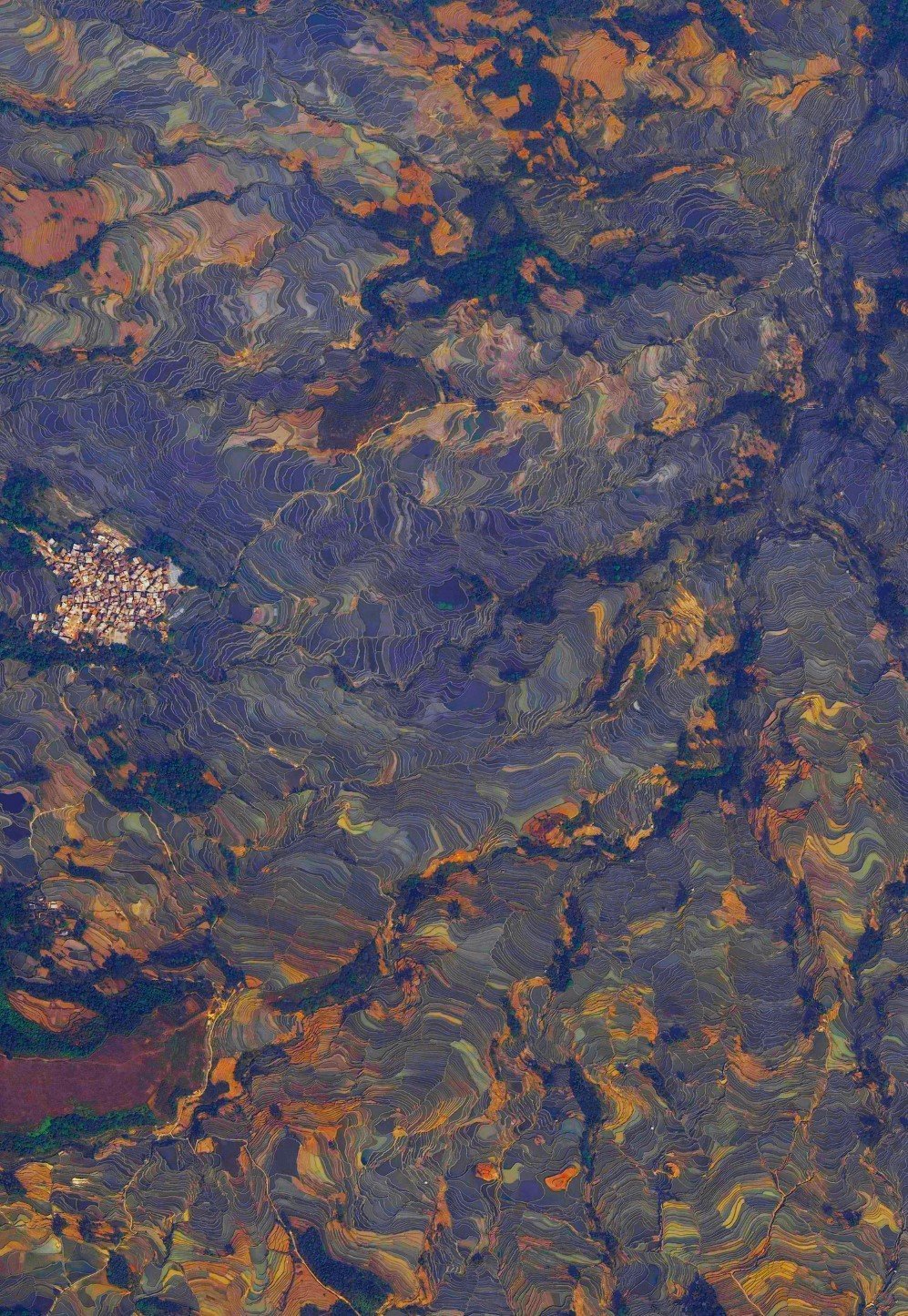 ---
Umlazi Township, KwaZulu-Natal, South Africa
Houses swirl on the hills of Umlazi, a township in KwaZulu-Natal, South Africa. The current population of the township is approximately 405,000.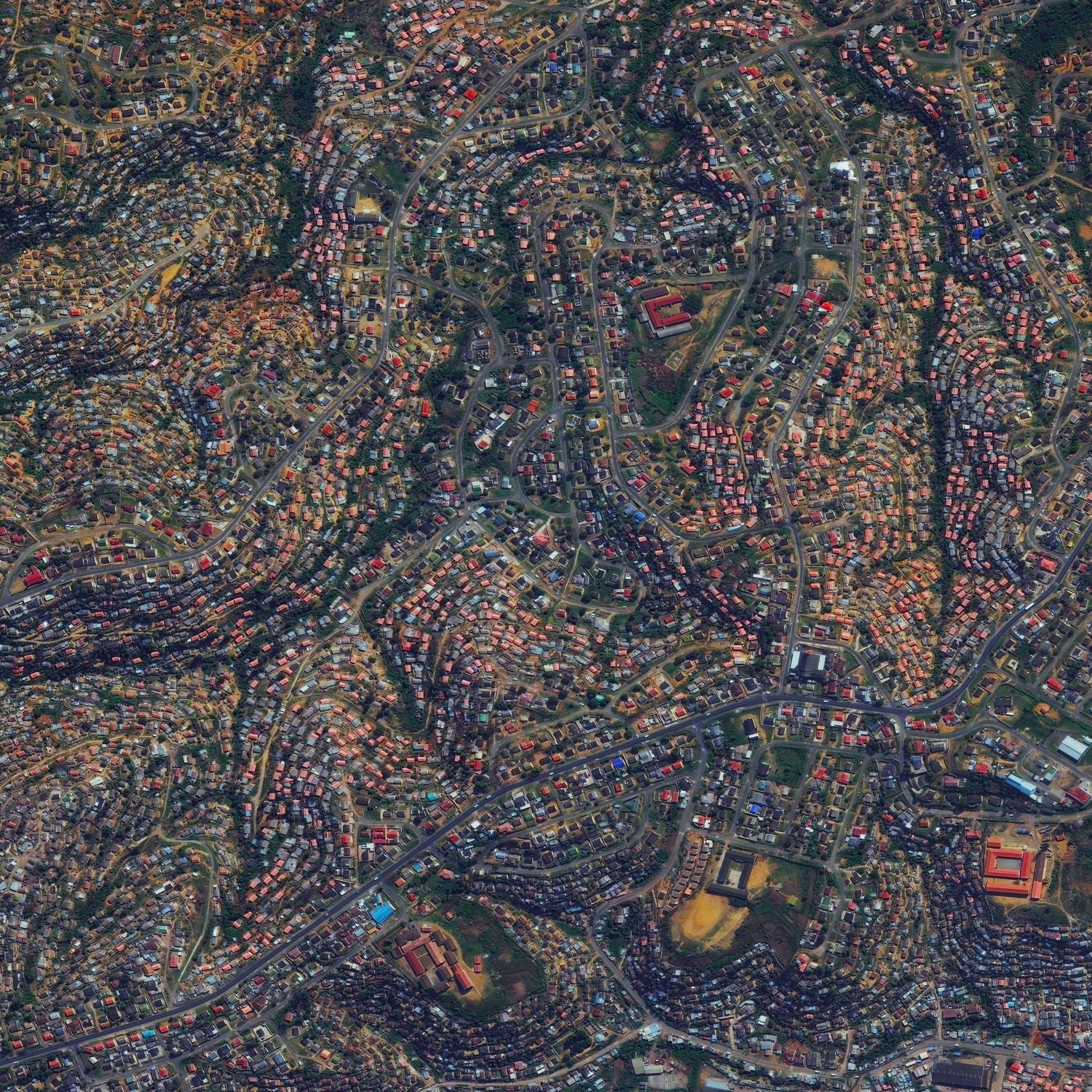 ---
Port of Rotterdam Dry Terminal, Rotterdam, Netherlands
The dry terminal at the Port of Rotterdam in the Netherlands is the busiest transshipment facility of its kind in Europe moving primarily coal and iron ore. The massive vessels that dock here carry up to 380,000 tonnes of these minerals to power plants and blast-furnaces in Germany, France, Belgium, and other European countries.
---
Lebrija 1 Solar Power Plant, Lebrija, Spain
The Lebrija 1 Solar Power Plant in Lebrija, Spain is comprised of approximately 170,000 individual mirrors installed on 6,048 parabolic troughs. If placed next to one another, the troughs would extend for 60 kilometers.
---
Tulip fields, Lisse, Netherlands
Tulips fields bloom in Lisse, Netherlands. Netherlands are the world's largest producer of tulip bulbs with a total of 4.3 billion tulip bulbs being produced each year. 53% of the total harvest (2.3 billion) is grown into cut flowers. Of these, 1.3 billion are sold in the Netherlands as cut flowers and the remainder is exported; 630 million bulbs to Europe and 370 million to the rest of the world.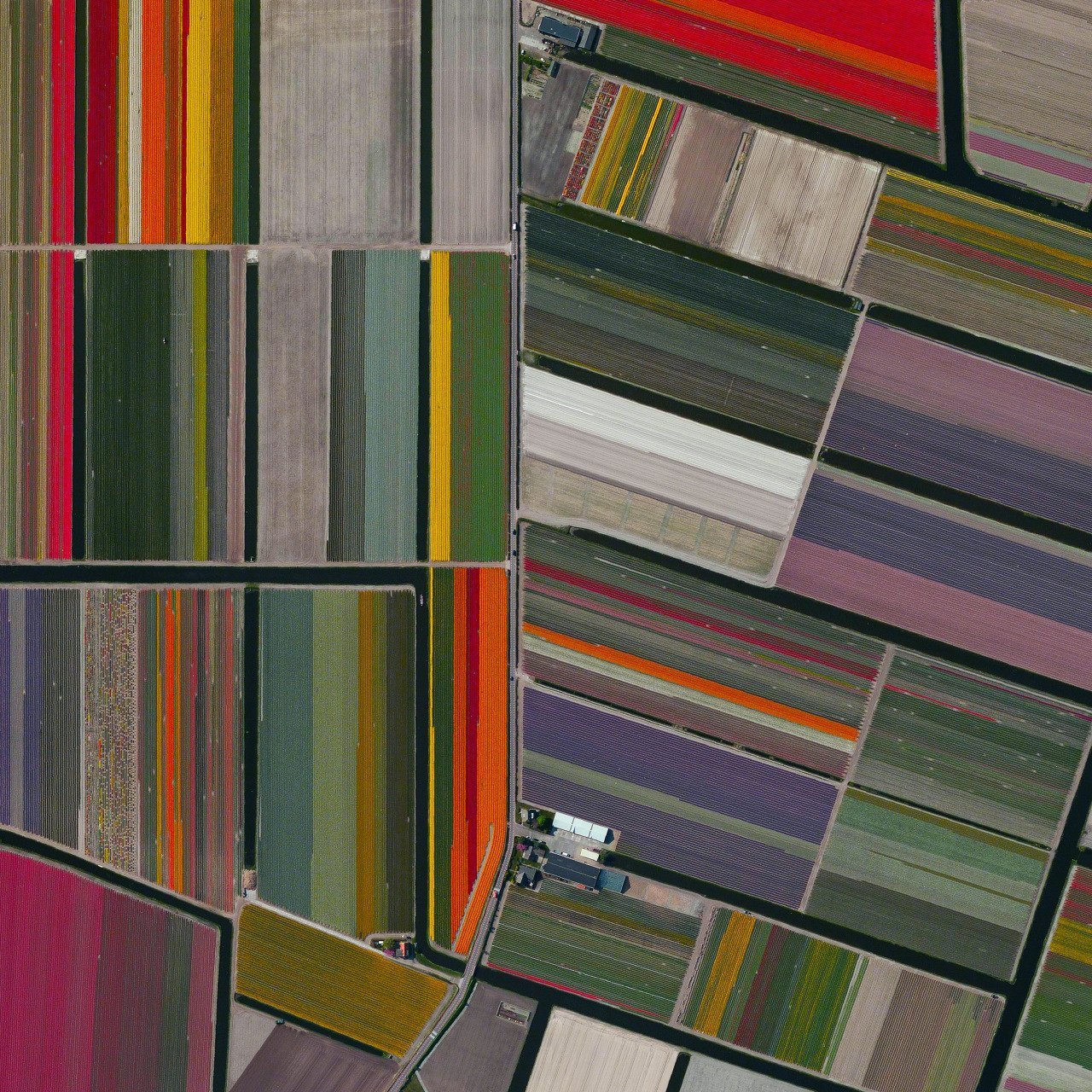 ---
Brock Reservoir, Gordons Well, California, USA
The Brock Reservoir located near Gordons Well, California, USA is used to supply water to nearby farmers through the All-American Canal. Compared to other reservoirs, Brock's capacity is relatively small with storage for only 2,600 million US gallons. Since 2013, reservoirs across the state of California has experienced a significant reduction in water levels, with more than 80% of land experiencing severe to exceptional drought.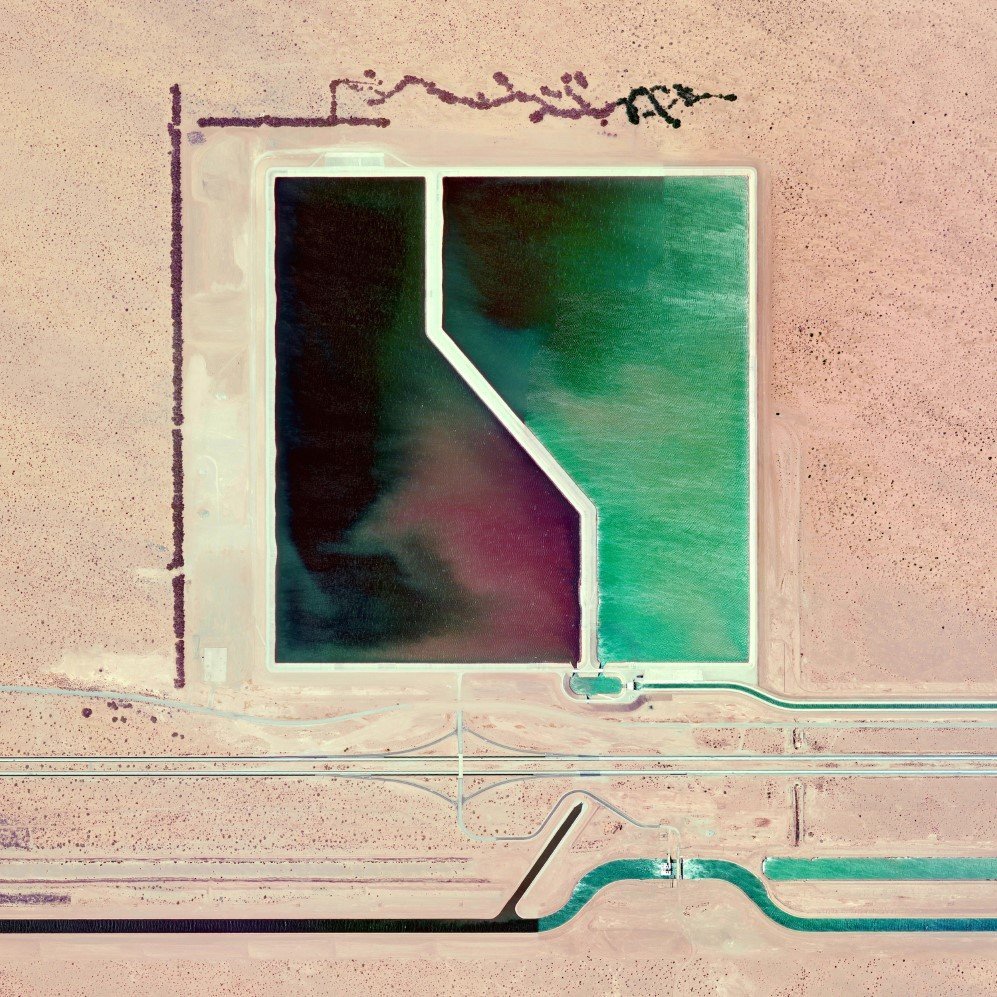 ---
Pivot irrigation fields, Copeland, Kansas, USA
Pivot irrigation fields cover the landscape north of Copeland, Kansas, USA. Powered by electric motors, lines of sprinklers rotate 360 degrees to evenly irrigate crops.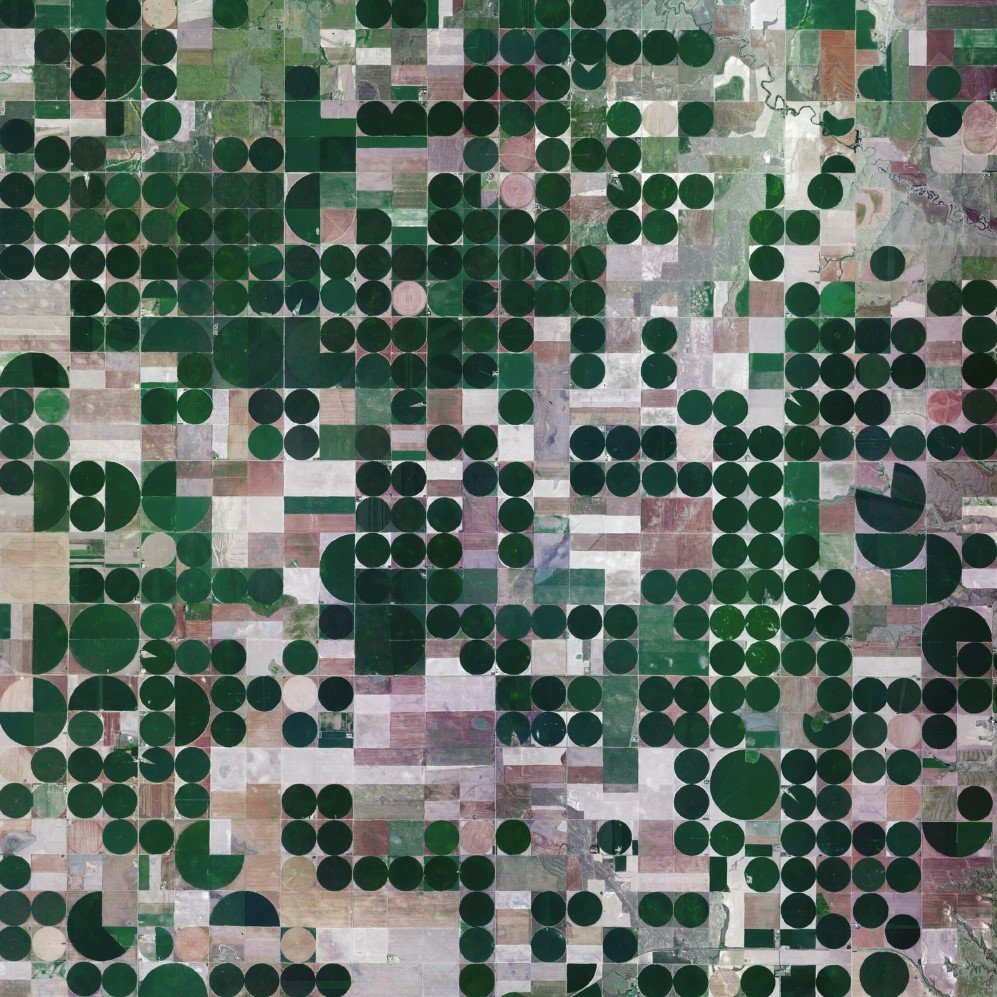 ---
Tanjung Perak, Surabaya, Indonesia
Cargo ships and tankers move through Tanjung Perak, the main port in Surabaya, Indonesia. The facility's principal exports are sugar, tobacco, and coffee.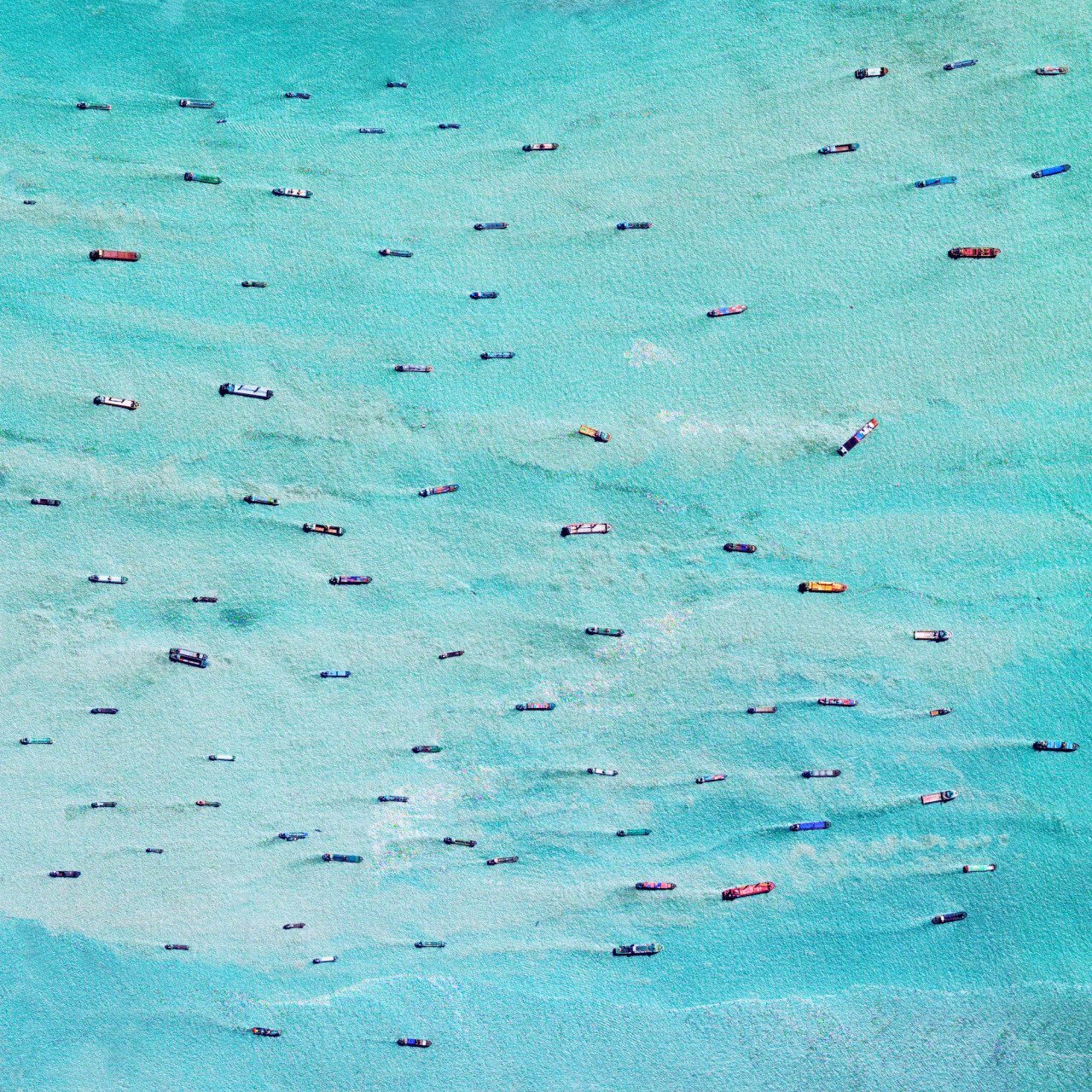 ---
Crescent Dunes Solar Energy Project, Tonopah, Nevada, USA
The Crescent Dunes Solar Energy Project near Tonopah, Nevada powers up to 75,000 homes during peak electricity periods. The project uses 17,500 heliostat mirrors to collect and focus the sun's thermal energy to heat molten salt flowing through a 540-foot (160 m) tall solar power tower. The molten salt then circulates from the tower to a storage tank where it is used to produce steam and generate electricity.
One more thing: Look closely at the lower left corner of the below picture and you'll see an airplane flying over the complex!
---
Citrus trees, Isla Cristina, Spain
Citrus trees cover the landscape in Isla Cristina, Spain. The climate is ideal for this growth with an average temperature of 18° Celsius and a relative humidity between 60% and 80%.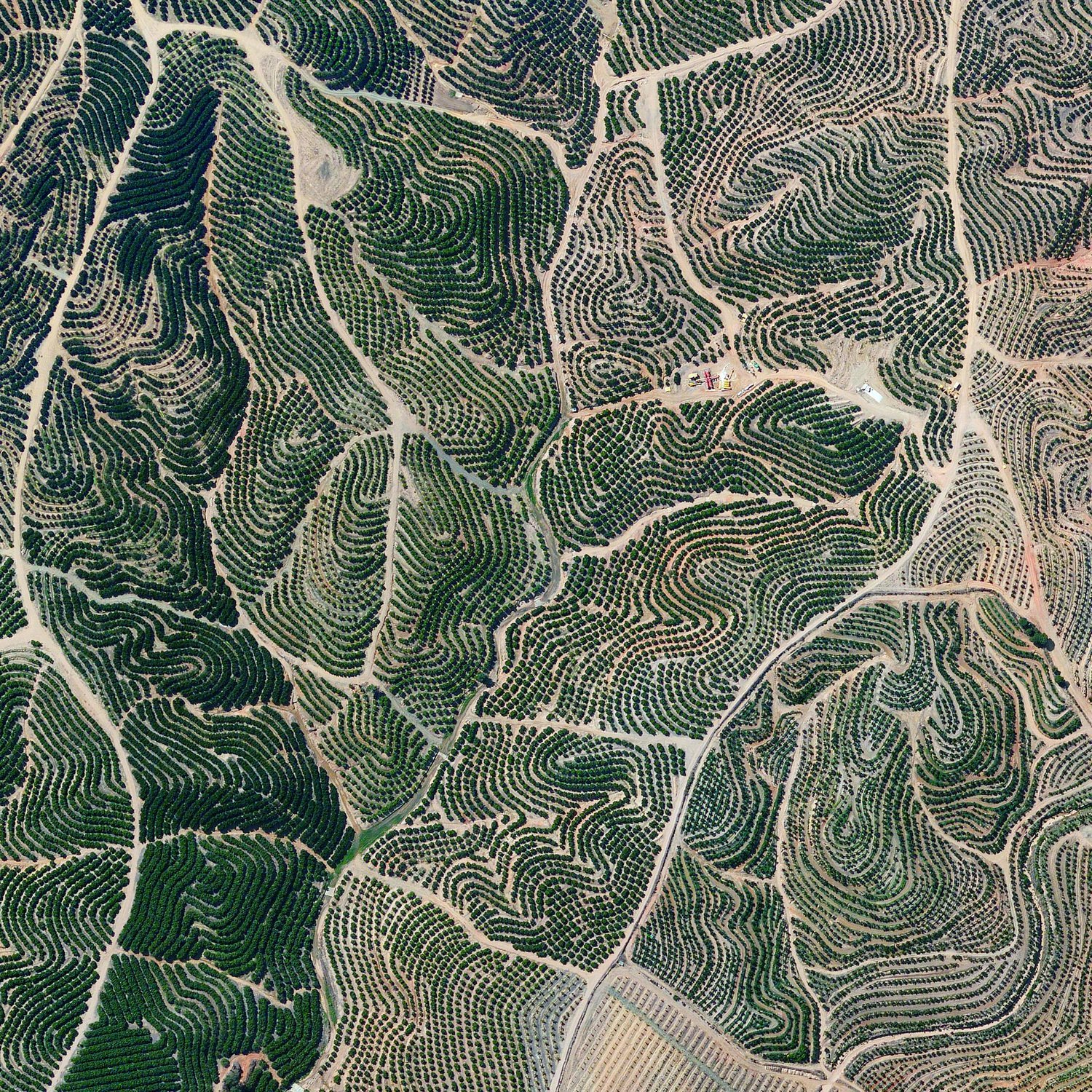 ---
Soquimich Lithium Mine, Atacama Desert, Chile
The Soquimich Lithium Mine is located in the Atacama Desert of Chile. With no significant rainfall in this part of the region, it is considered to be one of the driest places on Earth. Mineral-rich brine water with a high percentage of dissolved salts is pumped via underground wells into large, shallow ponds that are colored to speed up the evaporation process. The subsurface brines of the Atacama are particularly rich in lithium salts, an essential component of batteries and certain medicines.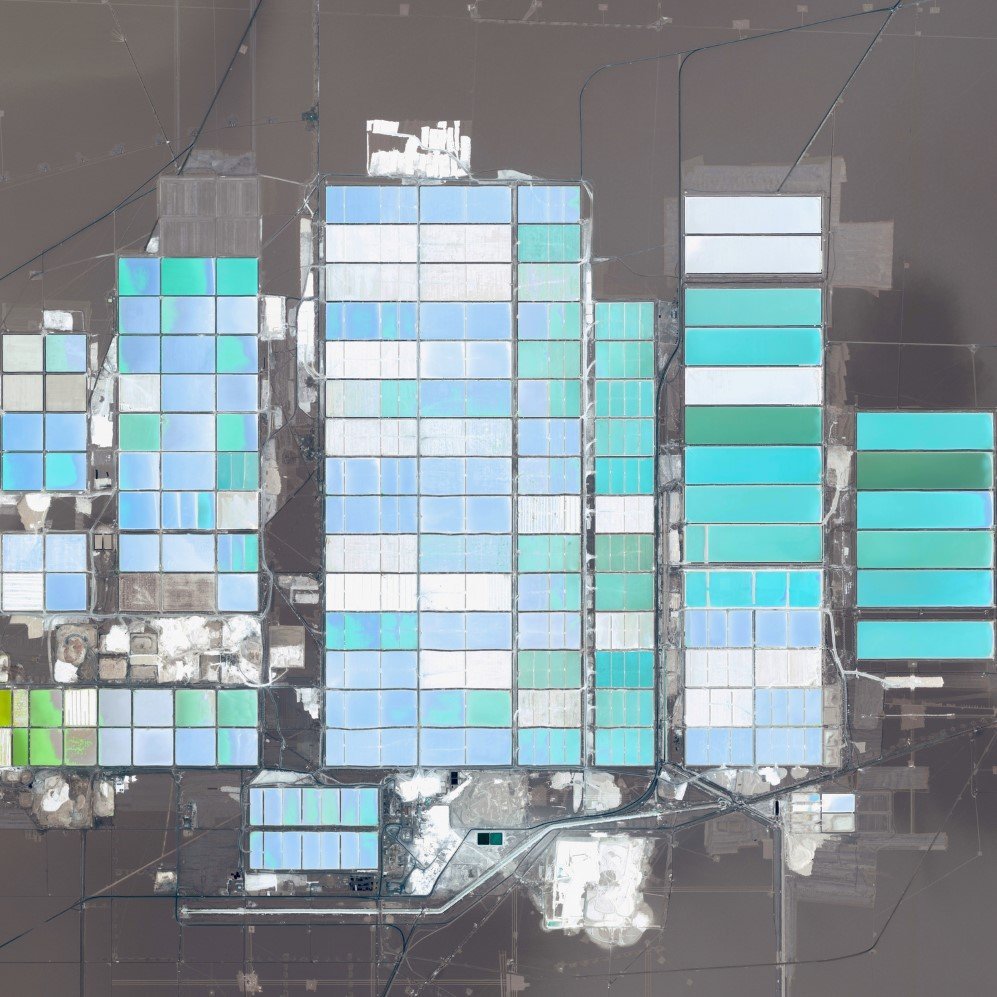 ---
Prague, Czech Republic
Situated on the Vltava River in the center of the Bohemian Basin, Prague is the capital and largest city in the Czech Republic with a population of 1.24 million people.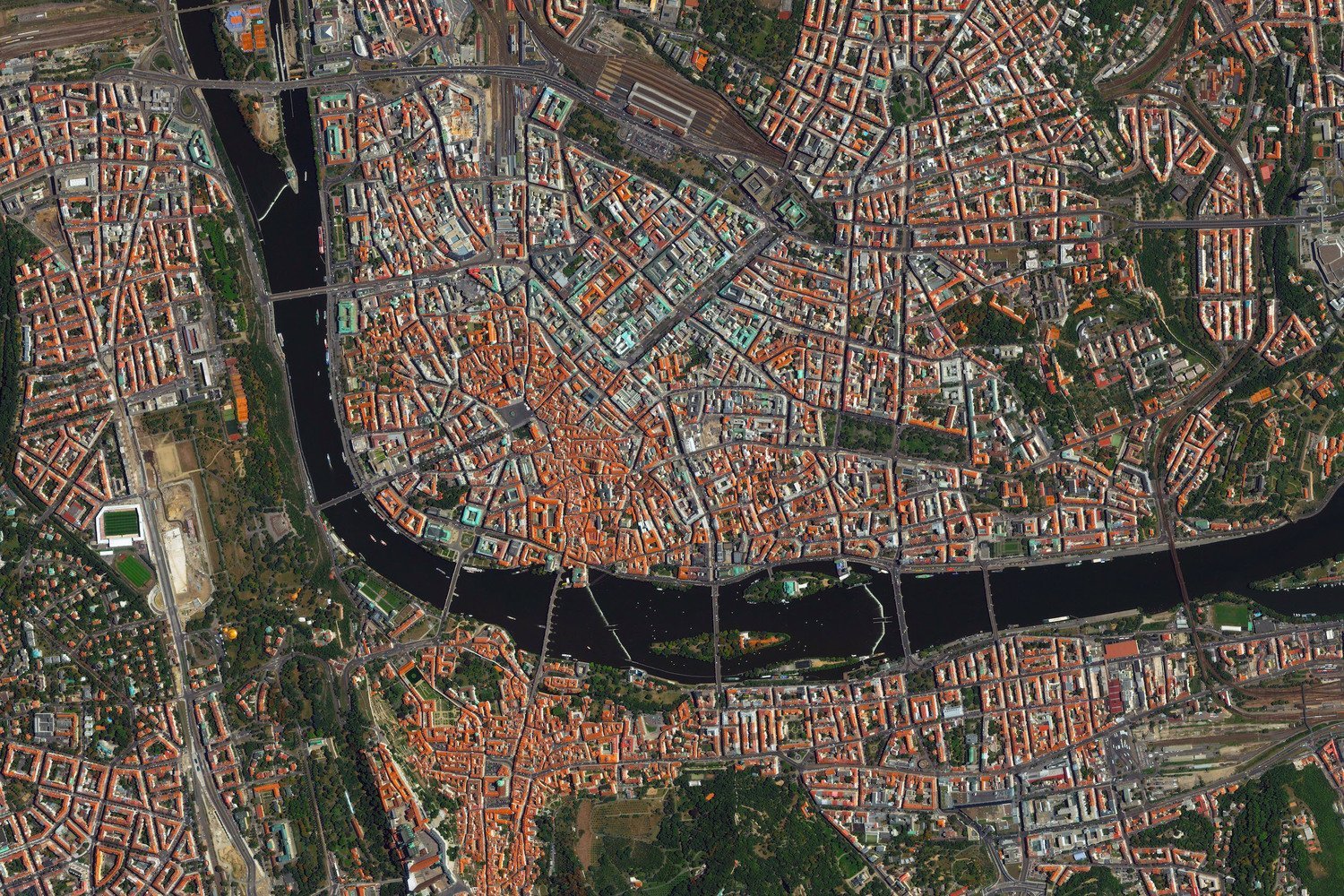 ---
Desert Breath, Hurghada, Egypt
Located in the Egyptian desert near Hurghada on the Red Sea "Desert Breath" is a double-spiral art piece. Because the 89 protruding cones that make up one spiral are constructed from the sand that was dug to create the 89 depressed cones of the other spiral, in due time, with erosion, the area of approximately one million square feet will revert back to its original state.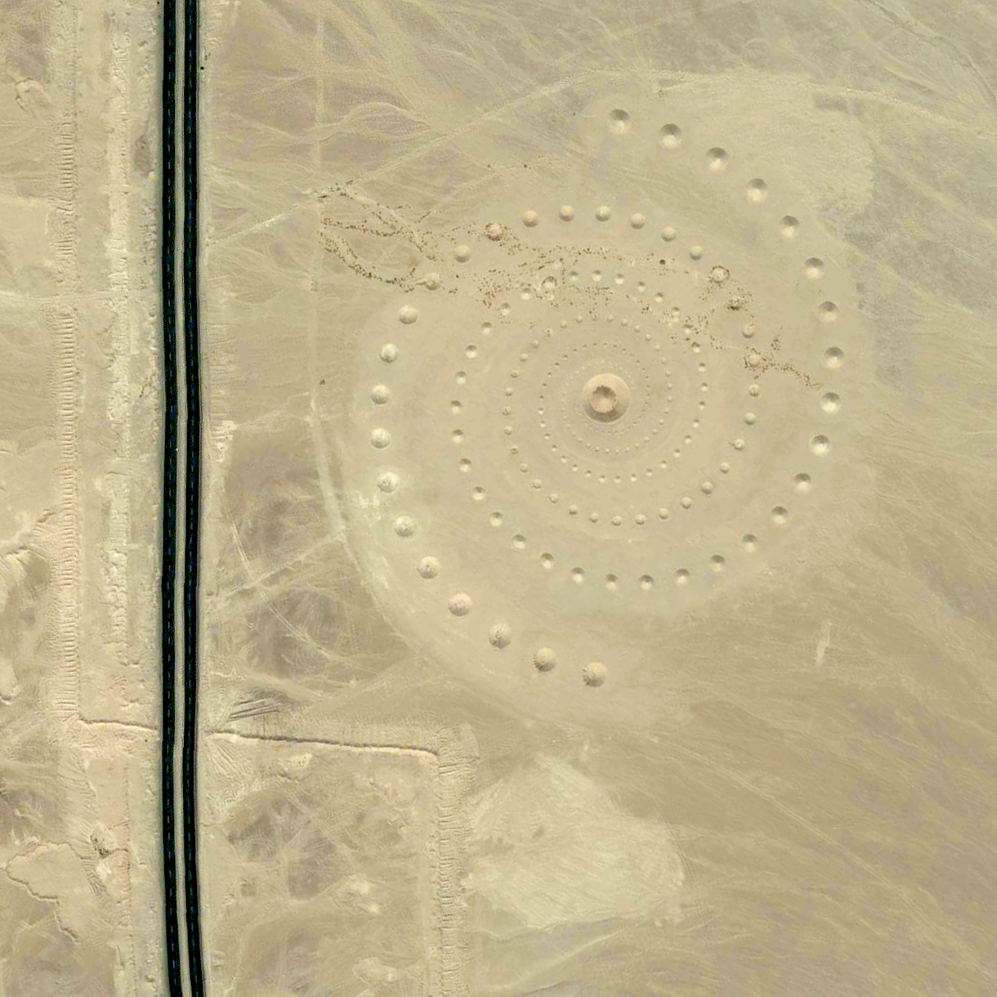 ---
Golden Gate Bridge, San Francisco, California, USA
The Golden Gate Bridge is a 1.7 mile long suspension bridge in San Francisco, California. The bridge's signature color, known as "International Orange", was selected to complement its natural surroundings and enhance its visibility in fog.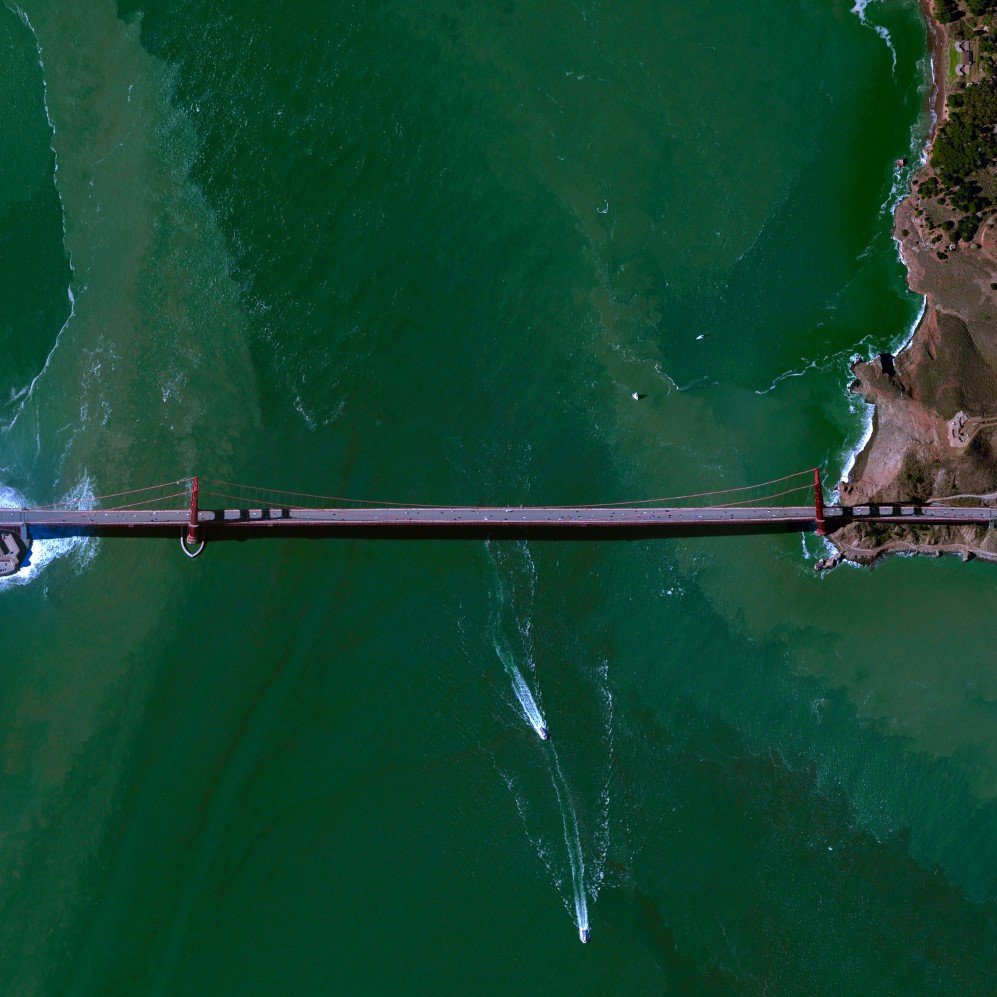 ---
Fallon Range Training Complex, Dixie Valley, Nevada, USA
The Fallon Range Training Complex is a United States Navy military area spanning across 84,000 acres in the Dixie Valley of Nevada, USA. The complex primarily hosts air-to-air and air-to-ground training exercises. In the picture give below, you can see an installation of metal containers that are used for covert operations training as well as instrument recognition and calibration for spy planes and satellites.
---
Ipanema Beach, Rio de Janeiro, Brazil
Ipanema Beach in Rio de Janeiro, Brazil is frequently recognized as one of the world's most beautiful beaches. Stretching over two miles, the sand is divided into segments by lifeguard towers known as postos.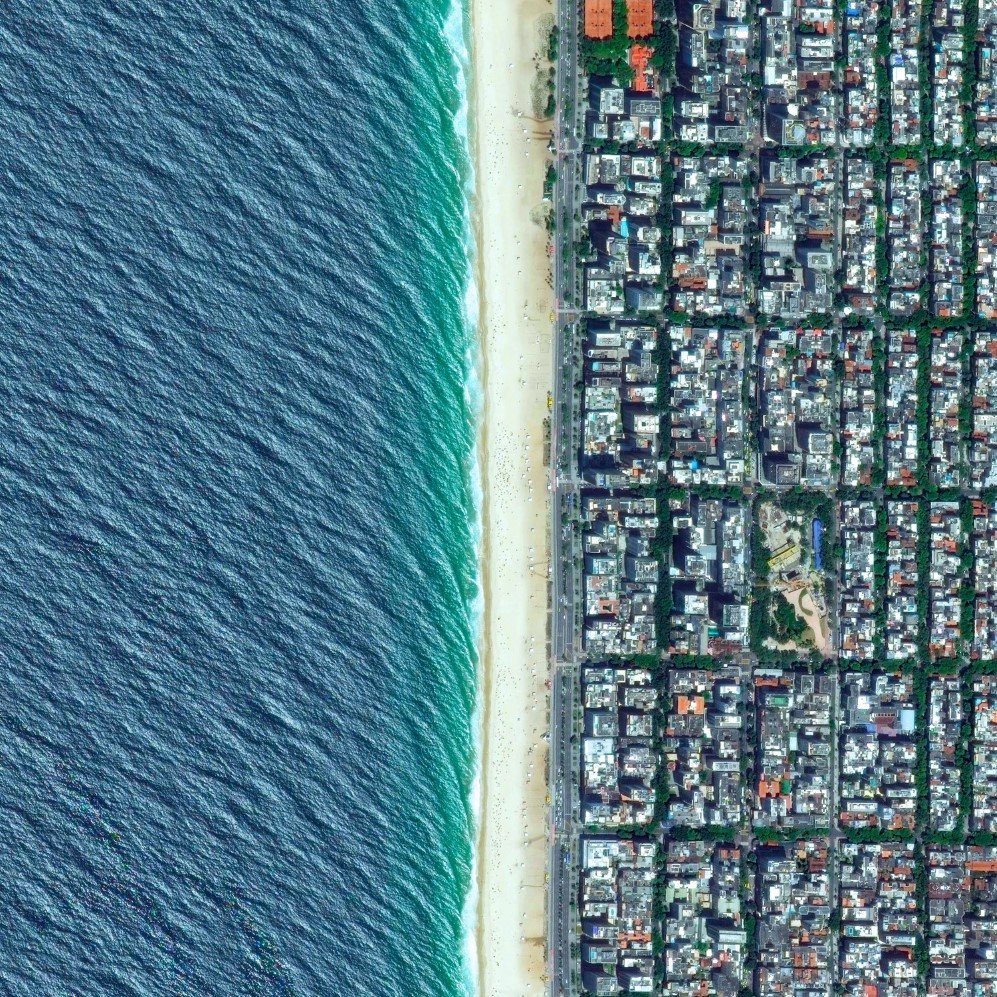 ---
Olive Tree Plantations, Córdoba, Spain
Olive tree plantations covers the hills of Córdoba, Spain. Approximately 90% of all harvested olives are turned in to oil, while the 10% are eaten as table olives.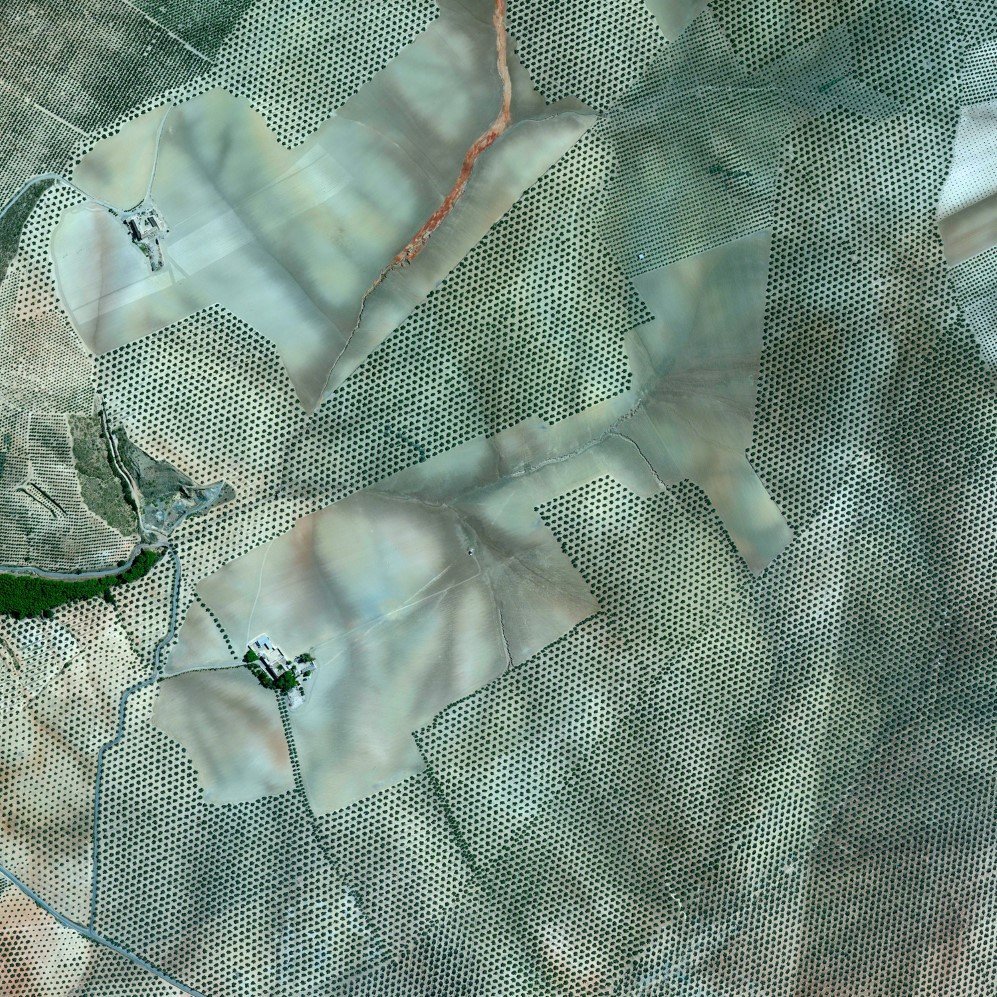 ---
Soybean fields, São Domingos, Brazil / São Desidério, Brazil
Soybeans fields span the border of São Domingos and São Desidério, Brazil. In 2014, Brazil became the world's top producer of the crop with a harvest of 90 million metric tons.
---
Donghai Bridge Wind Farm, Shanghai, China
Turbulence fields form behind the turbines of the Donghai Bridge Wind Farm in Shanghai, China. These streaks occur when wind hits the turbines' towers or when certain meteorological conditions cause the turbines to create condensation (i.e. clouds) of very humid air.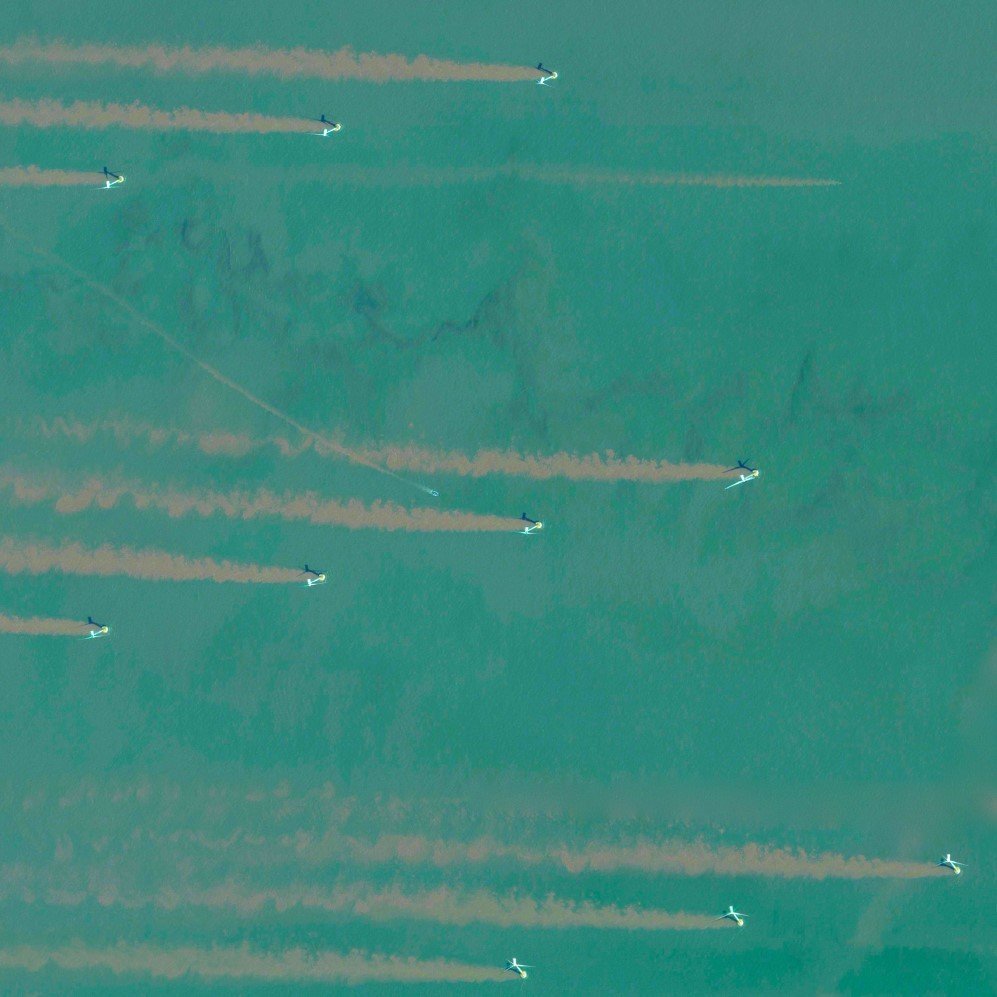 ---
Istanbul Shipyard, Istanbul, Turkey
The Istanbul Shipyard offers facilities to build or repair fourteen large sea-faring vessels simultaneously. The complex contains cranes that have a lifting capacity of 550 tons as well as the largest dry-dock in Turkey stretching more than one thousand feet (310 meters).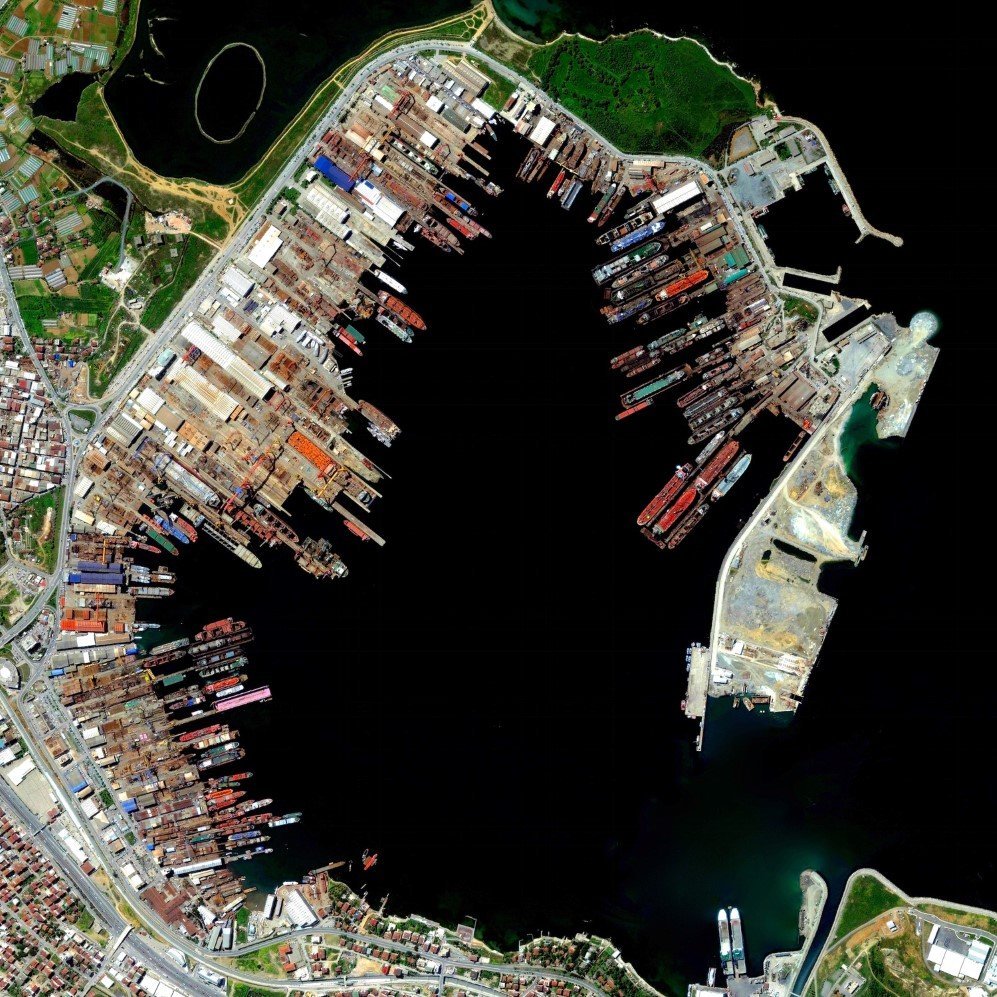 ---
Nardò Ring, Nardò, Italy
The Nardò Ring is a high speed, 7.8 mile long, circular test track in Nardò, Italy. Each of the ring's four lanes has a determined "neutral speed" and is banked in such a manner that one can drive as if the road were straight.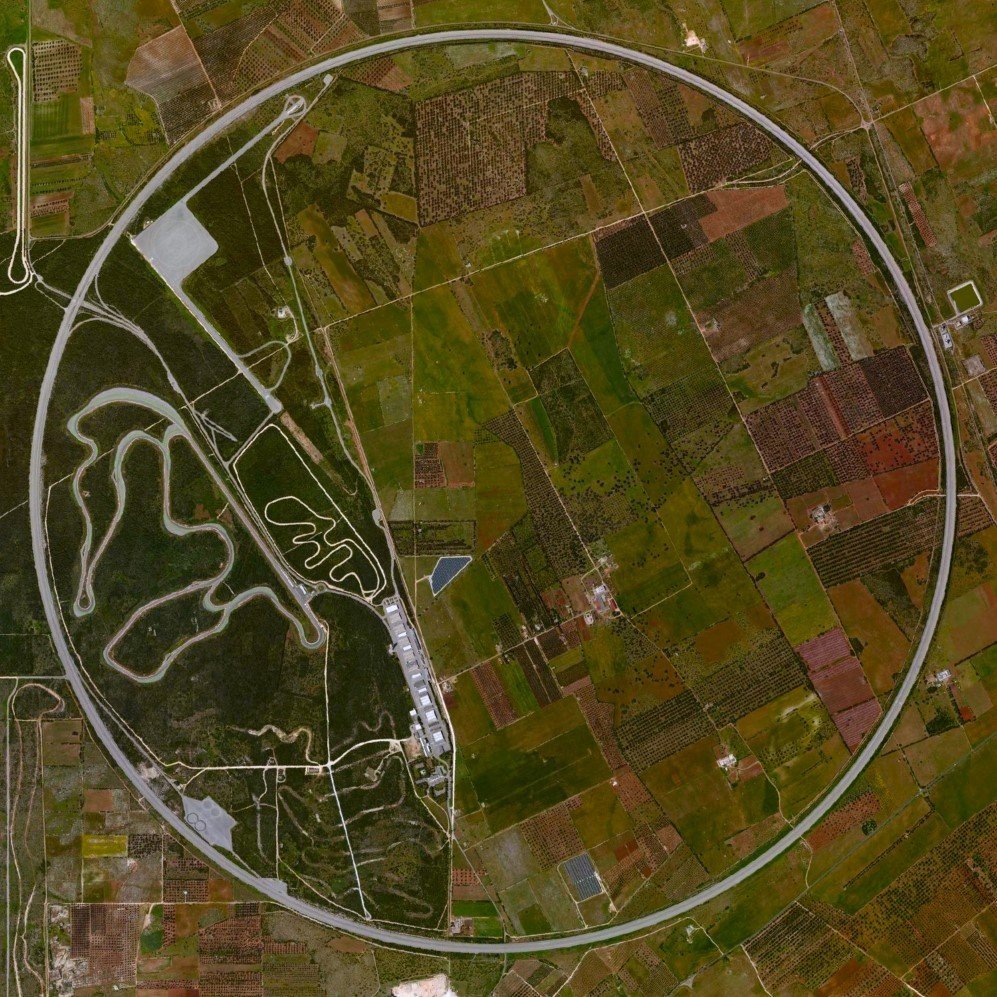 ---
Bourtange star fort, Bourtange, Netherlands
Bourtange is a "star fort" built in 1593 during the Eighty Years' War when William I of Orange wanted to control the only road between Germany and the city of Groningen. Star forts were constructed in the manner so that an attack on any of its five walls could be aggressively counteracted from the two adjacent star points.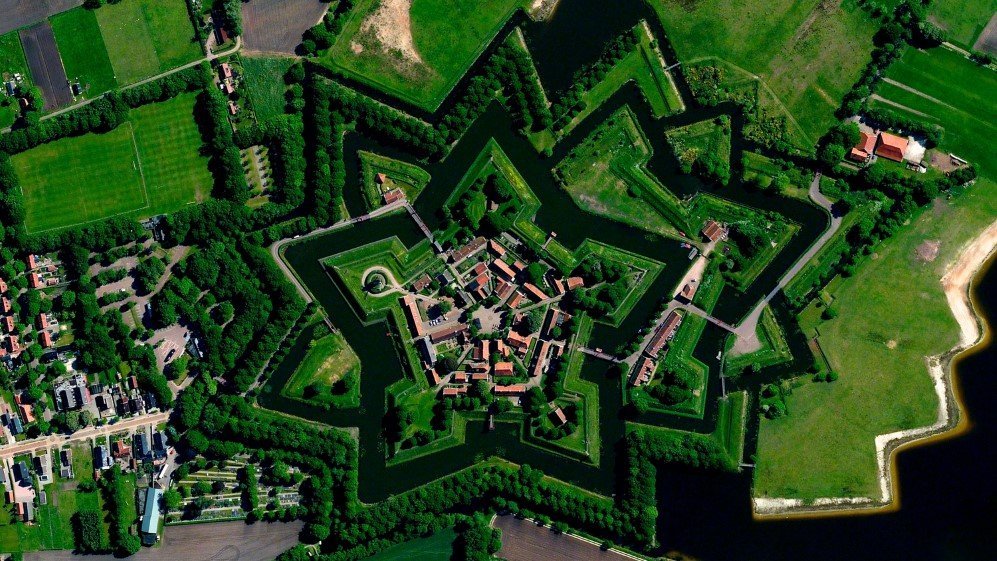 ---
Barcelona, Spain!
The visually stunning neighborhood is characterized by its strict grid pattern, octagonal intersections, and apartments with communal courtyards.
---
Evaporation ponds of Intrepid Potash mine, Moab, Utah, USA
The Intrepid Potash Mine in Moab, Utah, USA produces muriate of potash, a potassium-containing salt used widely by farmers in fertilizer. The salt is pumped to the surface from underground deposits and dried in massive solar ponds that vibrantly extend across the landscape. As the water evaporates over the course of 300 days, the salts crystallize out. The water is dyed bright blue to reduce the amount of time it takes for the potash to crystallize; darker water absorbs more sunlight and heat.
---
Spreckles Beet Sugar Factory, Brawley, California, USA
The Spreckles Beet Sugar Factory is located in Brawley, California, USA. After machines extract sugar from sugarbeet roots, the leftover (and colorful) beet pulp is dried on a massive paved area next to the factory. The pulp is then used a major ingredient in dairy feed.
---
Microalgae growing ponds, Kailua-Kona, Hawaii, USA
Growing pools containing various species of microalgae, a microscopic plant are seen at Cyanotech in Kailua-Kona, Hawaii, USA. The company uses microalgae to develop a number of products such as food coloring agents. Microalgae, on the whole, produce approximately half of the planet's atmospheric oxygen and simultaneously use the greenhouse gas carbon dioxide to grow using photosynthesis.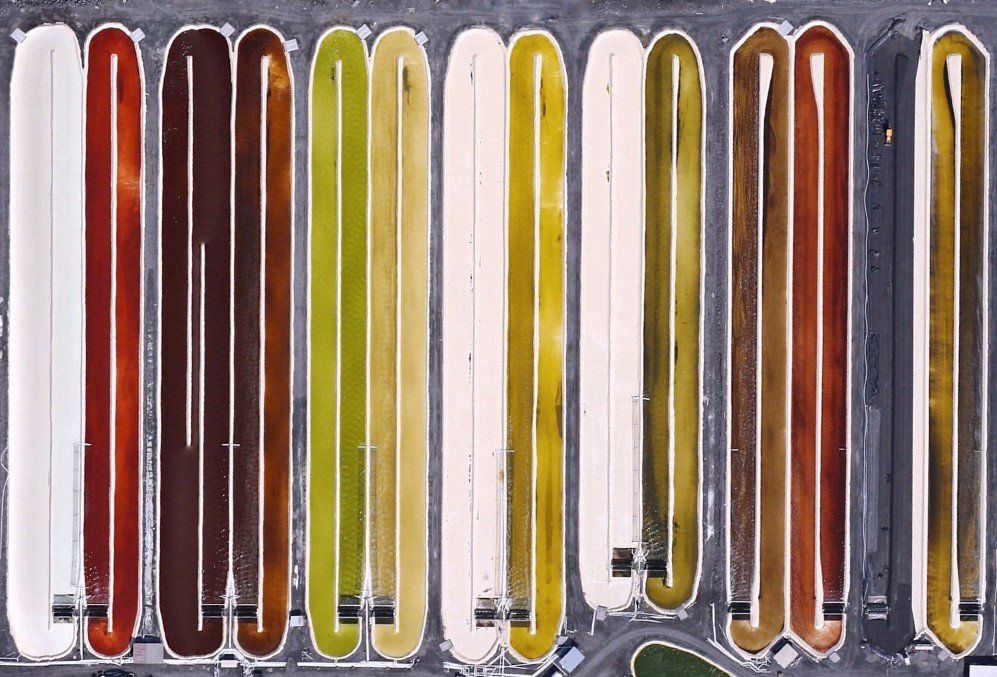 ---
Malé, Republic of Maldives
Malé is the capital and most populous city in the Republic of Maldives. With more than 47,000 residents per square kilometer, the heavily urbanized city constitutes the fifth most densely populated island in the world.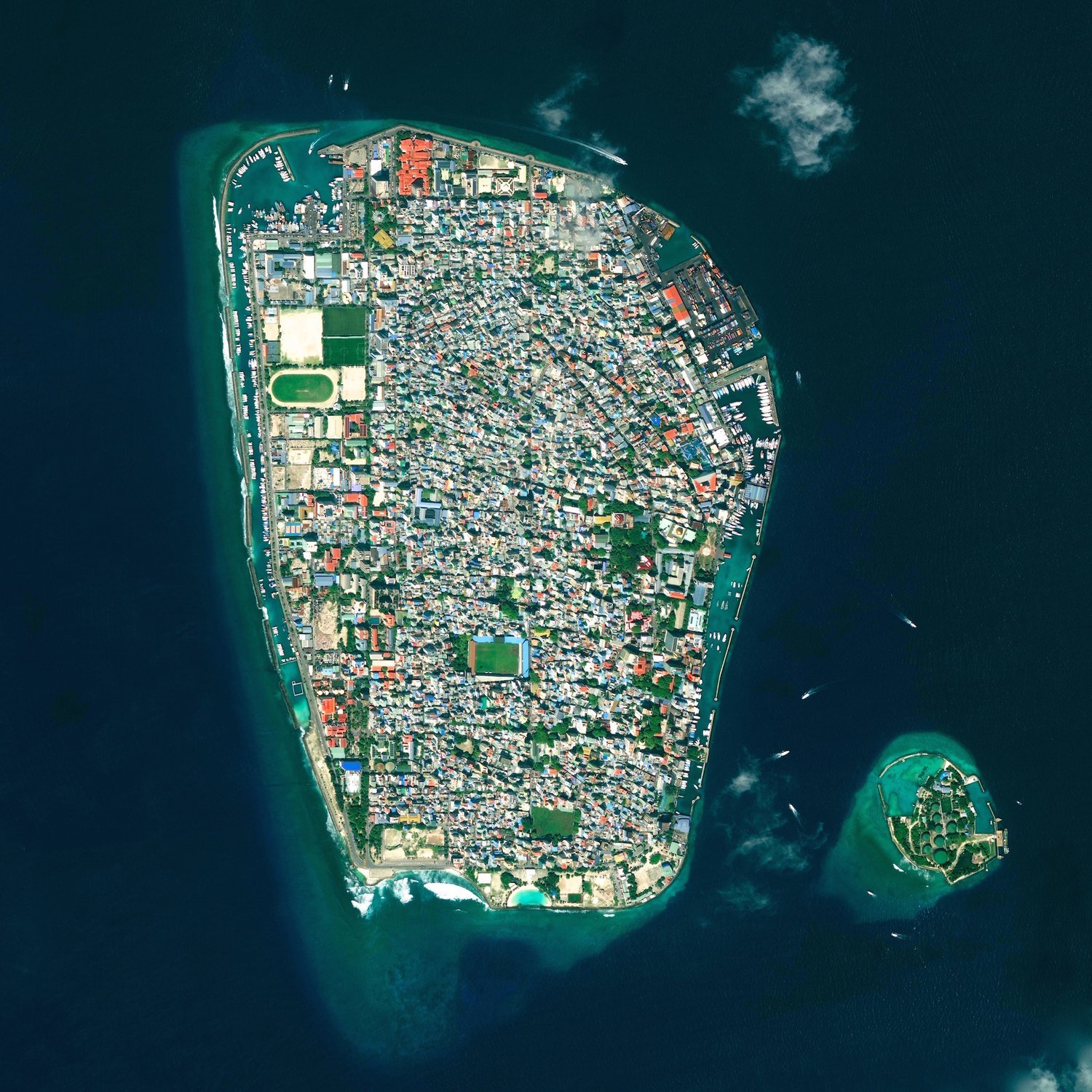 ---
Agricultural development, Fuchsenbigl, Haringsee, Austria
Agricultural development surrounds Fuchsenbigl, a municipality of Haringsee, Austria. The town's total population is 1,165.
---
Salar de Atacama, Atacama Desert, Chile
The Salar de Atacama is a series of evaporation ponds located in the Atacama Desert of Chile. With no significant rainfall in this part of the region, it is considered to be one of the driest places on Earth. Mineral-rich brine water with a high percentage of dissolved salts is pumped via underground wells into large, shallow ponds that are colored to speed up the evaporation process. The subsurface brines of the Atacama are particularly rich in lithium salts, an essential component of batteries and certain medicines.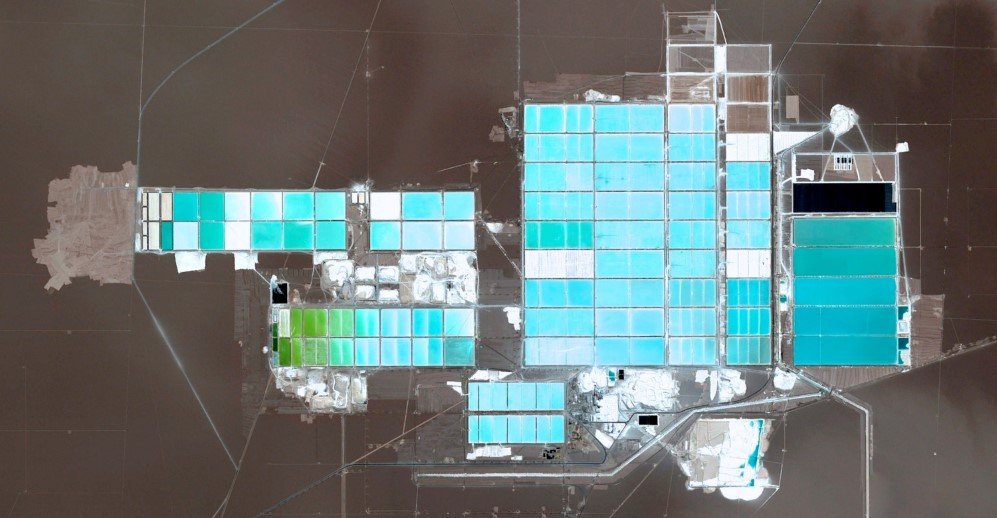 ---
Guitar Forest, Laboulaye, Argentina
More than one kilometer in length, a guitar-shaped forest is visible outside the city of Laboulaye, Argentina. For years, a couple by the name of Pedro Ureta and Graciela Yraizoz discussed the idea of creating such a design. However, when Graciela suddenly passed away, Pedro and their four children planted 7,000 cypress (the body of the instrument) and eucalyptus (the strings) trees in her honor. The guitar was her favorite instrument.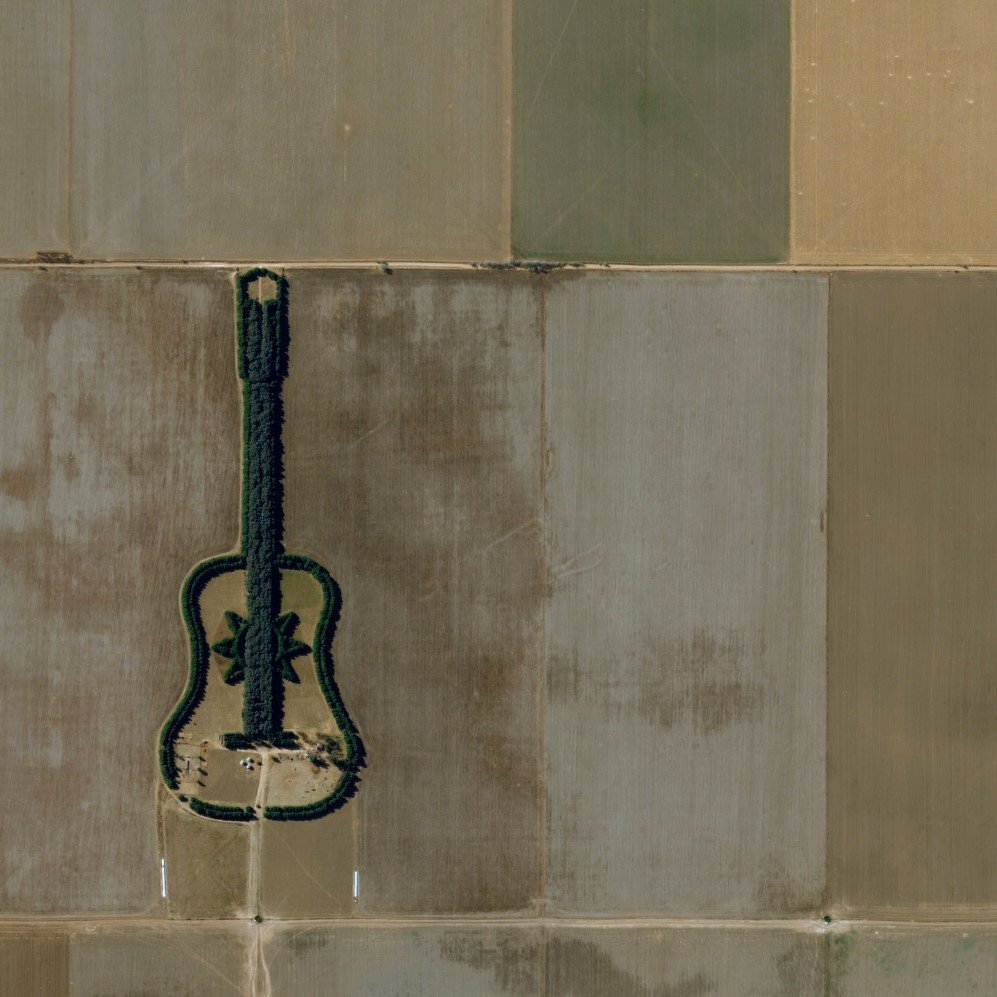 ---
Square Mile, London, England, United Kingdom
The Square Mile refers to the 1.12 square mile portion of the city that serves as a major center of business and finance. While the area only has 7,000 permanent residents, more than 300,000 make the daily commute into the area for work.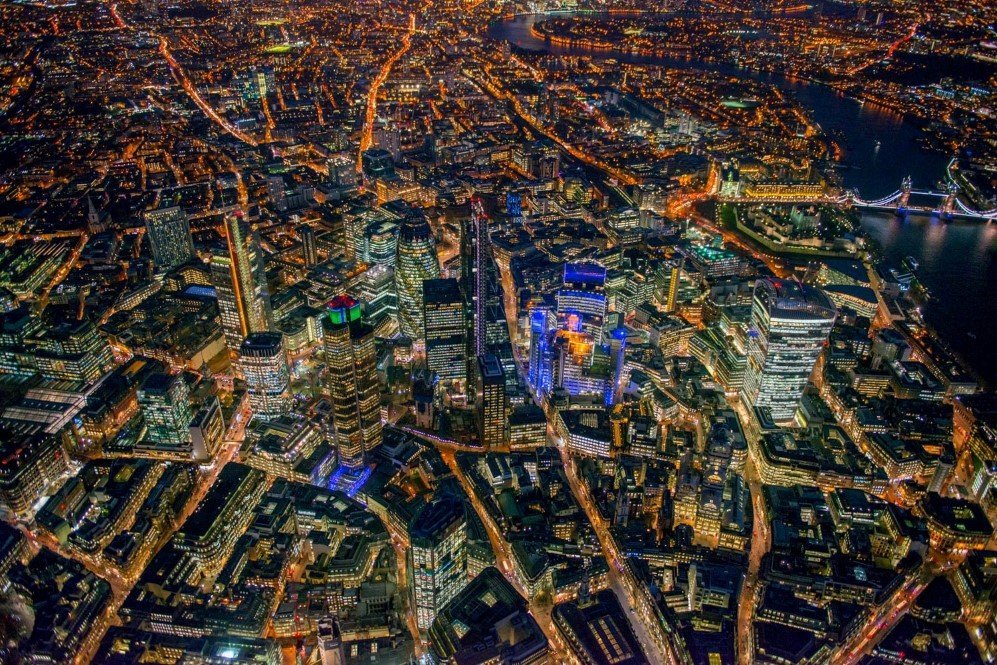 ---
Rub' al Khali or The Empty Quarter, Saudi Arabia
Rub' al Khali or The Empty Quarter is the largest sand desert in the world, covering 650,000 square kilometers in Saudi Arabia, Oman, Yemen, and the UAE. In the center of the region there are a number of raised, hardened formations that were once the sites of shallow lakes thousands of years ago. This Overview here is captured in Saudi Arabia near the border with Oman. A collection of trailers and roads leading to the site are also visible at center.
---
Lover's Island, Galešnjak, Croatia
Galesnjak, commonly known as "Lover's Island" is a naturally occurring, heart-shaped isle off the coast of Croatia.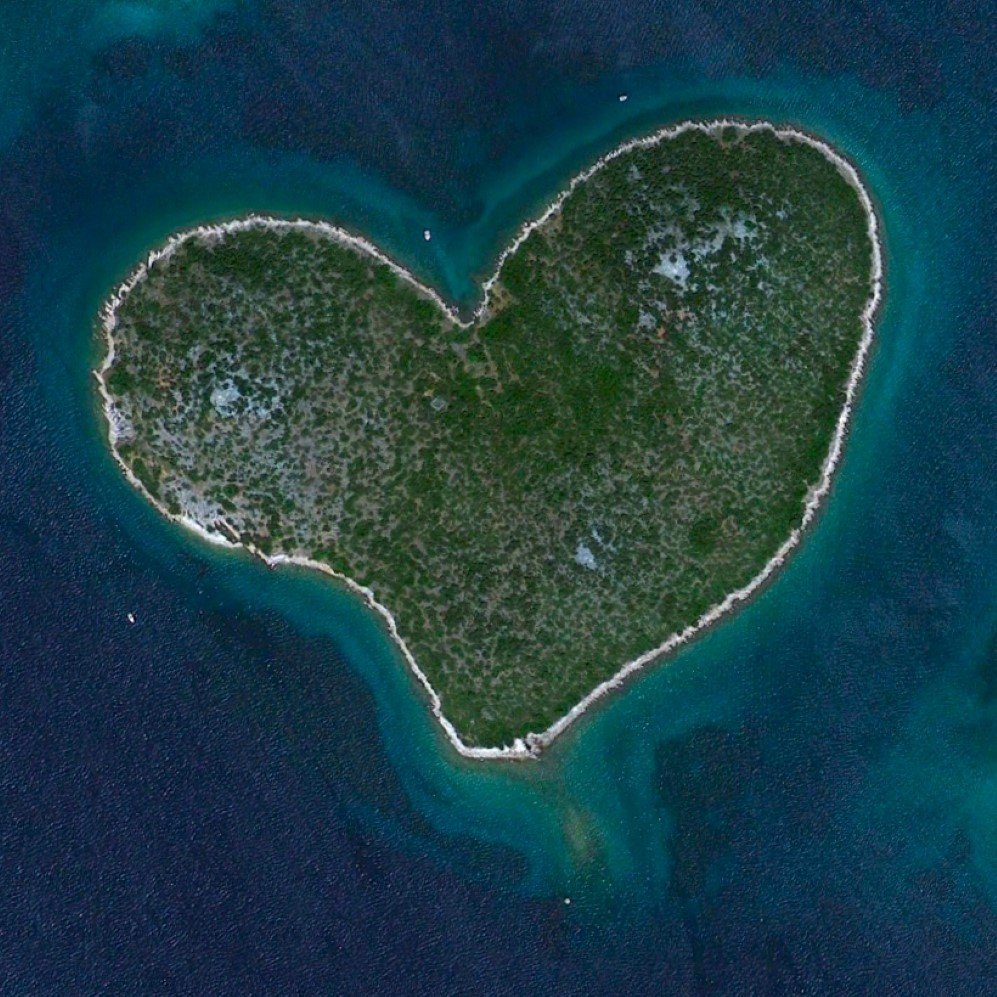 ---
Marine Shrimp Farming, Sonora, Mexico
Shrimp pools are located on the coast of Sonora, Mexico. In these massive ponds, the crustaceans are grown to marketable size with advanced statistical methodology and high-protein diets.
---
Boddington Gold Mine, Boddington, Western Australia
Water is contained at the Boddington Gold and Copper Mine in Western Australia. The mine is expected to become the country's largest source of gold with an extraction rate of more than one million ounces of gold per year.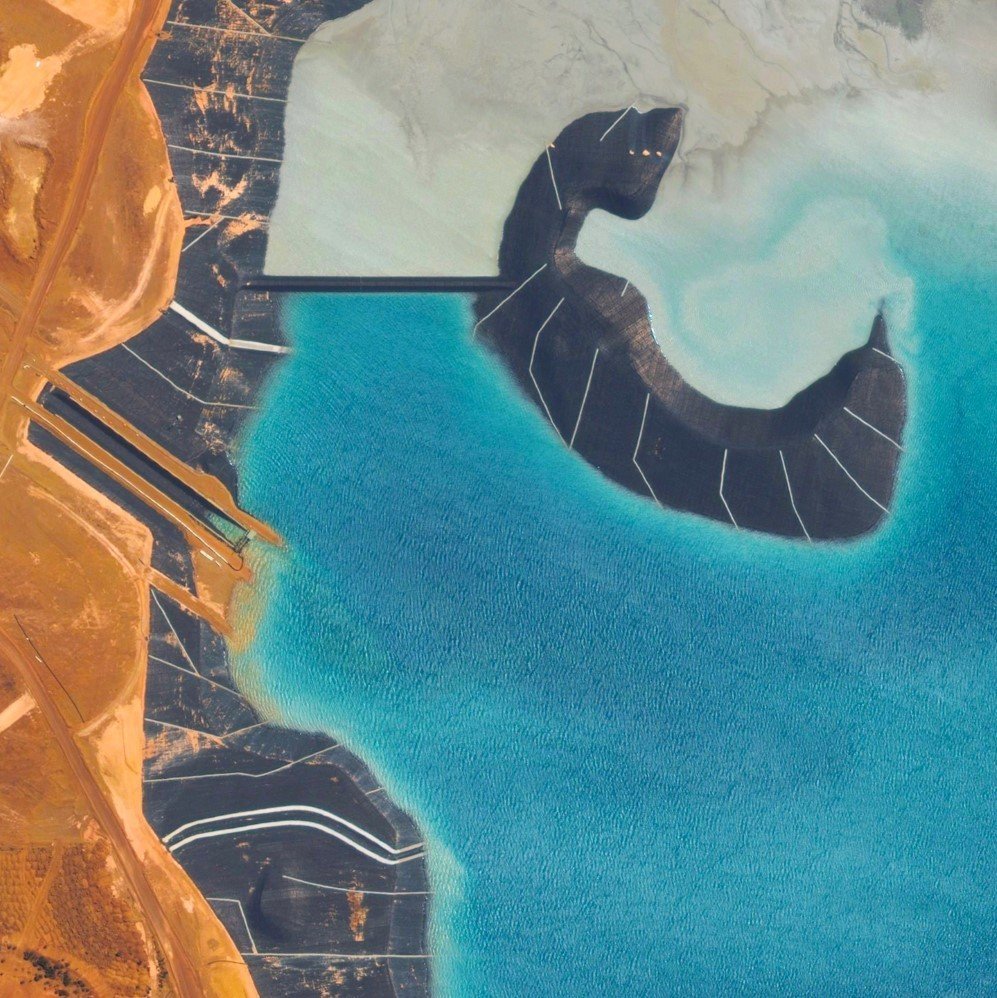 ---
World's Longest Pier, Progeso, Mexico
The pier in Progreso, Mexico is the longest in the world, stretching 6.5 kilometers (4 miles) into the Gulf of Mexico. Because the town's shore sits on a limestone shelf that drops off gradually as it gets further into the Gulf, the pier requires this vast length to allow cruise ships to dock here.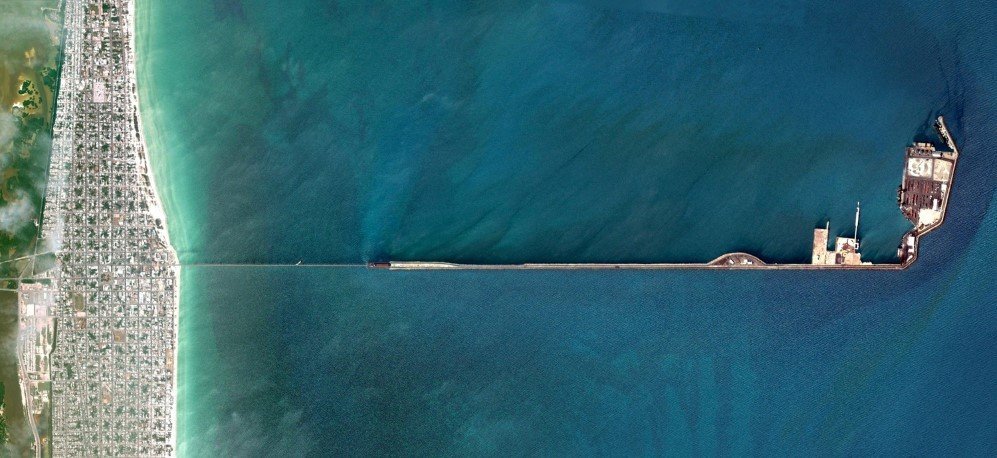 ---
Stelvio Pass, Northern Alps, Italy
The Stelvio Pass is a road in northern Italy that is the highest paved roadway in the Eastern Alps with an elevation of 2,757 m (9,045 ft.) above sea level. Only accessible in the summer months (June-September), the road and its 75 hairpin turns are sometimes scaled during the famous Giro d'Italia cycling race.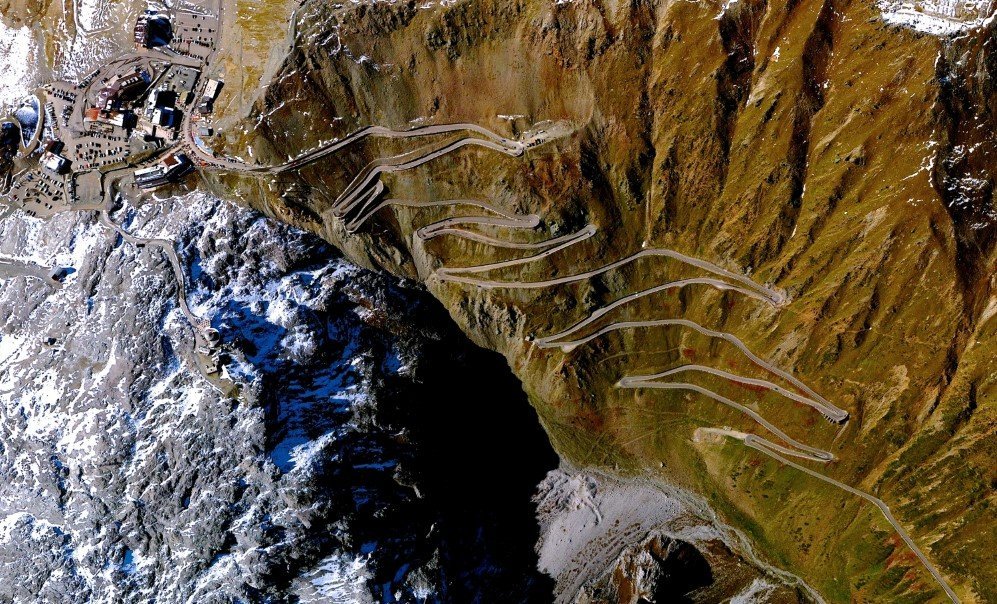 ---
Cube Houses, Rotterdam, Netherlands
The Cube Houses in Rotterdam, Netherlands consist of 38 small cubes and two 'super-cubes' connected together. Each cube is titled at a 45 degree angle and rests upon a hexagon-shaped pylon. Designed by architect Piet Blom, the concept represents a village within a city, where each house represents a tree, and all the houses together, a forest.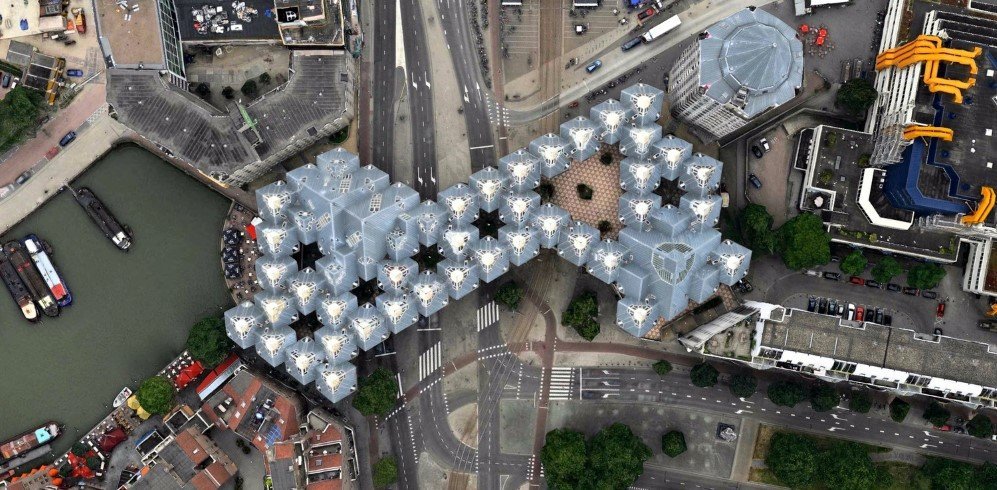 ---
Magdeburg Water Bridge, Magdeburg, Germany
The Magdeburg Water Bridge is a navigable aqueduct in central Germany. As the largest bridge of its kind in Europe, it spans the Elbe River to directly connect two canals, allowing large commercial ships to pass between the Rhineland and Berlin without having to descend into and then out of the Elbe. The structure was built with 24,000 tons of steel and 68,000 cubic meters of concrete.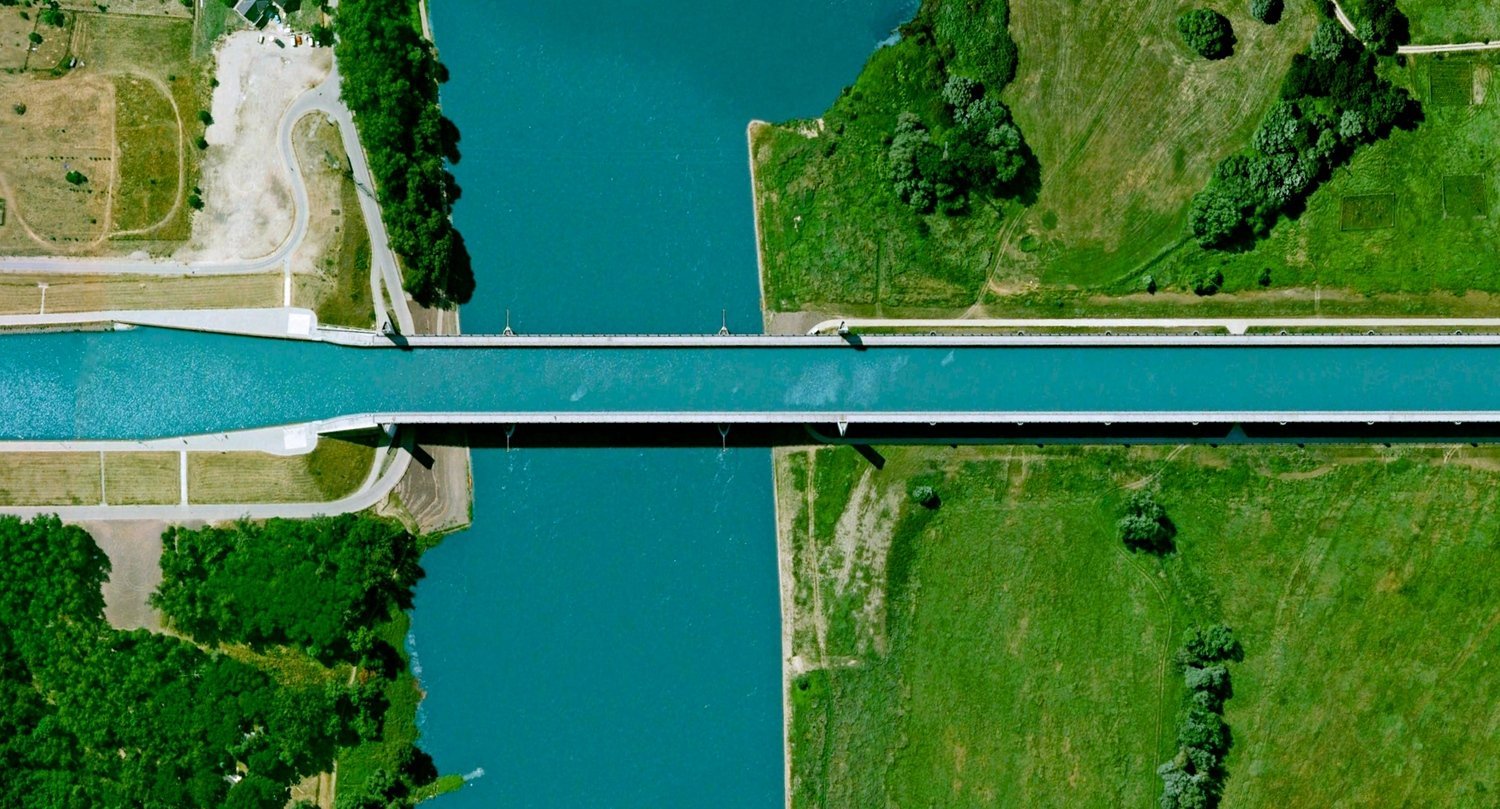 All Images are the property of Daily Overview. We have shared them to inspire cognition.
You May Also Like: The 20 Most Instagrammed Places Of 2015