Samsung QLED 8K display named 'The Wall' measures 583 inch
© Samsung
Samsung QLED 8K display, The Wall Luxury is a gigantic 292 inch, bezel free display which was launched last year and has now got a major upgrade. Samsung has revealed that they are extending their line and adding a 583 inch, 8K display known as The Wall for Business.
The details were revealed in Amsterdam at the Integrated Systems Europe 2020. Even though the 583 inch model is going to be Samsung's top model, other displays including the 4K display would be offered in 219 inches and 292 inches and an QLED 8K display in 437 inches.
This screen that stretches around 600 inches is what Samsung has made in response to Sony, that came out with its own enormous microLED display in 2019, at the National Association of Broadcasters trade show in Vegas measuring at 17 ft tall and 63 ft wide.
Micro LED display technology is the key to these massive displays. In order to have greater control over the contrast and brightness of the display, the technology utilizes tiny LEDs that allow every single pixel to light up, on its own without requiring any backlighting.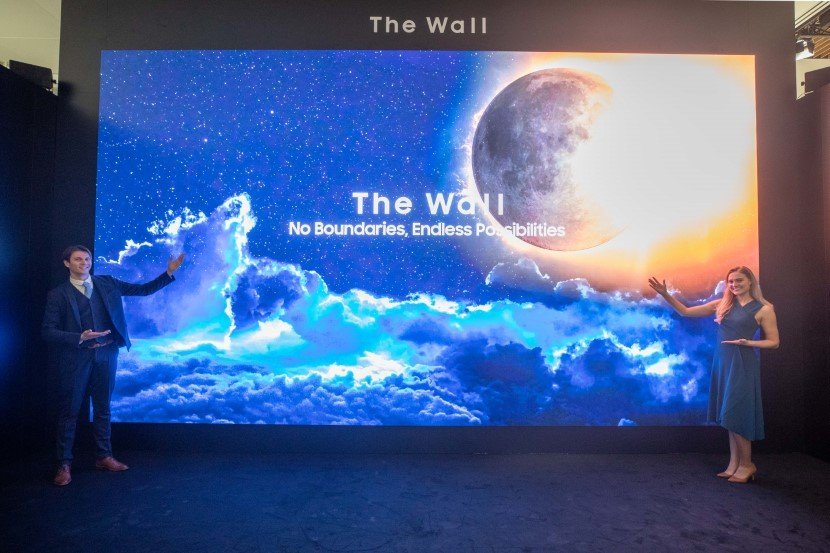 Recommended for you (article continues below)
Due to certain manufacturing limitations, OLED's can't be used since they are not big enough as these modular displays that actually use a number of panels together as to attain this gigantic size. These Samsung and Sony TVs are geared for commercial purposes as they would be offered to businesses rather than the rest of the public. The price point is obviously expected to be astronomical.
Even though there are many exciting aspects of this product, it is still not going to be considered the standard sought after product. Even the 16K display by Sony is rather futuristic for the time being, seeing as 4K content is still navigating its way through the market.
There is not a lot of content you can find even for Samsung QLED 8K screens. Although these impressive large screens are paving the way for what is to come in the future in terms of resolution and screen real estate; the rest of the industry has a whole lot of catching up to do.
Image Credits: © Samsung
Source: Samsung