Samsung DeX Gadget Transforms the Galaxy S8 into a PC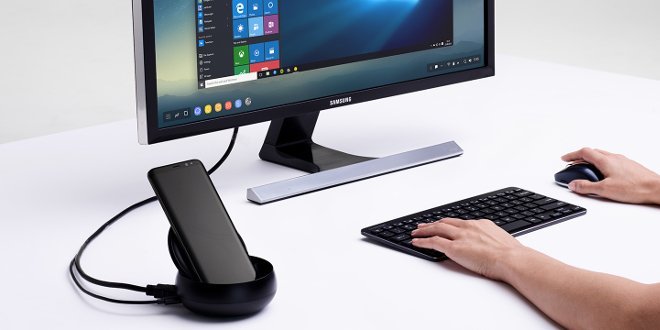 Imagine if you could power an entire desktop experience through your phone? Well, you don't need to imagine anymore because Samsung has changed that dream into reality. All you need to do is place your phone in a bowl-like stand!
The DeX (short for desktop experience) has two USB ports, an HDMI slot, USB-C socket for power and an Ethernet jack. These connectors help you to connect your phone to a screen/display, wired mouse and keyboard. Moreover, you can link accessories using Bluetooth which keeps the USB ports free and usable for other purposes.
The working is quite simple. Whenever you want to connect your phone, all you need to do is slide up the top part of the dock. Upon sliding, the disc flips out turning into a stand with a fan placed at the bottom for cooling purposes. This way you don't have to worry about your phone heating up. As you'll link the phone to the USB-C connector, the phone will automatically start transmitting data to all the linked devices.
SEE ALSO: Samsung's Galaxy S8 has a Killer Feature that Nobody's Talking About
Recommended for you (article continues below)
In order to keep the interface user-friendly and familiar, Samsung has kept a Windows-like appearance and tweaked the Android 7.0 Nougat in accordance with the larger display screen. You'll find an 'all apps' button on the bottom left of the screen and a taskbar at the bottom which shows characteristics such as connectivity, time, open apps etc. Samsung has also teamed up with Microsoft to further improve apps like PowerPoint, Excel and Word for DeX so that one can easily continue working on the large screen. However, the issue of app resizing prevails – the issue that led to the failure of previous attempts at this phone-desktop hybrid. Yes, Samsung isn't the first one to try this idea out; Microsoft's Continuum, Motorola's Atrix and Ubuntu's M10 all failed so there's no guarantee that DeX will succeed at operating all apps.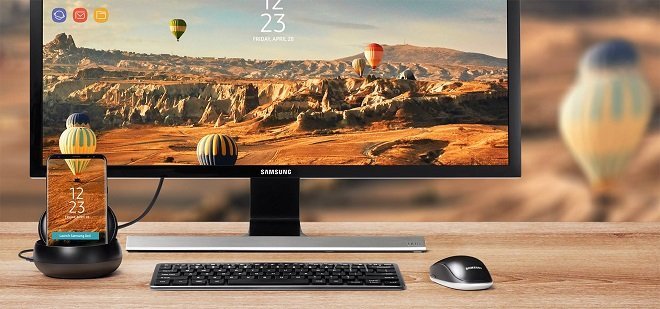 Experts say that Android isn't quite ready yet for the big screens. So, if you wish to run an app that isn't designed for the DeX then it won't be resizable hence proving to be huge flaw in the system. However, Samsung is trying its very best to make DeX a smooth experience so if you want an actual Windows system on your DeX the Galaxy S8 supports desktop visualization using Amazon or Citrix.
It's too early to comment on its performance or feasibility so let's just use our PCs for now without getting any fancy ideas.