'Pollution Pods' let people experience air quality from five most polluted locations of the world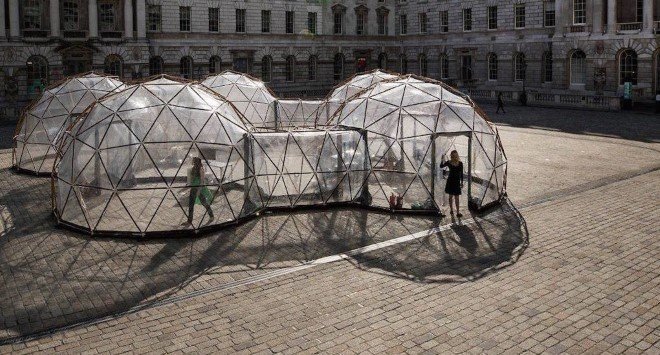 Air pollution accounts for many deaths around the globe. To highlight the severity of the problem, British Artist Michael Pinsky designed 5 modular geodesic domes and named them "pollution pods" that let people experience air quality from five various locations worldwide such as Beijing, Sao Paulo, London New Delhi and Tautra Island.
The pods were a collaborative effort between Pinsky and Danish air filtering company called "Airlabs". Set up exclusively for Earth day, the domes were temporarily positioned outside London's Somerset House.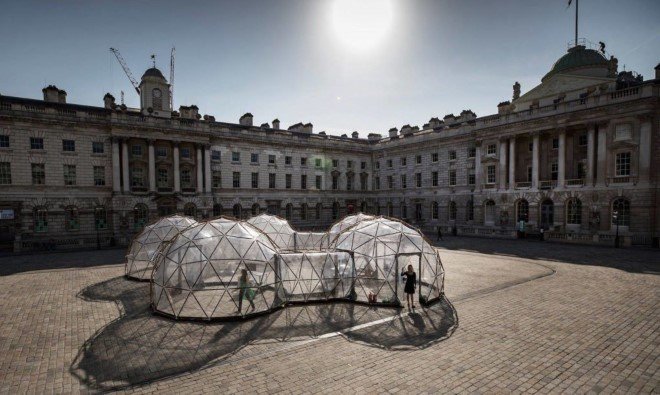 To imitate the air conditions across the globe, Pinsky released non-toxic chemicals of varying compositions in each dome to suggest the presence of the five most harmful air pollutants: ozone, particulate matter, nitrogen dioxide, sulfur dioxide and carbon monoxide. The visitors start their journey by walking through the unpolluted and clear Norwegian Island, then making their way through "living diesel" London, onto the smog-covered New Delhi, unbreathable Beijing and the heavily polluted Sao Paulo and finally exiting from the Tautra pod, which provides immediate relief.
The Norwegian University of Science and Technology, Trondheim had originally hired Pinsky to display his project as a part of the Climart project in Norway. The project then shifted to London where it was on display until April 25.
Recommended for you (article continues below)
This project represented a crucial problem that the entire world faced. Pinsky not only fought for the cause, he also brought it to attention and inspired the visitors to reduce air pollution.
It was a truly commendable effort by Michael Pinsky, which goes to show that you don't need to be an engineer or scientist to make efforts for sustainability.
Images via Somerset House, by Peter Macdiarmid