Novus electric bike looks easy on the eye but falls heavy on the pocket
Novus, a German electric motorcycle company, displayed their debut model at CES 2019. This electric motorcycle is underpowered, hideously expensive, and doesn't go very far on a charge, but still, there is a lot to like about it. Starting with the way it blurs the line between the motorcycle and ebike, its incredibly lightweight, and obsessively engineered good looks make Novus an interesting little bike.
The Novus has ultra-modern styling, is light in weight, narrow, very tidy, and a hollow-bodied city commuter with thin tires. It only weighs 38.5 kgs (85 lbs) and has an 18.7 horsepower (14 peak kilowatt). The company claims that the rear hub drive puts out 147.5 lb-ft (200 Nm) of torque, which would make it reach its top speed of 98 km/h (60 mph). Keep in mind that the power rating is peak and not nominal. The nominal power is 8.3 horses, or 6.2 kilowatts, which means that we are not talking about a powerhouse here.
Image: Novus
The charge time required to reach from zero percent to eighty percent is around one hour, and with a range of around 98 kilometers (60 miles) of urban riding, it makes this ultra-lightweight and stylish commuter perfect for people to dodge daily traffic. The Nova costs around US$39,500, and unlike most electric motorcycles, the main culprit for the Novus isn't only its battery pack, and they can't point towards it. The range provided by it is also limited. The high cost might be because of its construction, which includes the headstock, the swingarm, the forks, much of the frame, and even the handlebars are in complex shapes that are hand-made in carbon fiber. But then again most of the carbon stuff is imported from China at a low price so it may be the rental costs in Braunschweig that are driving the price up.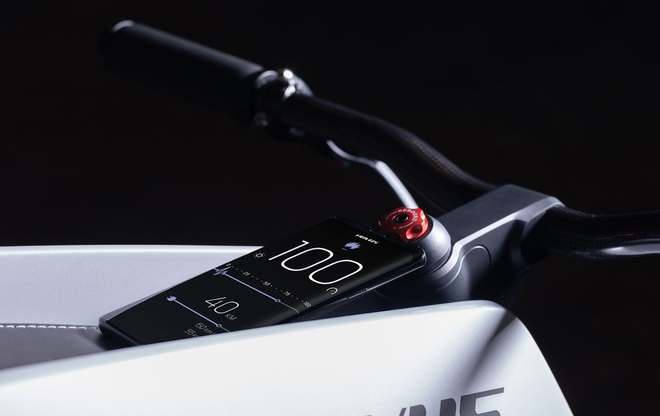 Recommended for you (article continues below)
Image: Novus
No matter what the case may be, but transport at this price makes no sense at all. The design details must be appreciated for this modern piece of art, from the phone-as-dash idea, the custom brake discs up to the single post fork, tidy suspension mounting, and the neatly integrated headlight.
Overall, it is pleasant to look at overall proportions of the bike, and even a little thicker tires would look great on it. However, it is not legal, not without mirrors, indicators, license plates, and a better headlight, and these things might clutter things up visually. We will have to wait and see how the production bike looks like.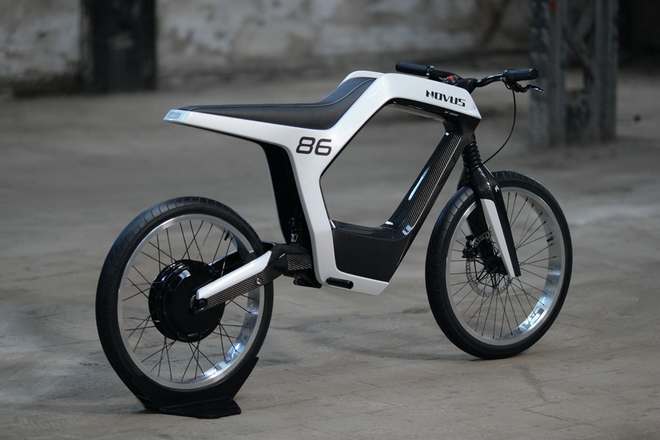 Image: Novus
h/t: Design Boom