NexFan's 4-in-1 personal air conditioner; cooling on the go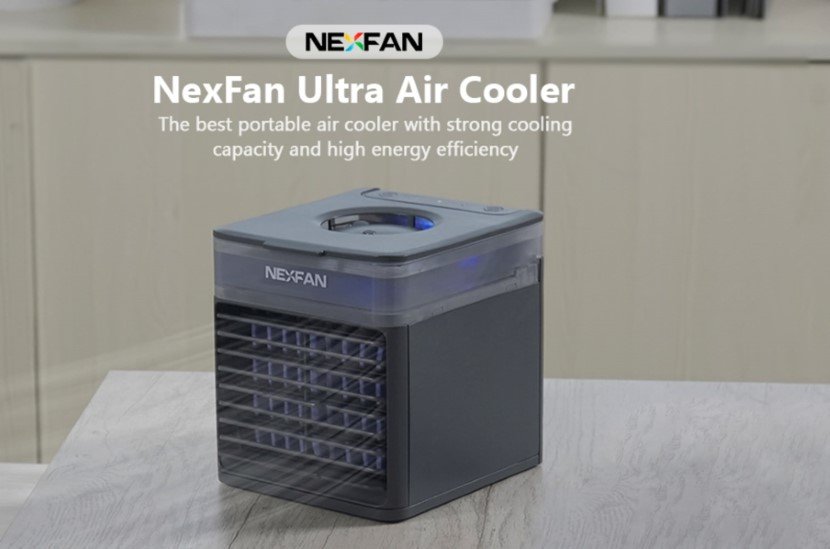 Image Credits: Indiegogo
As we enter the peak of summer, it is becoming increasingly difficult to stay cool and refreshed. This personal air conditioner is the optimal solution and you can take it wherever you go! 'NexFan' has launched the world's first ever UV-C portable air cooler so you can no longer worry about the scorching heat.
Recommended for you (article continues below)
A 4-in-1 personal portable air conditioner
The personal air conditioner functions as four devices in one. It not only provides efficient air quality but includes refrigeration, humidification, air purification and aromatherapy. It is portable and provides instant cooling and can also be charged with a USB charger. The internal reservoir of the portable air conditioner is automatically cleaned and purified.
The air cooler functions by creating a cool micro climate by blowing 5˚C of cool breeze in the room. Compared to traditional evaporative coolers, it does the job faster and covers a much larger area.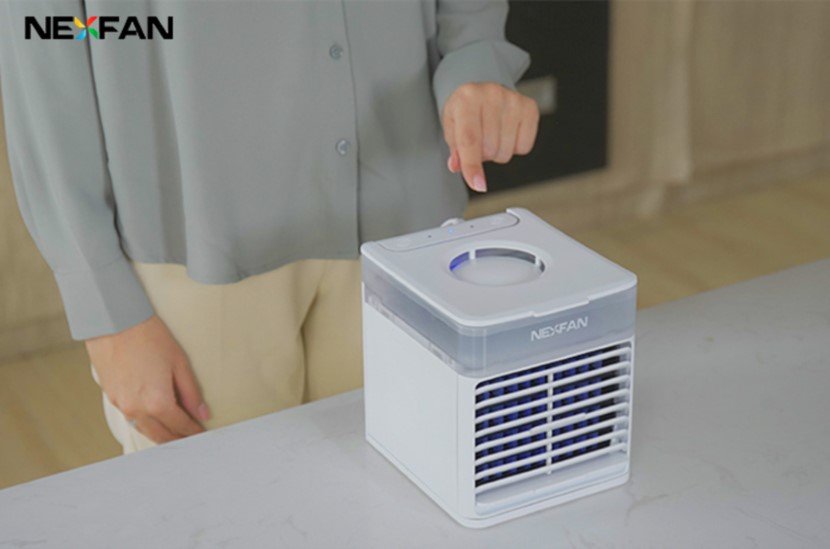 Advanced cooling features made possible with an atomizer
The conventional air coolers need a good few minutes to cool the room and reach the optimal temperature, however this portable air cooler does the job in a matter of seconds. To add to its efficiency, the NexFan Ultra uses an atomizer whereas the traditional air conditioners use only a cooling pad. The atomizer utilizes the depressurization technology and optimizing volume making it easier to spray the cooled water. The inside of the personal air conditioner also includes a 4.8 x 10 cm plant fiber curtain which is thick enough to soak more water and consequently causes more evaporation and cooling. If you wish to have an even cooler outlet, add some ice and watch the air conditioner work its magic!
Provides ultra-efficient cooling to a much larger area
NexFan Ultra can deliver a fresh breeze up to 5 feet with its strong airflow distance. The inside of the portable air conditioner consists of a three dimensional network of wet curtains and a filter. This creates a smooth and natural air circulation and gives various blowing angles that are 90 degrees apart. Since the blowing wind is distributed around an area, it ensures that the people in the room aren't subjected to any headaches.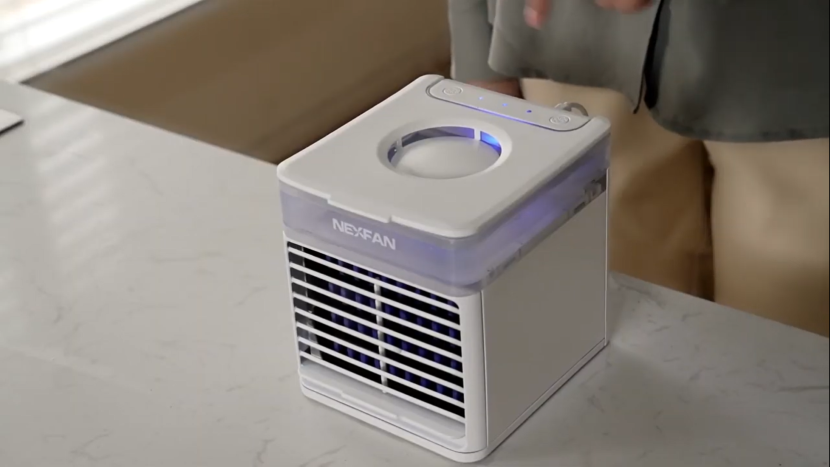 Carry the personal air conditioner around wherever you go
The mini air conditioner includes a USB port where you can plug in your USB charger and connect it to the power outlet. This gives you the ease to carry the air conditioner with you or keep it stationary.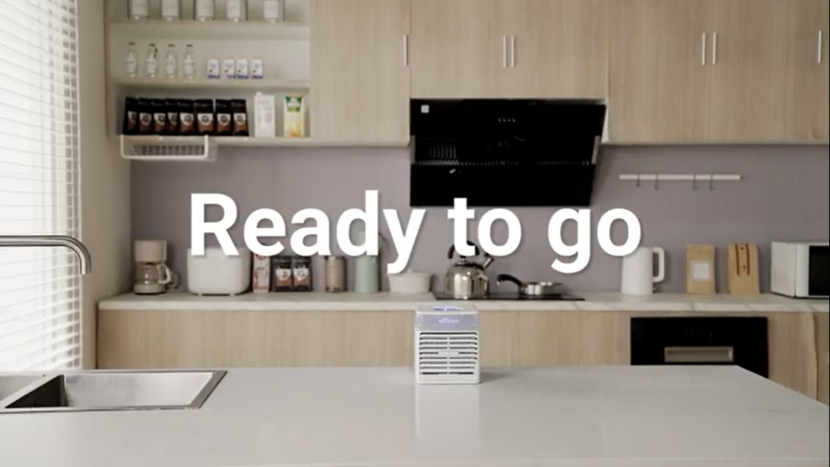 The leak-proof technology
NexFan Ultra has an enhanced structure which has undergone strenuous testing to ensure no leakages occur when you shake or move the portable air conditioner around. This prevents your workspace from getting wet and the chances of it ruining your documents.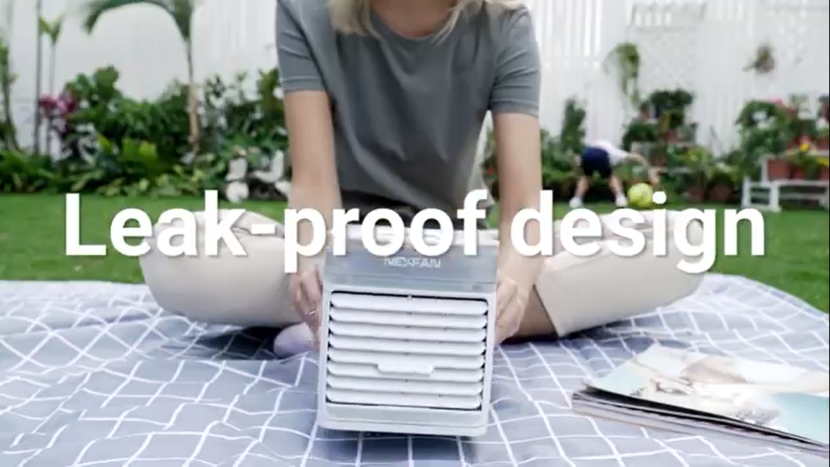 The personal air conditioner is energy efficient
Utilizing the same amount of energy, the NexFan Ultra does a lot more than a traditional air conditioner. It uses much less power and saves up a lot more energy. You can charge the AC with a 10,000 mAh power bank which keeps the personal air conditioner up and running for around 12 hours. At a full reservoir capacity of 500 ml, the cooler works best and you no longer have to worry about running of battery at a fun outdoor picnic.
While traditional air coolers require 70W of energy and traditional fans need at least 40W, Nexfan uses only 10W making it super-efficient.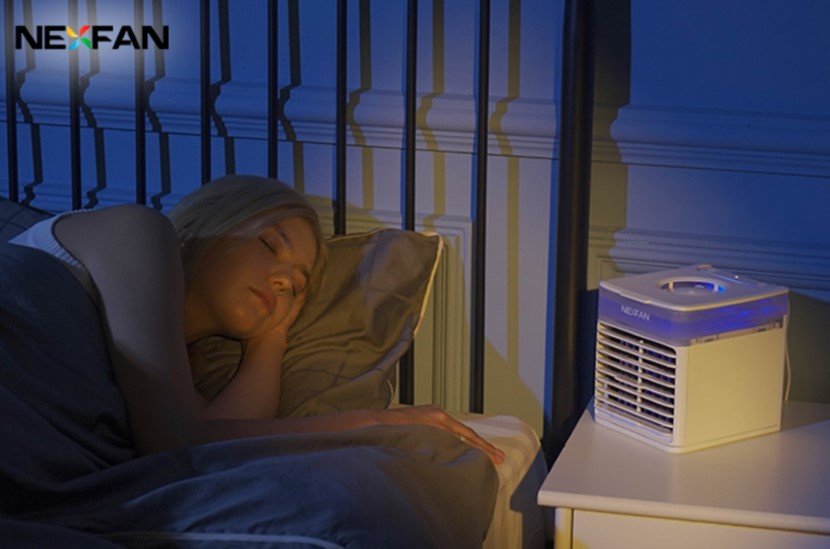 Super portable and easy to carry
The stealthy looking device measures only 14.4 x 1.1 x 15.9 cm and weighs less than 1 kg. Carry it around with you in your handbag and take your portable air conditioner with you wherever you go.
The air conditioner has no noise
The noise block design allows the portable air conditioner to keep the noise levels below 68 decibels and reduces it by 30% so your cool and calm environment does not come at the cost of noise pollution.
Two different cooling and humidification modes
When you activate the NexFan, there are two different modes you can activate. You can either turn on the normal cooling mode or switch to the humidification cooling mode depending on your preference. If it is hot and humid, you can use cooling in humidification, to enjoy the cool surroundings. If you are already in a damp area, turn off the humidification to be able to feel the dry wind.
Air purification with nano-silver ions
This mini portable air conditioner not only limits all of the contamination within the water tank but uses nano-silver ion filters to purify the surrounding air and get rid of odor.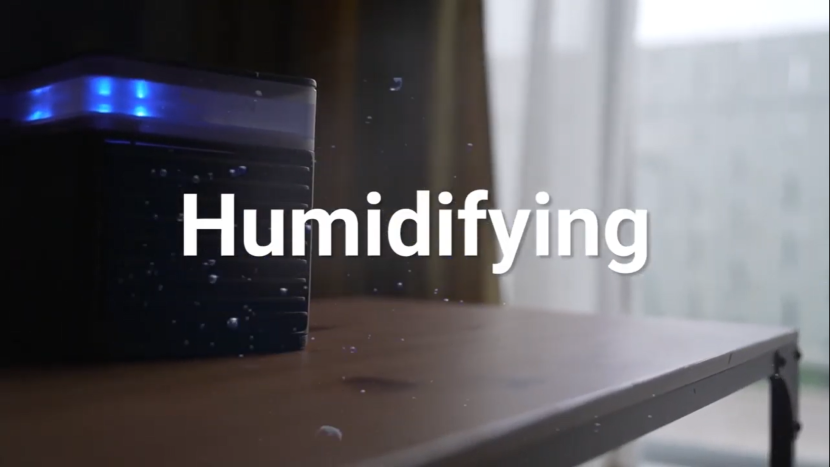 Enjoy a peaceful environment with aromatherapy
The LED lights included inside the personal air conditioner are consist of all 7 rainbow colours allowing you to choose between them and set the mood. You can even add some aromatherapy oil, to get a good night's sleep. This helps create the perfect ambient environment for you to relax in.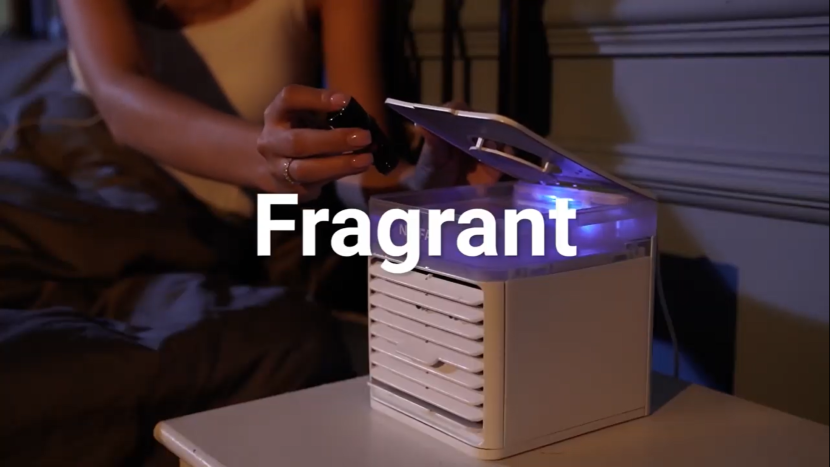 Easy to operate
In three simple steps, you can get your mini air conditioner, up and running
Step 1: Add water (up to 500 ml) into the tank
Step 2: Plug in the power
Step 3: Switch it on and enjoy the cooling experience
Remove and wash your air filter
The NexFan ultra filter can be removed and washed making it better than requiring a constant replacement. At the average daily use, the washing is only required after every two months. However, if you do not wish to recycle, you can always completely replace the filter. The additional filters are available as an accessory.
More about the company
XP Inc. is a sub-company which specializes and carries out research and development of intelligent temperature control and purification technology. R&D teams have been set up all over the world for the range of products made by the company including refrigerator fans, air heaters, cooling neck fans, purifiers, UV lamps etc.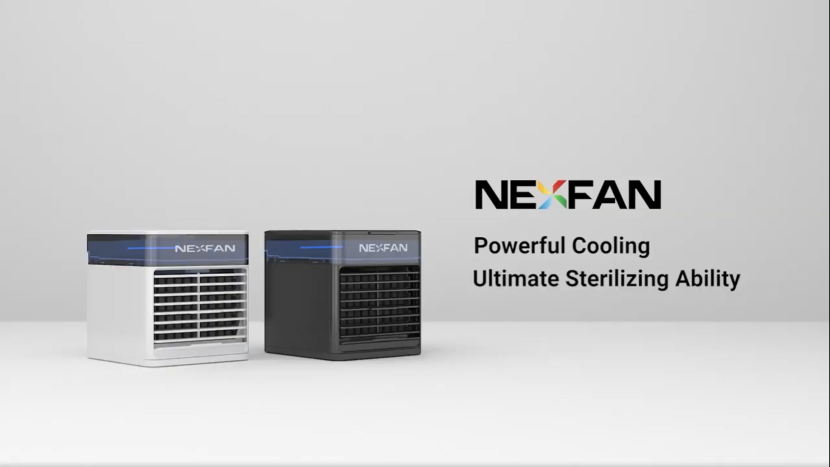 Inside the Nexfan air conditioner Box
The box includes the NexFan Ultra body, a USB cable and a germ free filter. Despite the efficient filter which has a long lasting filter element, all filters need replacement once in their lifetime. It would be best to buy a considerable amount of filters for lifelong replacement, to save on shipping costs. The add-on filter pack is available for $10.
With the early bird discount, at 50% off, you can buy 2 coolers for just $99 and get 2 additional filters for free.
All Images: Indiegogo