Never Let Your Kitchen Mess Up With Frankfurter Chopping Board
Cutting up all those vegetables do create a huge mess in the kitchen and if you are a neat-freak then you must get really anxious with the vegetables going in all the wrong directions while you transfer them from the cutting board to the pots or storage containers. Luckily, someone finally thought of upgrading the conventional design of the chopping board, thanks to Frankfurter Brett for restoring the order in the kitchen.
Two German twin brothers, Johannes and Joseph Schreiter, came up with an idea of multi-purpose cutting board that contains extensible brackets, which can place storage containers, on its three sides and a slanting display bracket to hold the staple ingredients, on the fourth side. The extensible brackets are the most convenient feature in it as you can slide of the vegetables that have been cut to an easily accessible storage container in real time and without creating any mess or wasting any of those veggies.
The Frankfurter Brett is available in three sizes, Mini (360 x 200 x 40 mm and weighing 3 kg), Mono (500 x 360 x 40 mm and weighing 6 kg) and Phoenix (600 x 450 x 80 mm and weighing 12 kg). The Phoenix is undoubtedly bigger than the other two models but it also has many additional features too such as, it has a black resin-bound concrete base in which the cutting board is placed and a flipping feature which allows the board to flip to the cleaner side without distorting the arrangement of the containers.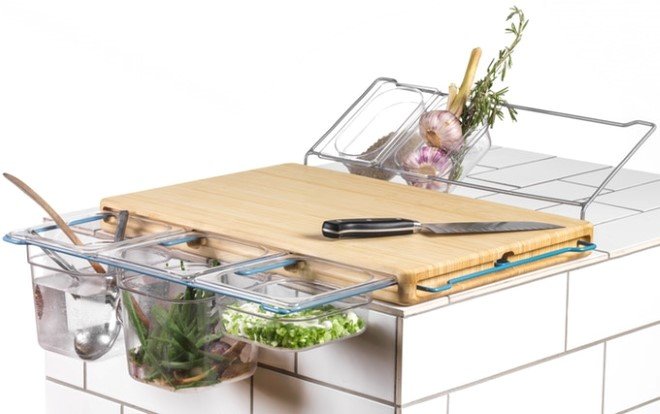 Recommended for you (article continues below)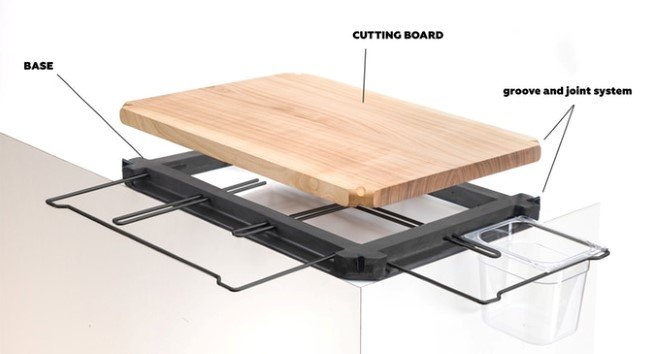 The Frankfurter Brett can be ordered for €159, €229 and €429 for Mini, Mono and Pheonix, respectively.
Images: Kickstarter
References: New Atlas