LG Styler Will Clean and Press Your Clothes Automatically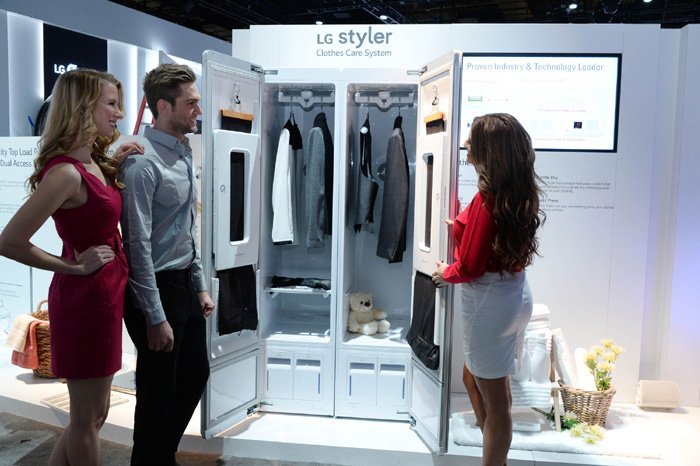 Imagine if you placed your clothes in your closet and they magically got washed as well as pressed! Not sure about you, but I would definitely be the happiest person alive. Luckily somebody else imagined this, and actually implemented it. Wondering who came up with the first ever steam clothing care system? None other than LG.
If we talk about the operating mechanism, it's quite simple. The hot steam inside the closet takes up the space that initiates the deodorising and de-wrinkling processes. According to experts, this process kills 99.9% of the germs and bacteria without the use of chemicals. It even removes 92% of Perchloroethylene which is a big achievement as normal dry cleaning fails to remove this chemical. After this, the hangers inside begin to shake which actually remove the wrinkles. For pants, there's an entirely separate press area that keeps the creases nice and crisp.
The system takes only half an hour to freshen and iron trousers and pants perfectly. How cool is that? Not only this, there's an additional heat pump that controls the temperature and prevents the clothes from shrinking during the drying process. At the end, the system sprays the user's preferred scent to make the clothes smell nice and fresh, so you don't even need to worry about your clothes smelling like food or smoke!
Recommended for you (article continues below)
Image Courtesy: LG Styler
Mr. Dave VanderWaal, head of marketing of LG Electronics USA, while expressing his views regarding the technology said that in today's world, when there's a perpetual shortage of time, people don't have time to properly take care of their wardrobe. Hence, LG Styler solves this issue, and makes people's lives hassle-free and convenient.
LG first unveiled their product at the New York Fashion Week as the company believed that the Styler offered people a service that would make them look their best, as well as make them feel best – a feeling that fashion instils in them.
LG decided to make life even better by allowing users to control the magic-closet with a Smart Diagnosis. This alerts the user regarding maintenance and repair. Whereas one can download an app and operate his/her Styler with a simple tap on the screen. Now I understand what LG means when they talk about 'innovation for a better life'.