ioT Devices Breaking New Barriers, Monitoring Health of Cattle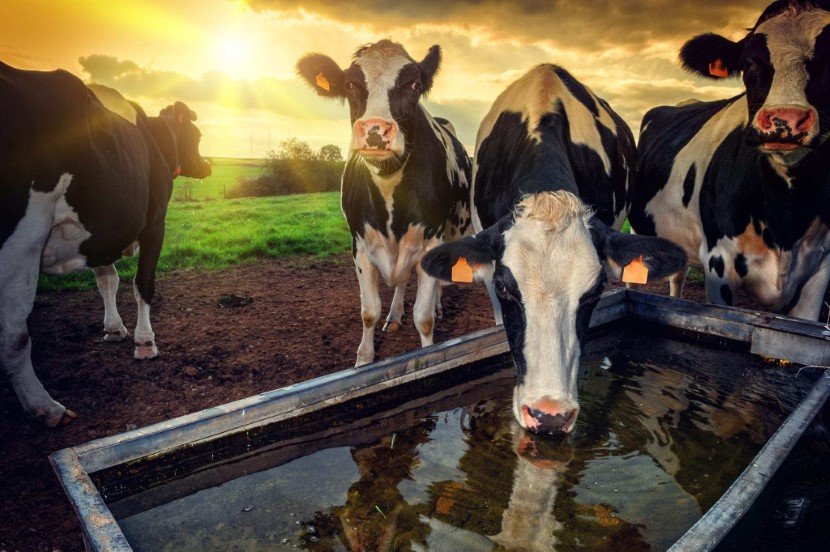 Image credits: Actility
Agriculture has been in business long before the concept of business was even viable. With an exponential increase in world population every year, according to the World Economic Forum, "The dominant paradigm of global food security is that humanity needs to increase food production by 50% to 100% by 2050". There have been numerous technological advancements in the field of agriculture that have greatly reduced the amount of effort and hard work to grow crops and herd cattle. However, this high-efficiency rates due to tech advancement come at a cost of damaging the environment. It is estimated that by 2050, the carbon emissions that come from the sector of agriculture alone, will contribute to 100% of the total emissions. With advancement in technology, different IoT devices have been introduced to better the agricultural performance.
Internet of Things in Agriculture
Ever since the invention of tractors and harvesters in the late 19th century, different organizations have been working to make micro-farms turn into industrial scales macro-farms that produce goods for a larger population. These organizations include the Climate-Smart Approach (CSA); the Food and Agriculture Organization of the United Nations. The latest news from this department brings the ioT, the aim of which is to gather data and make progress with its help. There are various ioT devices that help in attaining this goal.
ioT devices are more than just gathering data. Numerous decisions and innovations take place on the basis of this viable information. The data can also bring about situational awareness vital for businesses, for instance, the data on the number of cows falling sick due to the harsh climate and to get the appropriate medication for them. Not only this, the IoT derives can also bring about information regarding the upcoming weather conditions.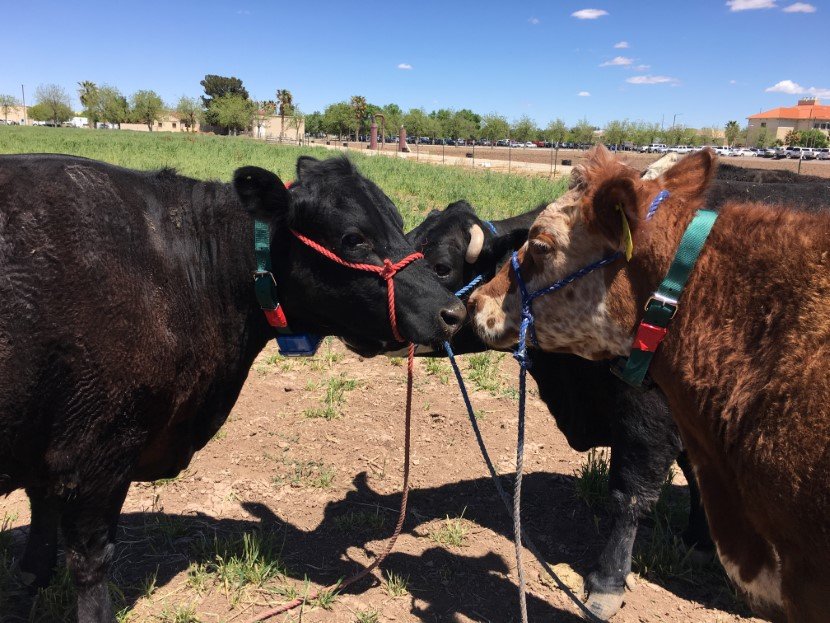 Working Process of IoT Devices in Agriculture
We have established the fact that the IoT devices work on the basis of data gathered. However, when it comes to the internet of Agriculture, there are a few connectivity hurdles. The data from the sensors do not receive enough service to be able to transfer it further. The traditional communications network infrastructure mainly covers urban areas due to the dense population and the rural areas are sidelined as the population is not enough to cover the cost model of the fixed-line providers or the mobile network operators (MNOs). Hence, these rural areas require connectivity that is budget-friendly and offers various deployment methods. The sensors present are preferred to work on low battery or be disposable since other alternatives are not quite cost-efficient.
LoRaWAN
LoRaWAN is a low power technology that works on large ranges, making it ideal for IoT devices in agriculture.Two of the businesses offering LoRaWAN include Farm Only private networks to Agriculture-as-a-Service offerings.
LoRaWAN low cost tags
According to Beef Market Central, there are over 1,467,548,724 heads of cattle in the world. Attaching the LoRaWAN low-cost tag on these cattle can provide a great deal of information. It can be used to track cattle, alert in case they go over boundaries. Other savings the technology involves are as follows:
The cost to track per cow is US$36.
A basic tracker costs US$30. The tracker, connectivity, and service cost $3 per month, US$36 per year over a three-year contract.
Annually, return on investment (ROI) in Brazil yields a US$27,148,182,234 in savings.
All 211,764,292 cows in Brazil would cost US$7,623,514,512.
However, these costs per cow are still relatively high. There is also quite the hard work involved in order to tag all the cows altogether for the LoRaWAN network to be made available.
Taking New Zealand as an example, farmers there only make US$100-$200 per animal that is in case everything goes smoothly without any natural disasters. You can access all of New Zealand's livestock per farm here.
Abeeway's IoT devices for tracking
New Mexico State University (NMSU) and USDA ARS Jornada Experimental Range (USDA ARS JER) are now solving farmers' problem of tracking their herd with their Abeeway's ioT tracking devices that work with LoRaWAN connectivity
In Southwestern America, ranches house up to 7,000 cows ranging about 10,000 to 20,000 hectares. Some even cover up to 90,000 hectares of land which makes it almost impossible for farmers to keep track of their cows. Moreover, the places where these cows are kept are not wide enough for cars; hence, farmers have to saddle up their horses to keep their herd in check. Not only does this cost a lot of workload but is also very time consuming. They also have to keep other things in check, such as water availability.
The Abeeway's IoT tracking can provide a wide range of services such as temperature sensors, beta-test funding, cattle tracks, gateways and network management, water level sensors with automated water stations, and a dashboard. Apart from this, the sensors on the cows can also monitor their movement and predict if the cows are in heat. The New Mexico State University (NMSU) and USDA ARS Jornada Experimental Range are currently working on making this program to be the most efficient so far. They are striving to introduce technologies with a battery life of 6-7 months and offer location precision at 1 to 5 meters. For enabling a long-range nature, the system chose LoRaWAN as the perfect connectivity source.
Applications of IoT devices in Agriculture
IoT devices in agriculture are already greatly revolutionizing the field. The sensors attached to the cows can tell when a cow is to be visited by a bull for insemination. It has been proven that the temperature and pedometer devices are able to detect the estrus levels in cows. Insemination success rates have increased from 2.0-2.5 attempts to 1.58 attempts. The average calving interval has also shortened from 402 days to 354 days, and the female cattle birth ratio has increased. Sensors also have the tendency to inform the farmers when a cow is about to give birth, which gives farmers enough time to take the necessary measures. It is predicted that the sales will rise upto US$645 per head per year and a greater yield of milk production will also take place.
IoT devices for abiotic measurements
The sensors also have an alert system for water and soil quality and quantity. These two factors being the prime valuables for agriculture can be kept an eye on by the sensors. The IoT sensors make sure that the individual crops get the right amount of water and the right sort of soil for an optimal growth rate. For example, strawberries and tomatoes require large quantities of water for a good growth rate while potatoes and cotton do not need an ample amount of water.
In Italy, LoRaWAN IoT devices are increasing the crop yield by 20-30% in vineyards. These sensors have greatly reduced the use of chemicals and fertilizers in the Palm oil plantations. IoT sensors in the soil can alert the farmers about unbalanced moisture by measuring soil conductivity. If these sensors are equally spread in the field, they can predict the right time for irrigation on the basis of this data, preventing wastage of labor and water. Another way these sensors are being utilized is through pest control. These sensors only permit certain pests to be captured and once the sensors weigh a specific amount, the farmer is alerted to remove them. This keeps the pest issue in check and prevents any great pest attack and crop loss.
IoT devices in monitoring systems
HealthyCow24 is an app based off the Internet of Things. The app provides farmers a monitoring system that gives them information about the cows of their herd on an individual level. It can help provide assistance in suggesting a better milk-producing boost and also how to ensure a proper calving process.
Hake is a farmer working on a co-op farm in Wagenfeld-Ströhen, Germany, since 2005. According to him, the app helps save ample of precious time since he no longer has to keep a close eye on his cows. He says, "If I had told this to someone a couple of years back, they would have thought man, you're nuts. But that's the technology. It works."
Another program called Heatime offers sensors, microphones, and necklace tags to monitor the movement of cows and their rumination levels. This helps it to predict if any of the cows are in heat or are going through some health issues. Hake says, "To identify a cow in heat, you need to spend at least 20-30 minutes in the stables per day, four to five times a day," he adds "This time has now been eliminated."
SRCs Dairy already has about 4 million cow tags around the world, monitoring their health. This has greatly benefitted the farmers indulging in other productive work as they have an eminent time saved by using the company's services.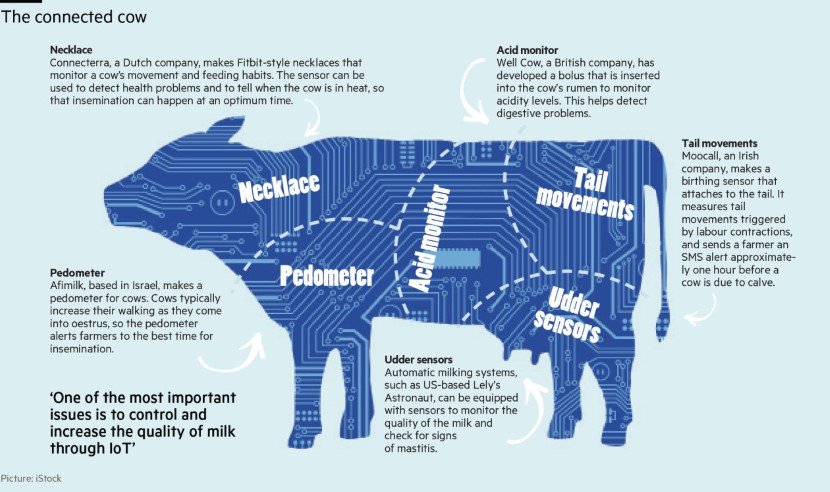 5G Connected Cow
5G is already playing a vital role in people's lives, providing high-speed internet and aiding other technologies such as artificial intelligence and augmented reality. Now, technology has progressed far enough that it can now help guide cows for different chores to perform. The cows have a 5G robotic collar that helps in a milking system. When a cow feels the need to be milked, it can arrive at the gates of a machine that will recognize that individual cows can grab on to their teats for milking. For correctly arriving at the machine to get this process done, the cow is then treated with food as a sign of a job well done.
Around 50 of the 180-strong herd is fitted with the 5G smart collars and health-monitoring ear tags at the government-funded Agricultural Engineering Precision Innovation Centre (Agri-EPI Centre) in Shepton Mallet, in southwest England. According to Duncan Forbes, Project manager at Agri-Epi Center, "We are testing the ability of 5G to transmit the data from our sensors much quicker, and not via the farm's PC and a slow broadband internet connection," and that, "And the significance of that is it means that this sort of technology could be taken up not just on farms, but on rural communities right across the country."
The Agri-Epi company also provides other technical services such as the installation of automated brushes. These brushes tend to rotate when a cow brushes against them, the smart food system then delivers food to the barn through a ceiling-mounted rail. There are sensor–operated curtains that open according to the type of weather. "We can connect every cow, we can connect every animal on this farm," Cisco's Nick Chrissos said. "That's what 5G can do for farming — really unleash the power that we have within this farm, everywhere around the UK and everywhere around the world."
Bovine Technology
Bovine technology involves the placement of a sensor on the ankle of a cow that would give the owner the data on its movement. With the help of this data, the owner can predict if there are any abnormalities in the cow's health or whether she is in an oestrus period. Farmers can put these sensors on different parts of the cow's body to monitor every sort of movement and attain data for a higher reproduction rate.
Moocall
This is another initiative by an Irish company working in collaboration with Vodafone. The company puts sensors on the tails of cows which gives the farmers update on how long it has been since the cow has been calving. According to the cow's movement, the sensor can alert the farmer in case there are any complications that need to be tended too. In the UK, more than 1,10,000 calves and 50,000 cows die annually because of birth-related complications and Vodafone strives to reduce the mortality rate by 80% with their invention.
Well Cow Bolus
Well Cow Bolus is another initiative that has sensors inside the cow's rumen. The rumen is the first layer of the stomach. These sensors monitor dietary health and a cow's temperature. The sensors also have the ability to sample biomarkers in the milk of the cow. The information obtained can be highly useful for increasing the herd head by an exceptional ratio. Roslin Foundation in Scotland builds the sensors using technology from Arm Holdings similar to that used in older generations of mobile phones. The company is also planning on opting for the concept of machine learning for the monitoring of individual cows so the agriculture sector flourishes in terms of efficiency in order to properly serve the overgrowing human population.
GYUHO SaaS
The Japanese company, Fujitsu has developed the GYUHO SaaS that works for the monitoring of a cow's oestrus cycle. It can tell the time when the cow is most fertile and is expecting a visit from a bull. The company aspires to increase the reproduction rate by 10% which could also increase the production of milk by 1p by litre.
James Maynard, managing director of Fujitsu's Global IoT & Innovation unit says, "British farming is facing a number of challenges. Understanding how technology can be applied to empower farmers to achieve better results is a vital step towards ensuring UK farming thrives."
Telecom Italia
Telecom Italia is planning on working with Consorzio del Formaggio Parmigiano Reggiano, the industry body representing Parmesan cheesemakers, about providing the telecom services in order to improve connectivity so the efficiency rate of production could be increased. "One of the most important issues is to control and increase the quality of milk through ioT. We can provide connectivity from the field to the dairy cattle, to dairy products, and to transportation," says Giovanni Ferigo, head of technology at Telecom Italia Mobile. "We can control the whole production process through biosensors and wearable sensors for livestock." He adds, "Some companies are not quite ready to believe, but many are interested. It is a very important issue in the market," hence when other companies see Telecom Italia making immense efficiency progress with their technology, other food sectors are bound to follow, such as the winery, cheese factories, olive oil, fruits (oranges and lemons).
"Breeding a dairy cow super-race by killing off underperformers sounds chillingly reminiscent of dystopian science fiction," says Kierra Box, a campaigner specializing in sustainable diets and land rights with Friends of the Earth, the conservation charity. "When we buy industrially produced meat or dairy, we're all supporting a system that is under pressure to produce even more, cheaper goods." When technology measures and predicts a cow's birth, health, and death, there are better productivity rates as the farmers know what to expect.
Further advancements
On the basis of data collected from these sensors all over the world, numerous new researches can be carried out. Scientists can determine which sort of soil is best for plant growth and the type of fertilizer they require. The optimal weather conditions for the best crop yields, consequences that can result in pest attack or death of crops so that they can be prevented in the future, etc. It is believed that this is the prime time to invest in IoT of agriculture due to all of these advancements that will soon be mainstream for farmers all over the world.
Business Point of View
LoRaWAN business has expanded in numerous countries with their new target being Latin America and the Asia Pacific regions with Everything Everywhere. The technology has proven to be quite efficient with its low-cost availability and wide connectivity range. It is believed that through EveryTHINGZ partner program, third parties could provide the sensors and application to farmers.