Here's how google sheets lets you protect your data by locking it!
Image Source: Google
Google Sheets is a service provided by Google that allows its users to assemble any kind of data in a neat and organized manner. It is especially used in the workplace where heaps of data have to be stored for decision-making purposes.
However, when working as a group, it is a very plausible concern for users that the data added by one in Google Sheets cells get changed or even messed up by other members working on the project. If this sounds like a fear that you have then we ask you not to worry as this is a common concern of many.
In this article, we will discuss how to lock cells in Google Sheets so if you want to know how then keep reading so that you get rid of this worry of yours. Luckily, Google Sheets has amazing solutions for many of our concerns. The Google service allows its users to lock or freeze their sheet's cells. If locked, no one can edit a cell's data, until it gets unlocked.
With the lock cell option, you are not simply limited to locking one or two cells. Google Sheets allows you to lock any range of cells, from a single cell or a column to an entire sheet.
How to Lock Cells in Google Sheets? Step-by-Step Guide
Locking cells is simple and quick. To go through the step-by-step process, let us first take the following as our example data. In this example, we have a list of the number of units sold of a product alongside the date of sale and the revenue generated as a result.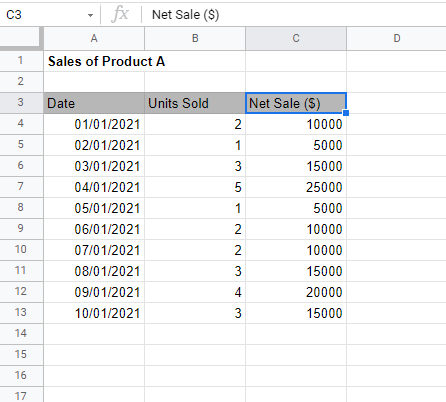 Begin by selecting your range of cells manually by dragging your cursor across the table, and do a right-click.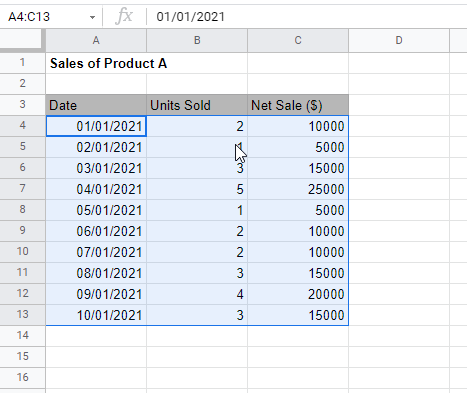 From the pop-up list that appears then, go to the lowest listed option that reads "View more cell actions".
Hover over that and from the next pop-up menu, click on "Protect range".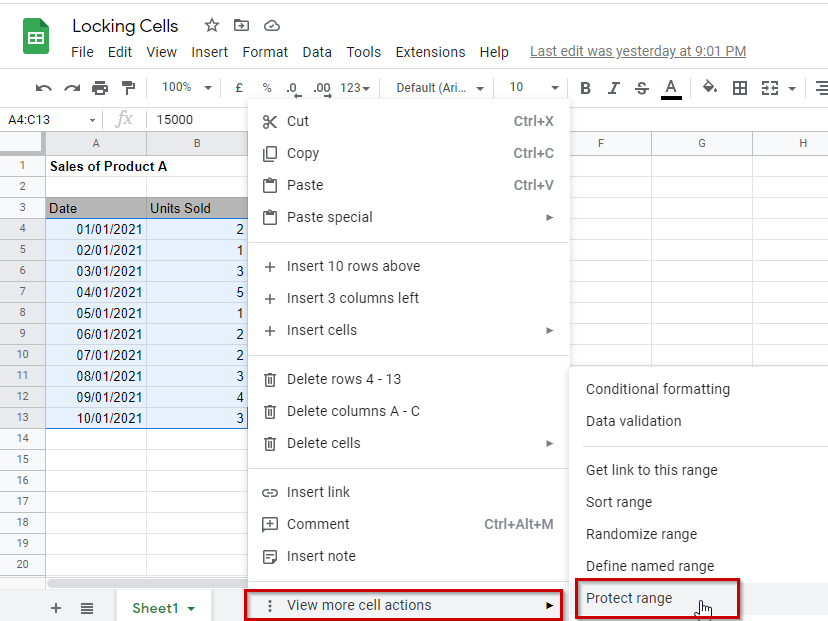 Clicking on "Protect range" will make a pane pop up on your screen. This pane would appear as either one of the following but under the similar heading of "Protected sheets & ranges".
If you see the pop-up window similar to the one shown below then you should also see a locking formula already set up for your cells displayed on it. If this is the case then that means you're good to go.
If the pop-up pane you see on your screen is different than the one mentioned above then it should appear like the one shown below. You will see your sheet protection settings display this. Here, you will have to click on "+ Add a sheet or range" in order to proceed.
How to Adjust Settings from the "Protected Sheets & Ranges" Window
Let's now discuss the adjustment settings that the "Protected sheets & ranges" pane offers.
The first option you get is to "Enter a description" which allows you to label the range that you want to freeze, this is especially helpful if you're freezing a number of ranges of cells.
Next, you have to mark or select your range or sheet. You may manually enter the range, or click here to select your range. For this particular example, we had already selected the range before accessing the locking cells option because of which, our range here is already set.

Google Sheets also allows you to freeze an entire sheet if that is your requirement. If you want to do that, click on "Sheet", and then select which sheet you want to freeze.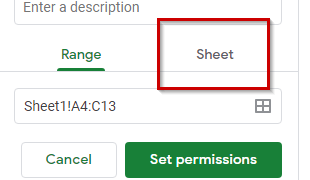 You may also choose to not select a few cells by checking the "Except certain cells" checkbox. Once this box has been checked, simply enter the cell addresses or the range that you want to be excluded from your selected range.
Once you're done selecting the cells you want to be locked, click on "Set permissions". The most important step here is to make sure that your precise range is correctly selected, which in our example is Sheet1!A4:C13.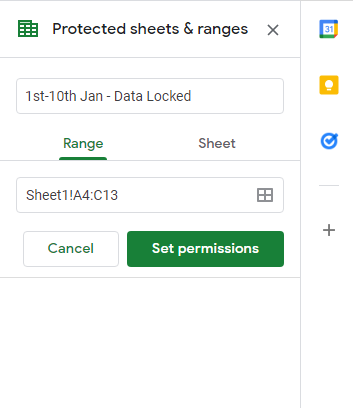 Whatever initial "Protected sheets & ranges" window you see, you will have to end by clicking on "Set permissions" to freeze the table.
How to Edit Locking and Editing Permissions
Now that you have learned how to lock cells in Google Sheets, you should also know the reversal method i.e. how to unlock cells in Google Sheets. The unlocking of these cells depends entirely on the person who locks the cells in the first place. That person determines who can edit the cells and whether a warning should or should not be displayed whilst those particular cells are being edited.
Once you click on "Set permissions", the following pop-up will be displayed.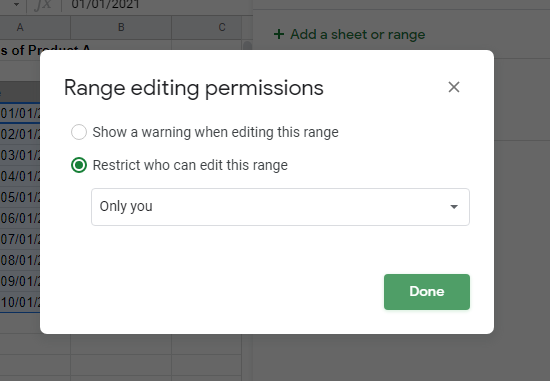 Here, the first one "Show a warning when editing this range" will allow users to edit the data after displaying a short warning pop-up giving them a heads up that the data shouldn't be changed. These are called soft warnings that make sure that while the cells aren't locked and are okay to be edited, it is important for the user to make sure that they are editing after permission and/or entering the correct, or verified data, etc.
This is the warning that will be displayed on the screen when such a cell is being edited.
The second option "Restrict who can edit this range" allows you to add (or remove) editors. You can select yourself to be the only editor, or you can choose to share the authority with someone else if you want to.
If you click on Custom, you'll get an option to list the names (provided only if you have previously interacted with them on Google Sheets) or the email addresses of those you want to share your editing authority with.
Click on "Done" once you've chosen your desired settings. Just like this, you can freeze any range of cells to limit people from changing data on your Google Sheets document.
How to Lock Cells in Google Sheets – An Entire Sheet
As discussed and explained above, freezing or locking an entire sheet is super simple.
Let's suppose we have this entire sheet of data. It is the same example as discussed above with the exception that it now involves two products instead of one.
Instead of manually having to enter or select the range we can simply freeze the whole Google Sheet document.
Just right-click anywhere on the sheet. Click on the "View more cell actions" and then, on "Protect Range".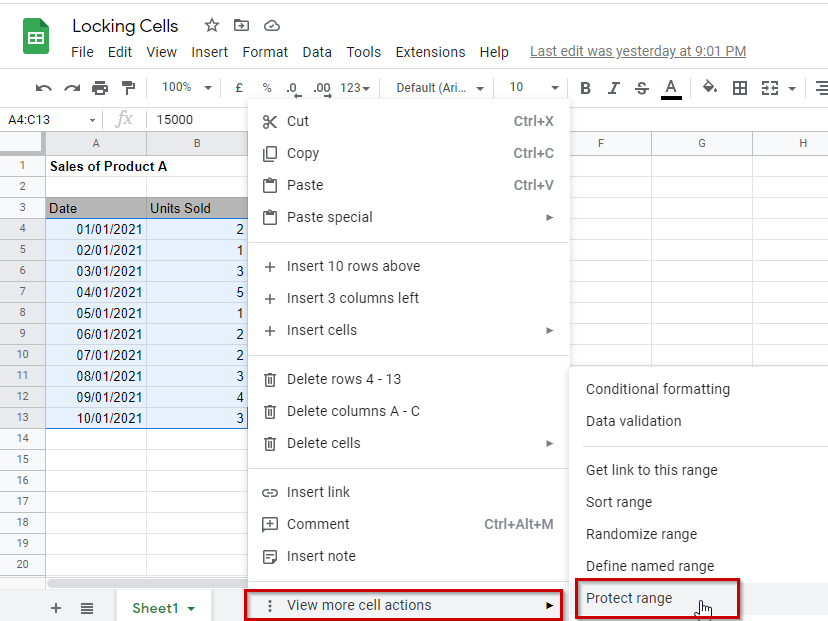 Here, we go to the heading of "Sheet" and then click on "Sheet1" from the dropdown menu that lists our sheet names.
Once done, simply click on "Set permissions", and we're done.
The entire sheet will get locked now, without any room for any edits, unless you decide to go and unlock it by yourself.
How to Unlock Cells In Google Sheets
Unlocking a locked cell or group of cells is another super simple task. Whether you've mistakenly locked your cells or sheet, or had unwanted edits by random people, you need to unlock your cells sooner or later for work. To unlock your locked cells, go through the following steps:
From the toolbar go to "Data". The following list will pop up.
From this list click on "Protected sheets and ranges".
The following will open up in the right corner of your screen.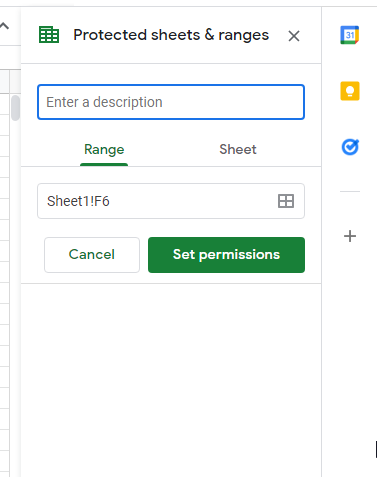 Here, click on "Cancel".
Once you click on cancel you should get to see this.
Here we have one random range of cells here and one sheet in Google Sheets. Click on any range, and you will see this on your screen.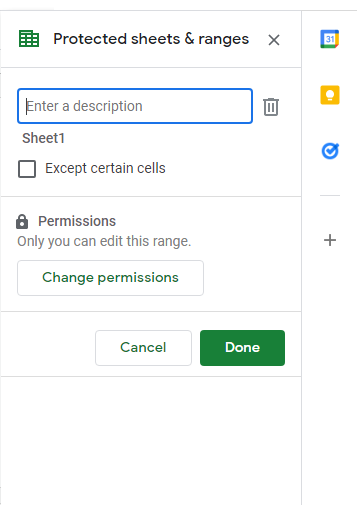 Click on the bin symbol next to the series name here, and you're done.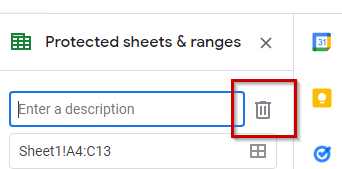 Just like this your entire screen or any required number of cells can be locked and/or unlocked in a matter of minutes.