Hardlight VR Suit Promises To Provide An Unparalleled Gaming Experience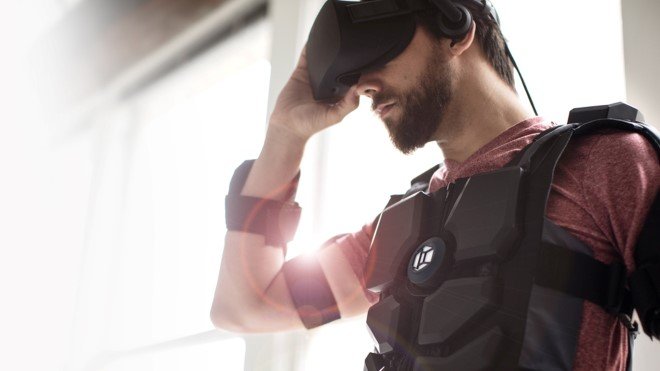 Remember how excited we all got when the ps4 controller buzzed every time we got shot while playing Call of Duty, or when we got attacked by zombies while playing Resident Evil? Appreciating our excitement, companies worked harder to make the gaming experience much more realistic. After the invention of the headset for immersive graphics, we are now blessed with the Hardlight VR Suit!
While writing about their latest invention, NullSpace stated that the suit will enable one to feel each and every explosion, gunshot and sword fight in VR. The Hardlight VR suit has sixteen haptic feedback zones that vibrate in accordance with the game's action. And interestingly, every muscle above a person's hip is covered – be ready to viiiiiibrate!
Image: Hardlight
Recommended for you (article continues below)
So, how does the suit operate? It has tracking systems with the likes of the Viva and Oculus Rift. These enable the device to detect the location of your limbs and torso with respect to the headset. As the VR suit it plugged into the PC via a USB port, it confines your movement. Moreover, the number of games compatible with this suit are limited as well i.e. 15 games in total. But NullSpace is optimistic, and believes that the developers will take up its SDK. In addition to this, the product can be changed to audio mode so that it creates a stereo haptic feedback by listening to the sounds in the game.
You may have heard about haptic suits before, so the Hardlight VR isn't entirely a unique product, however NullSpace is doing its best to bring something innovative – for instance, they have made the suit sweat-proof and simple for developers. Will it be enough? Because developers might not create new games solely for this technology or recode their existing games. But let's see how things go. In terms of cost, the VR suit will be worth $499 on Kickstarter, and you can get a game bundle along with it by paying another $20.
We wish NullSpace the very best of luck!