'Fontus' self-filling Water Bottle Turns Air into Drinking Water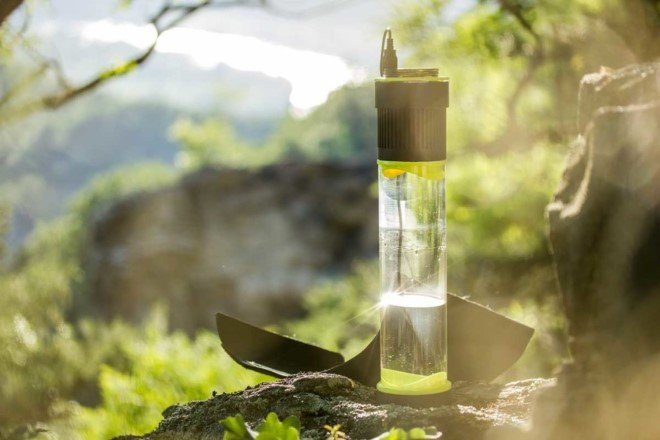 Getting sick of carrying a load of water reserve to your hikes or adventures in water deficient areas? Well, you can stop worrying now, because an Austrian start-up has developed a novel water bottle 'Fontus' that can harvest water out of air and can fill itself to keep you hydrated.
It's capability to harvest water on-demand and on the go, has made it a cause of deal breaker not only among adventurers but also for those individuals who reside in areas having limited access to water. Fontus was nominated as one of the finalists for Dyson award, 2014 for its sleek design which utilizes solar power to function. It condenses humid air to form water droplets and can produce 0.5-liters of drinkable water in an hour. The company has produced two models of Fontus – the Airo for hikers and the Ryde for cyclists.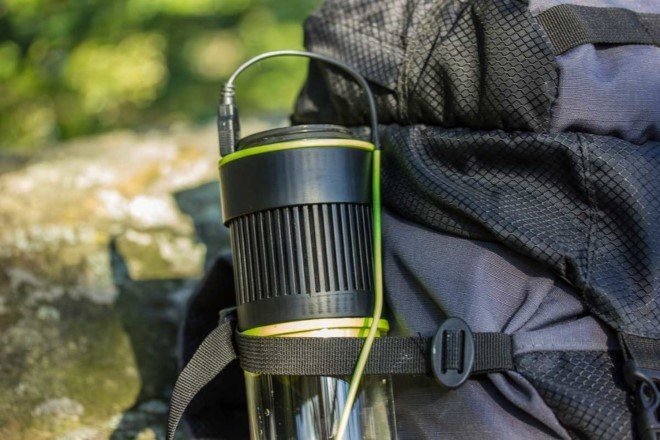 Image Credit: Fontus
Fontus Airo will spare you from the inconvenience of carrying loads of water and will enable you to keep yourself hydrated. You just have to expose it to sunlight for fueling and it will refill itself while you are climbing, cruising, camping, or simply getting a charge out of nature. There is no need to worry about carrying a water-bottle load with you, dumping the consumed plastic bottles or where to locate the following waterway to top up your bottle and get your everyday water supply. This gadget gives you the flexibility to design your own schedule without stressing over the most essential part of survival: water supply. It can hold 0.8-liters of water and also possess a USB port in a solar mat through which you can recharge your phone.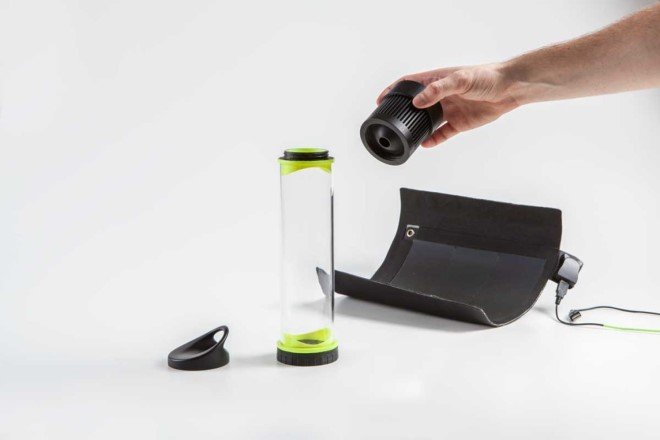 Image: Fontus
This device utilizes the condensation process to convert moisture trapped in the captured air into drinkable water. Air is captured by a tiny fan situated at the top of the bottle and after channeling through some special filters for sieving out debris, a progression of little coolers gets the dampness contained in the air to consolidate on special surfaces. The resultant fluid water at that point drops into the bottle's primary body and is stored. You don't need to worry about mineral content in water as the lower containment is designed to keep tiny capsules which are dissolved in the freshly harvested water to initiate the process of re-mineralization. This procedure makes it conceivable to create new mineral water to give your body all that it needs.
Fontus Ryde is also a self-filling water bottle which is designed to be adaptable to wide range of bikes. The container fills itself while you ride the bicycle. It is manufactured to be adapted with the shape and size of the bicycle's bottle holder. The water container uses the air stream generated while riding that pushes the humid air into the framework. The working principle is the same as of Airo's but instead of utilizing fan to push air into the system, it uses the air stream produced by speeding bike to capture humid air into the chambers. Apart from air capturing mechanism, rest of the working principle for Fontus Ryde is same as Airo's.
Recommended for you (article continues below)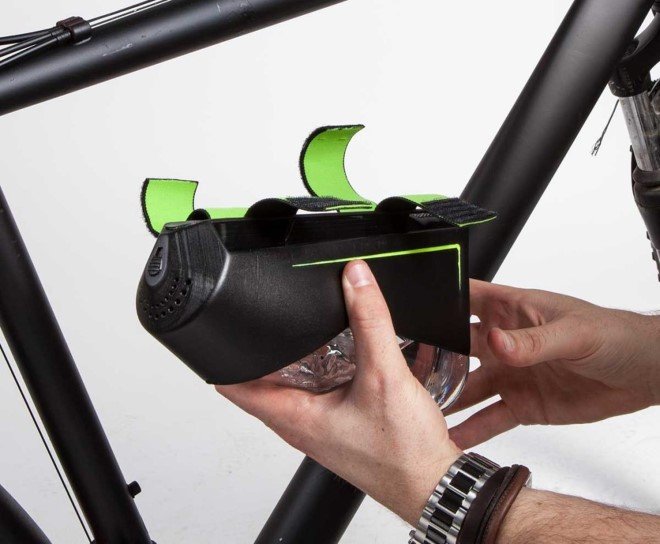 Image: Fontus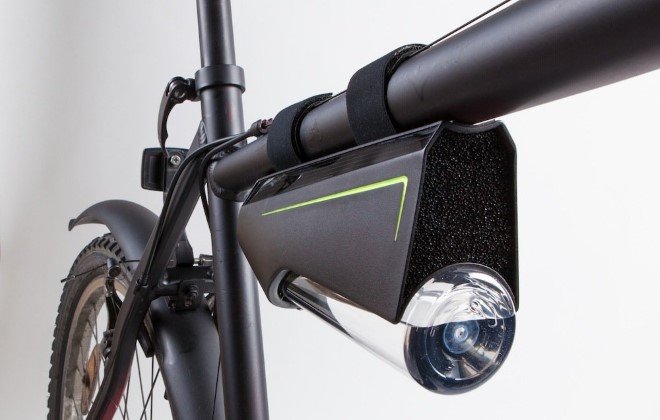 Image: Fontus
Harvesting water out of air is no strange procedure to mankind. It has been in practice for centuries. According to an estimate, earth contains 13,000 km3 of untapped fresh water. This start-up aims to target this unexploited resource. Fontus targets to provide fresh water to those areas where drought and stagnant water are major issues. To mobilize water, bicycle is the first thing that kicks into mind given that it is cheap and easily available to developing countries. Fusing this invention with bicycle just ameliorates the attractiveness of this product. Fontus' bottle can also be beneficial for areas having ground-water scarcity but high humidity factor. This bottle can be utilized as a mobile water reservoir and school children can actually utilize it to their benefit especially for their lunch breaks and long camping trips.
Order Fontus's any bottle at $225 and you will get a special discount along with the special graphics bottle and a signed note form the manufacturers.
SEE ALSO: This Powerful Filtration Bottle Turns Coca-Cola into Clear, Colorless Water