This $850 Gadget Will Fold, Sanitize and De-Wrinkle Your Laundry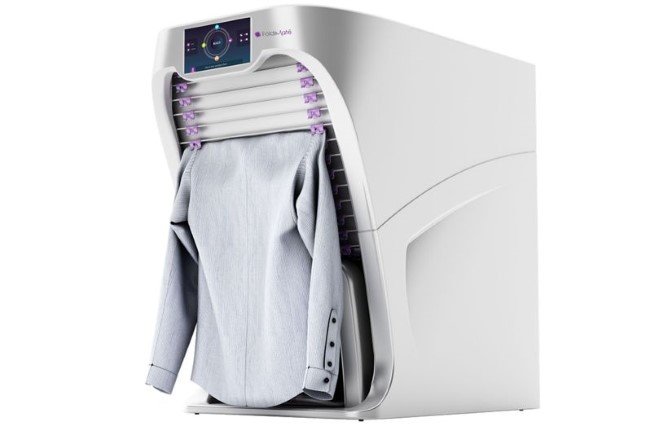 Revolution in robotic field has created its innumerable application areas, be it medical field, construction business, fire safety etc. name it and you'll find robots dancing down to pre-programmed commands. Well, believe it or not, now you can have a robotic buddy at your service in laundry room too. Those of you, who find folding of washed or ironed clothes a tedious task and want to get over with it in a jiffy; now you can do that just at the expense of $700 – $850. Somehow a tech start-up in San-Francisco, the FoldiMate has made doing your laundry a "fun". This invention is believed to fold clothes as soon as they come out of the washing machine.
FoldiMate is designed to dampen the stress of tedious tasks and help people get to the important chores easily. Foldimate as vividly can be judged by the name is a user-friendly robot and can even be handled by children. As explained on the product's website, "FoldiMate is like having a friend that folds the laundry for you."
FoldiMate consists of a conveyer belt, clothes folding robotic arms and a modifiable tray for spitting out the folded clothes. Dimensions wise, it is 32-inch tall and 28-inch wide and can be fitted into an average sized laundry room with ease. It's not a massive machine and weighs only 65 pounds which means it can be moved from room to room easily. It is capable of folding anything from shirts or sweaters to jeans or sweatpants. However, it is incapable of handling long length fabrics' like linens or too smaller items like undergarments.
Machine is claimed to be operational for many different processes – fold, perfume, soften, sanitize and de-wrinkle. As per firm's website, it takes 10-seconds to fold each item while performing an additional task of de-wrinkling takes 20 – 30 seconds.
How does it work?
Just hang the freshly washed clothes onto the rack outside of the machine and then by using the available buttons, indicate what type of clothing it is. It has been made sleekly artificially intelligent. After hanging the clothes in and switching it on, the machine will automatically sense the type of fabric and clothing whether it is full or half sleeved and will adapt itself accordingly. FoldiMate can handle 15 – 20 pieces at a time, depending upon the type of clothes and fabric. However, it should be noted here that, it is just folding machine and not a replacement of washing machine.
Recommended for you (article continues below)
Commercially FoldiMate has been in the market since 2014, but the firm is working to upgrade the previous version to more family friendly one, which is expected to hit the market in 2018. For now, you can pre-order it on the company's website for around $700 – $850. But if you want a discounted price, the firm is also offering one at the rate of 10% for those who make a down payment of $10 or more for the unit. To compare the expense, average washer or dryer costs the same as FoldiMate.
As Foldimate explains,
"We developed a patented robotic method to fold clothes that reduces the machine size by a 1/3rd or less, while keeping the target price point affordable to consumers and businesses alike (less than 1/5th of our direct competitor's price)."
SEE ALSO: LG Styler Will Clean and Press Your Clothes Automatically
References: FoldiMate, Digital Trends, Daily Mail