This innovative 'Floating' backpack reduces back stress with its up-and-down movement
Picking a travel bag for trekking is probably one of the trickiest things. It has to be just the right size to fit all your goods in, and light enough so you don't suffer from back pain throughout the entire trip.
Lightning Packs realized the extent of this problem and hence introduced the high-tech HoverGlide backpack that aims to reduce the weight of the bag and its contents by 86 percent! However, how can a bag reduce the extra weight you add to it?
Image: HoverGlide
Well, according to its makers, the backpack works as a "patented double-frame and pulley system design". This essentially means that it uses bungee cords to allow the load to stay in the same place as the wearer moves. Its counteracting movement provides relief for joints and shoulders so the user can trek carefree. The founders also claim that this technology will let people carry up to 12 extra pounds of weight while applying the same amount of force!
RECOMMENDED: This backpack transforms into a tent in just 30 seconds
According to Lawrence Rome of the University of Pennsylvania, "For the same energetic cost, you can either carry 48 pounds in a normal backpack or 60 pounds in a suspended ergonomic backpack. It is like carrying an extra 12 pounds for free."
Recommended for you (article continues below)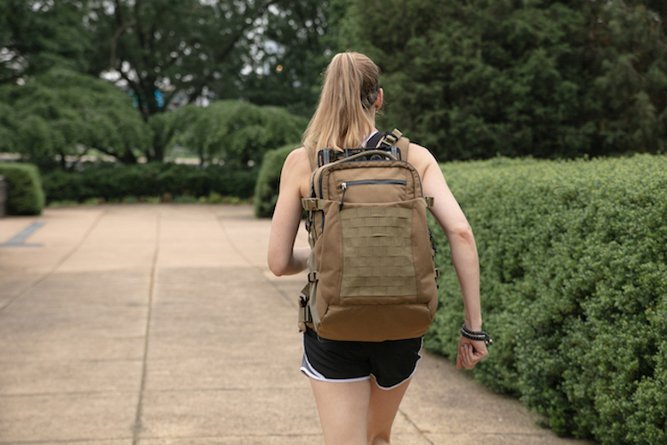 Image: HoverGlide
The founders initially made the backpack for military and emergency workers, but later claimed that it will be useful for travelers and trekkers.  In a statement, Rome claimed, "Being able to move at relatively high speeds is crucial for many professions as well as in some athletic competitions and recreation."
The HoverGlide will be available in four types on Kickstarter-the Trekker, Commuter, Hiker and Tactical. Each will have a different load capacity that will range from 28 liters to 55 liters. So even though it will look a little funny when you walk/trek while wearing the HoverGlide, the pain free experience will make everything worth it!
SEE ALSO: Klepper Backyak – A Modular Kayak, Sailboard, And Snow Sled, All In One Backpack
Image: HoverGlide
h/t: Design Boom