Is Escobar Fold 1 by Escobar Inc. a scam?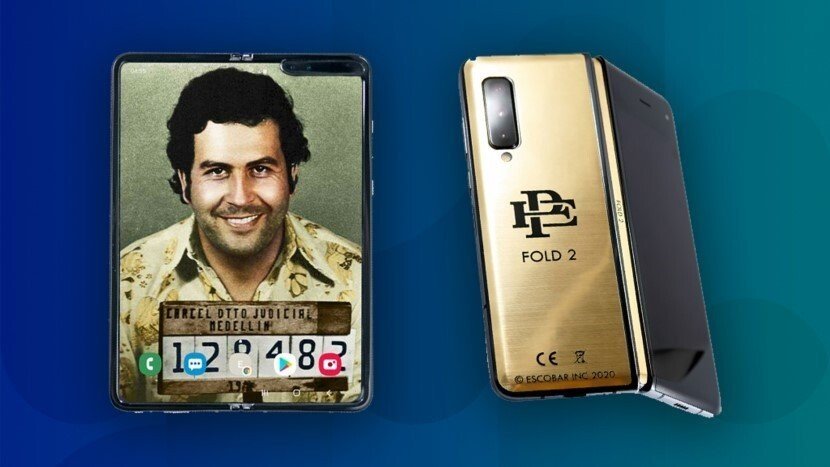 Credit: Escobar Inc.
The Escobar Fold 1 was the first out of the three phones that Pablo Escobar's brother put in line for his fight against Samsung and Apple, but how successful did he come out to be?
Who was Pablo Escobar?
Known to be the world's most famous and powerful drug trafficker, Pablo Escobar came from Columbia and was responsible for many, many deaths. When we say "the most powerful drug trafficker", we mean it; known as "The King of Cocaine". He was literally the wealthiest criminal in history responsible for the killing of around 4000 people including 200 judges, 1000+ government officials and a few presidential candidates, while controlling 80% of the total cocaine supply to the US among many other things.
The riches he owned were so much that he once offered to pay off his country's debt in return for some changes in the law. His state of wealthiness can further be explained by the incident when he burned cash worth millions of dollars to keep his daughter warm when the family didn't have anything – but cash – and had the police after them. At the time of the peak of his career, he earned around 70 million USD every single day!
Escobar spent seven years continuously on the Forbes' list of world's richest people, and compared to such riches, he spent a small amount on the poor, too. While it was next to nothing for him, it did earn him the title of "Robin Hood" by the poor.
Escobar Inc.
Now that you know the impact Pablo Escobar had in his life, you'd want to think that it may have died with his death, but it didn't. Besides the large number of movies and TV shows based on the drug lord's life and career, he still has a company running in his name.
Escobar and his brother, Roberto De Jesús Escobar Gaviria, founded "Escobar Inc." in 1984 as a holding company. Ever since Pablo's death in 1993, his brother has been running the company as the Founder and Chief Brand Officer while having 'Chief of Assassination' as one of his former titles.
The Escobar Fold 1
The company was pretty much unknown, until December 2nd, 2019 when they decided to release a phone called the "Escobar Fold 1". The news got reported by multiple outlets and naturally, everyone was interested and wondering what Pablo Escobar was doing in the phone business.
The Escobar Fold 1 was said to have a 7.8 – inch flexible AMOLED display, 1920 x 1444 resolution, and a sleek gold exterior. It was powered by a Snapdragon 855 chipset and had an Android 9 OS. It had an 8GB RAM and 512GB storage. It came with a dual camera system with the cameras being 16 Megapixels f/1.8 + 20 Megapixels f/1.8 for both front and back cameras (you needed to flip/un-flip the phone to use the cameras differently).
The biggest hit was that the phone only cost $349! This price was SUPER CHEAP for a foldable phone.
However, if you know about the world's first ever foldable phone which was the Royole FlexPai, you'll see that the Royole FlexPai and the Escobar Fold 1 are strikingly similar phones. The Royole FlexPai was released on January 8th 2018. Its shipping started in December of the same year but it didn't become very popular since it was the first flexible phone to be made.
The Royole FlexPai and the Escobar Fold 1 aren't just strikingly similar phones, we think they're the same phone and that the Fold 1 is just a rebranded version of FlexPai. It looks like Escobar Inc. tried to capitalize on the Royole FlexPai thinking they'd get away with it as most people didn't know about Royole, and Pablo's name would obviously hit everyone stronger. Here's a picture of the Royole FlexPai.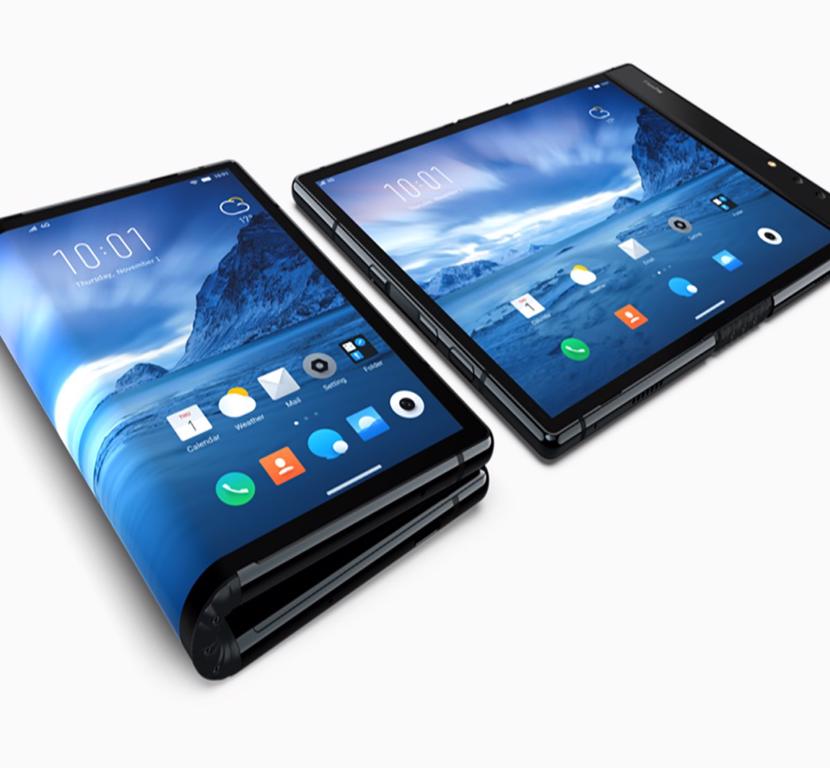 You might be thinking why we think that the Escobar Fold 1 is the rebranded version of the Royole FlexPai; simply design similarities aren't enough for that claim. Read on to find out.
What came after the Escobar Fold 1?
After the Fold 1, Escobar Inc. announced the Fold 2. This phone got a lot more media attention compared to the Fold 1. With this phone, Escobar Inc. started hating real bad on Samsung. On February 3, 2020, the company posted a video titled "www.RIPSAMSUNG.com – Rest In Peace Samsung – Say Hello to Escobar Fold 2" on their YouTube channel, with fairly flashy and bold content, especially for a 'tech' company. It featured women destroying Samsung phones. The video directed people to the RIPSamsung.com website which was bought by Escobar Inc. The Fold 2 was even named "the real Samsung killer" at the Escobar website.
This phone, too, was very cheap for a smartphone, starting at $399. There were two versions – one came with 8GB of RAM and 128GB storage and at a price of $399, and the other had 12GB of RAM and 512GB storage, for $549. The phone had a golden exterior and came with a pre-set Pablo wallpaper, just like the Fold 1.
Furthermore, the Escobar Fold 2 is also a lot similar to the Samsung Galaxy Fold. Fold 2 and the Galaxy Fold are actually so similar that they're both the very same phones. Yes, the Fold 2 under all its gold and shiny exterior adhesive layer, is the Samsung Galaxy Fold.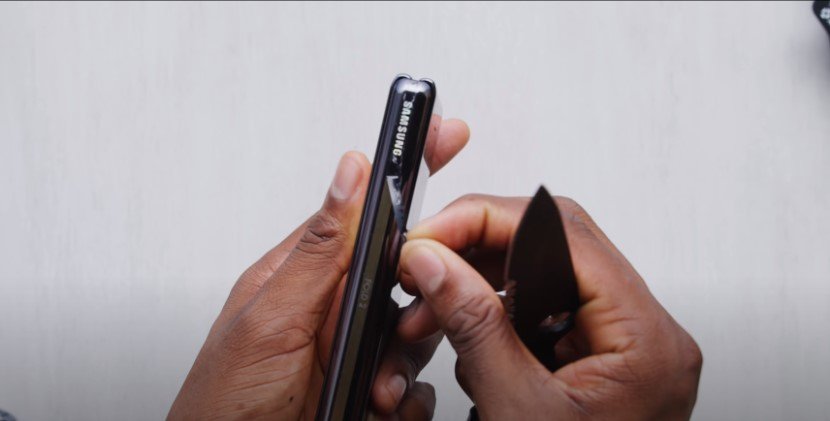 The Samsung Galaxy Fold, priced at $2526, is however almost 6 times more expensive than the Escobar Fold 2. The phones are exactly the same, but then, how is Escobar Inc. managing to sell it on such a low price and why?
Escobar Inc. – a Scam?
Out of the many people who ordered the Fold 1, only a handful got the phone. Most of the people didn't get anything at all, and some received books alongside a statement informing that the Fold 1 went out of stock so their orders will get upgraded to the Fold 2.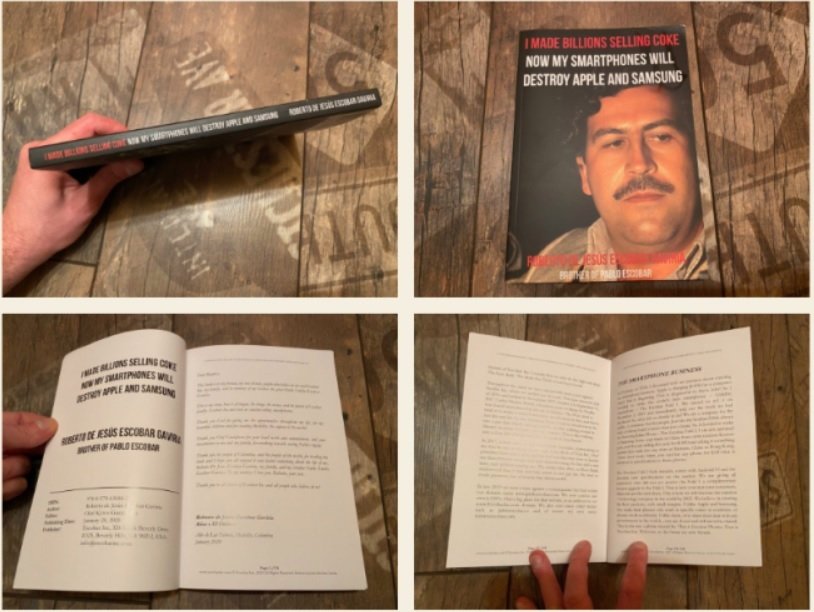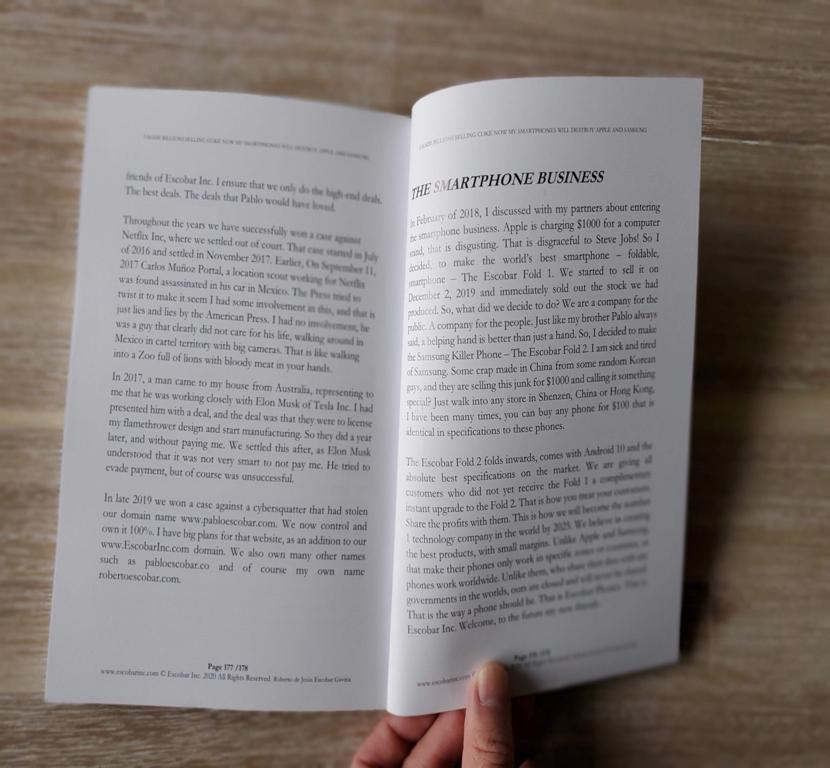 YouTuber Marques Brownlee thinks that Escobar Inc. is shipping the phones only to people they think have the power to promote them, such as YouTube tech reviewers, journalists etc. According to the YouTuber, the company wants these few people, who have a good reach, to talk about the phone. However, this while being actually a pretty good marketing strategy, is also called a scam!
#ProTip if you really want an Escobar Fold (why?) place your order under the name of any noted tech YouTuber to up your chances of actually getting them to ship!

Side note: still never got my Fold 1. Still would not recommend. pic.twitter.com/k2WDw2G5QZ

— Marques Brownlee (@MKBHD) February 21, 2020
Escobar Gold 11 Pro
Despite everyone calling them a scam, Escobar Inc. didn't stop and went on to launch another phone. As you can understand from the name, this phone is just the iPhone 11 Pro, rebranded and covered in gold. The only difference is that Escobar Inc. claims that this is real Gold. Further, they do accept that it is the actual Apple phone coated in 24K gold. Escobar Inc. claims that they bought these phones damaged and then repaired them to be able to sell them at lower prices. This phone was also to come with original Apple accessories; the other two phones didn't really have any accessories.
While continuing their campaign against Samsung, Escobar Inc. then also started a campaign against Apple. In a statement, Roberto De Jesús Escobar Gaviria said, "This is my way of fighting Apple, I sell their phones at a lower price and mine are gold-plated with nice girls showing them off. Apple can never do that,". This should be noted that the "nice girls" phrase is a sexist reference to women in lingerie promoting Escobar's phones and destroying Apple and Samsung phones on the company's YouTube channel. They also launched an "ripapple.com" website, directing to the escobarinc.com Escobar Gold 11 Pro webpage.
Escobar Inc. Filed a Lawsuit Against Apple
Roberto Escobar has filed a lawsuit against Apple for $2.6B. It revolves around a security issue in Roberto's iPhone X. The plaintiff claims that hackers got access to his phone through FaceTime and kept threatening him about knowing his residential address. The lawsuit states that Roberto was very sensitive about his privacy, and so, he wanted to get a secure phone; he claims that his Apple advisor told him that no one would be able to hack into his iPhone and if he pays more, he'd be able to get a more secure phone.
According to the lawsuit, this might be the FaceTime bug that Roberto experienced.
Disappearance of the Escobar Fold 1, Fold 2 and Gold 11 pro
In case all this news got you excited and prepped to buy these super cheap smart phones, here's some bummer news, there is nothing at all on the website about the three phones.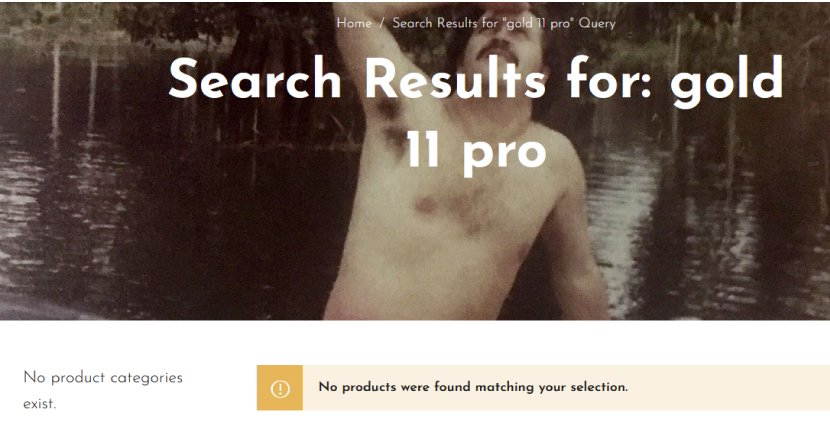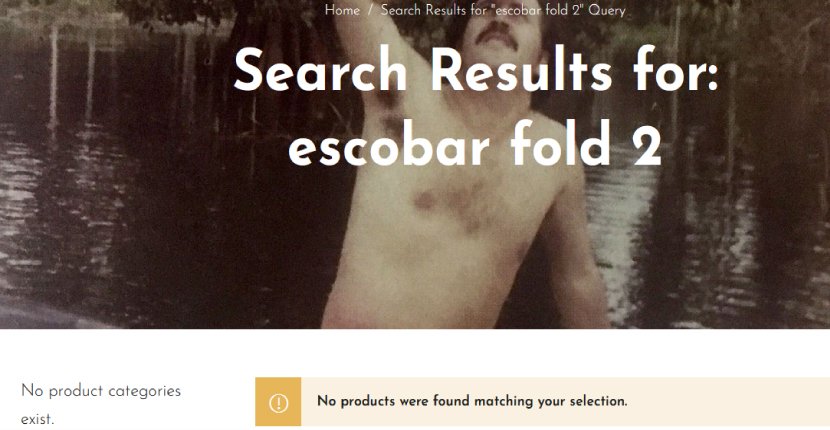 Even if they were available, you shouldn't be buying these phones, because coming from the brother of a drug lord, and having his face and name all over it are factors hinting that you shouldn't buy them if you value your privacy and safety.
Escobar Inc.'s Internal Lawsuit
While on one hand we have all this phone drama; Apple lawsuit and Samsung hate, on the other we have some internal mess within the company itself. According to The Register, the company's former Chief Operating Officer stole thousands of dollars and locked the whole company out of their YouTube account. This, according to the Chief Executive Officer Olof Gustafsson, was the company's major advertising platform and one that garnered them most of their customers.
While no one can ever be certain about the future, Escobar Inc. probably won't be releasing any more phones now, and even if they do, we hope you don't set off to buy one.