DARPA has handed over its elusive unmanned sub-hunter prototype to US Navy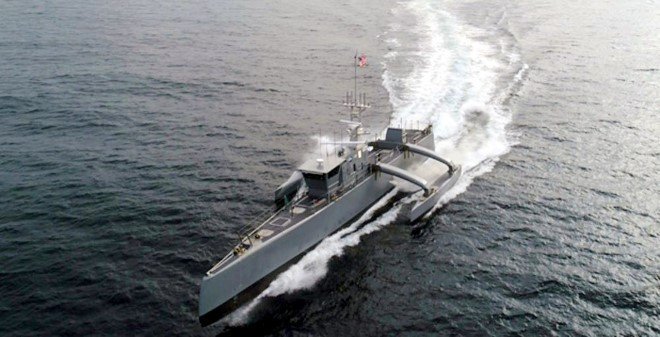 DAPRA has handed over its experimental autonomous warship to the US Navy. Called the Anti-Submarine Warfare (ASW) Continuous Trail Unmanned Vessel (ACTUV), simply known as the 'Sea Hunter', the warship was recently given to the Office of Naval Research (ONR) so that they could further work on it as it has the potential to be the first ever ocean-going ship under the category of Medium Displacement Unmanned Surface Vehicles (MDUSVs).
It looks like a naval trimaran as it has a pilot house and is 132 feet long. The pilot house is temporary right now. Once the ship fully develops, it will be able to leave the port on its own and carry out missions thousands of kilometres away in open sea. It will then automatically return after three months without any human instructions or interference. According to the team, this Hunter has the ability to deal with other ships safely at one tenth the cost of a conventional sub hunter. This project started back in 2012 and DAPRA has been working ever since, along with ONR, to create an economically feasible autonomous ship. The first sea trials took place in the year 2016 off the coast of San Diego, California. Earlier last year, realistic tests were conducted to show the technology's ability to comply with the International Regulations for Preventing Collisions at Sea (COLREGS).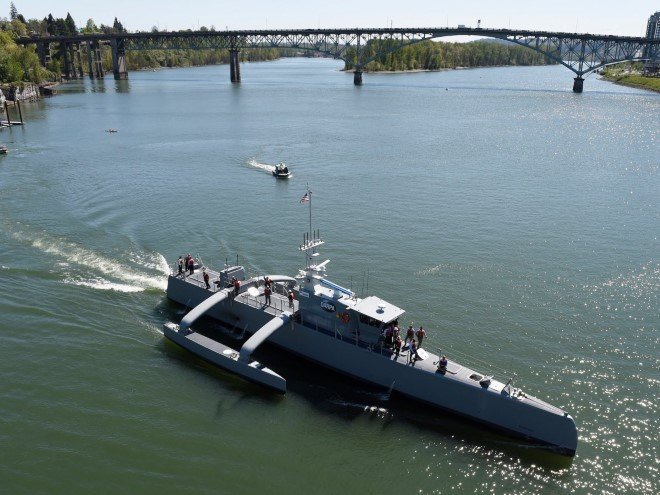 Recommended for you (article continues below)
Image: US Navy/John F. Williams
Furthermore, the ACTUV also proved to work well with modular payloads, DAPRA's Towed Airborne Lift of Naval Systems (TALONS) and a mine countermeasures (MCM) payload. Program Manager, Alexander Walan said, "ACTUV's move from DARPA to ONR marks a significant milestone in developing large-scale USV technology and autonomy capabilities. Our collaboration with ONR has brought closer to reality a future fleet in which both manned warships and capable large unmanned vessels complement each other to accomplish diverse, evolving missions."
According to DAPRA, ONR will continue to carry out tests in order to test features such as sensor data processing and automated payload. They will also work on developing new mission-specific behaviours and improving autonomous coordination among various unmanned surface vessels. If all these objectives are achieved, the MDUSV could become part of the US Navy fleet as soon as this year.
Source: DARPA (via: New Atlas)