Cyclocable Bicycle Escalator Makes Cycling Easier Around Steep Neighborhoods
Maybe you are an environment friendly fellow who prefer bicycle over automobiles to mobilize between work and house, but often the fear of arriving late or may be getting your clothes all sweaty impedes your desire to use bicycle as a commuter and forces you to go back to poisonous smoke emanating vehicles. If you struggle with this sort of situation then worry no more! This issue can be averted by just installing a cool bike escalator in your area.
The bicycle escalator or Trampe lift was worked on by Wanvik in 1993, a suburbanite who became sick of appearing to work sweat-soaked and depleted. 4 years back it was upgraded and was named as 'CycloCable' and has become a tourist attention spot since then. It is just not the tourist spot rather it helps people get to their work places without sapping out their energy. Norway, Trondheim's residents can now happily ditch their fuel consuming automobiles for bikes without worrying about getting sweat soaked while paddling up the steep hill. Till now, this cool escalator's previous and upgraded version has been used by 200,000 people.
The 420 feet long escalator transports at the gradient of 10-15 percent and all the user has to do is to put his/her feet on the paddle. At the starting point after the first jerk it's just a simple and smooth ride at 5mph. After every 65 feet, a CycloCable has a capability to lift another cyclist thus enabling 360 riders per hour to get benefitted from this amazing invention.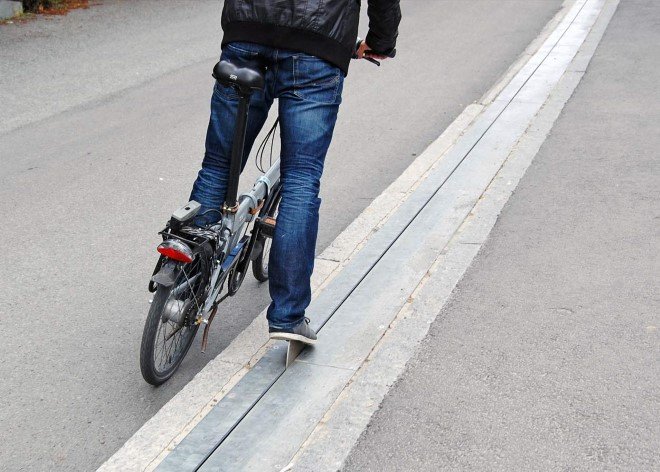 Image: © Trampe
Its use is straightforward and so far, no injuries have been reported yet. Standing beside the CycloCable, all you got to do is to place left foot on the left paddle of bicycle and right foot on the slot of base station. After that, lift carries the rider through the remainder distance. At a time 5 people can use it and it is not necessarily limited to cyclists rather it can be used by parents to walk their babies around in strollers and also by children with scooters.
Recommended for you (article continues below)
Image: © Trampe
Design used for the escalator is similar to ski-lift. Since it was constructed for the crowded places, most of the installed instruments are embedded into the ground allowing the whole apparatus to remain out of the way of the pedestrians, so that it doesn't dominate the roads or present any perils to individuals and property.
Riding bicycle to work or any other place is the cheapest way possible to commute. It alleviates the possibility of the atmosphere from getting polluted of poisonous smoke. Nevertheless, riding up the steep hills can sap a lot of energy out of an individual and that is why almost all the workers prefer gasoline driven automobiles over bicycles.
To save environment it is better for the sake of everyone to dampen the use of automobiles and switch to gasoline free commuters and for this idea to catch on, bike escalators should be stationed in every neighborhood with the consultation of the local government, after all it costs $2000-$3000 per meter.
References: Trampe, Daily Mail,  Tree Hugger