CrossHelmet is the most extraordinary futuristic helmet design ever!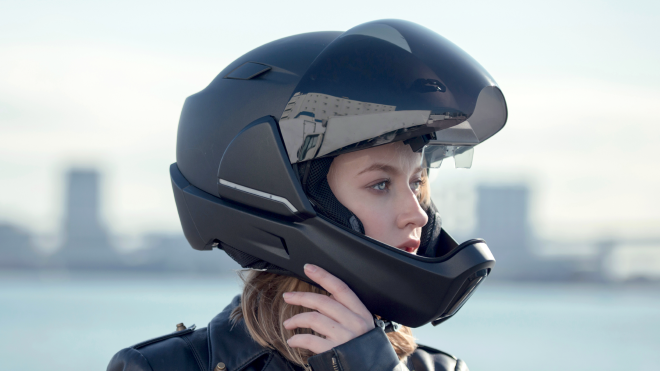 People who are crazy about motorbikes are being easily satisfied with all the evolution that is happening in motorbike manufacturing industry as new bike looks are being launched readily. However, bike helmets have rather been ignored in the whole evolution process even though they add so much to the looks and the safety of the rider, up until the invention of CrossHelmet X1.
CrossHelmet is the perfect futuristic bike helmet that will not only make the rider look like a super hero but would also make the rider equally well-protected and entertained. The product is geared up with head-up-display (HUD) which makes it possible for the rider to see the ride information in real time and follow visual navigation. CrossHelmet can provide navigation information for as long as your phone is paired with the helmet, allowing you to benefit from turn-by-turn navigation just like it's in a car. The rear view camera through head-up-display (HUD) lets you know what's coming at you from behind. The HUD itself is placed above rider's viewpoint so that it does not come in between the rider and the road. The helmet also comes with an extra wide visor to ensure excellent visibility of your surroundings (both out front and on the sides). For added safety when riding at night, CrossHelmet also features a safety light that you can switch on to further improve your visibility to other motorists on the road.
Moreover, the ultra-futuristic helmet has an integrated speaker which functions via CrossSound Control. You can easily get rid of the annoying engine noise as well as the traffic noises with this technology and the volume can be controlled simply on the app that Crosshelmet X1 is connected to. The riders can even coordinate with other members of the riding club when the helmet is paired with the phones, through the Group Talk feature.
Recommended for you (article continues below)
Crosshelmet X1 is definitely the best thing that could ever have bern invented for bike lovers, after the invention of bikes of course!

Images: Kick Starter
References: Cool Things, Kick Starter