Claimed as world's most eco-friendly cruise ship, Ecoship will have retractable solar sails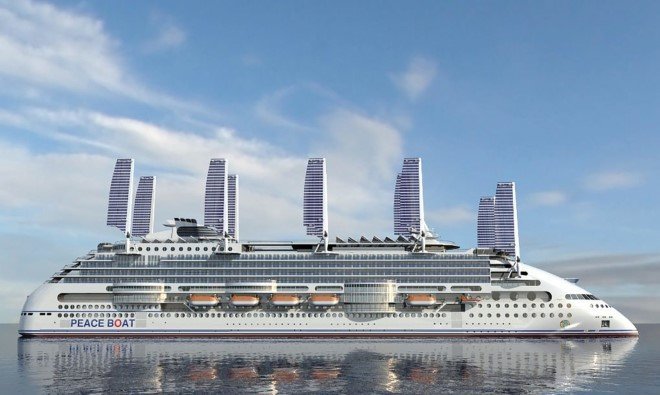 It seems like all companies/industries want to be in on saving the planet and Peace Boat just added its name on the list. Since 1983, the ship has been going around the world, trying to spread the message of peace through education. So how does an ordinary ship like this go from generating 80,000 liters of sewage every day and dumping it into the water to an energy efficient, zero-waste vessel?
Peace Boat has just introduced a new Ecoship that will make its maiden voyage in 2020. The designer of the ship, Oliver Design claims it to be the "world's most eco-friendly cruise ship."
To achieve their goal of zero discharge and minimal waste, the Japanese cruiser will contain a closed-loop water system as well as a closed-loop waste system to prevent any dumping in the ocean. Furthermore, the vessel will get its power from 10 convertible wind generators and 10 photovoltaic solar sails. Solar generation will contribute 750 kW of power while the ship's hybrid engine can also attain fuel for running from liquefied natural gas or even diesel. There will also be a 20% reduction in energy required to move propellers and a 50% decrease in electricity load. Kinetic floors will also decrease electricity load.
Image: Ecoship
Recommended for you (article continues below)
The 60,000 metric ton ocean liner has the capacity for 2,000 passengers. Plants and other vegetation will cover five decks, absorbing excess water and reducing carbon dioxide in the air. The onboard waste produced will act as compost for the plant kingdom. Furthermore, fresh vegetables will be available for the passengers to devour from the vertical farms.
These features will supposedly result in a 40 percent decline in carbon dioxide in comparison to regular ships built before the 2000's and around 30 percent compared to current designed.
EcoShip will also serve as a host to Peace Boat's educational voyages along with committing to being an environmental protection vessel. We'll be able to catch a glimpse of it around the time of the 2020 Olympic Games in Tokyo.
Certainly, if more vessels like the EcoShip existed, the world would be a better place.