Chinese Car Parking Robot 'Geta' Will Make Parking Easier In Tight Spots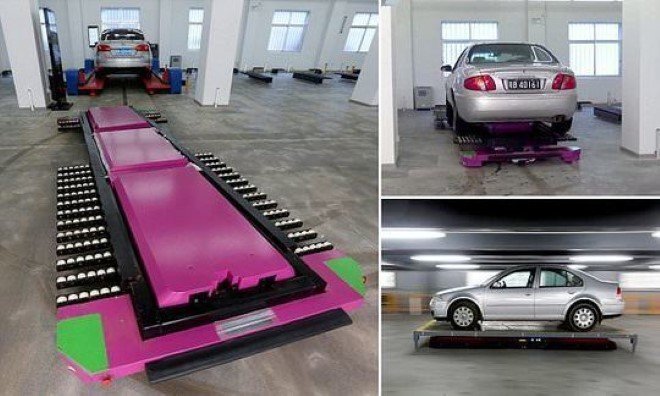 The excitement to shop dies the minute you hit the parking lot – why wouldn't it? I mean, it takes ages to find a free slot, and the minute you drive towards it, somebody else (out of nowhere) parks in the exact same spot!
Worry no more though because Yeefung Automation Technology, based in Shenzhen, is working on a robot that will park your car for you. In short, a robot valet! So, what makes this robot valet better than a human valet? Well, this robot will be able to squeeze your car into the tiniest of spaces thus saving up to 40% of space taken up by each car at present.
Geta – the parking robot – has powerful lift motors that gives it the ability to pick up cars after sliding underneath.  With the vehicle in mid-air, Geta guides the car in with the help of lasers. During an experiment conducted by Yeefung, the spots are denoted by metal rails where the tyres of a vehicle are placed. This enables the robot to easily retrieve a vehicle. Since the spots are relatively much closer now, the cars parked are almost in contact with each other. Hence increasing the efficiency and capacity of a parking lot.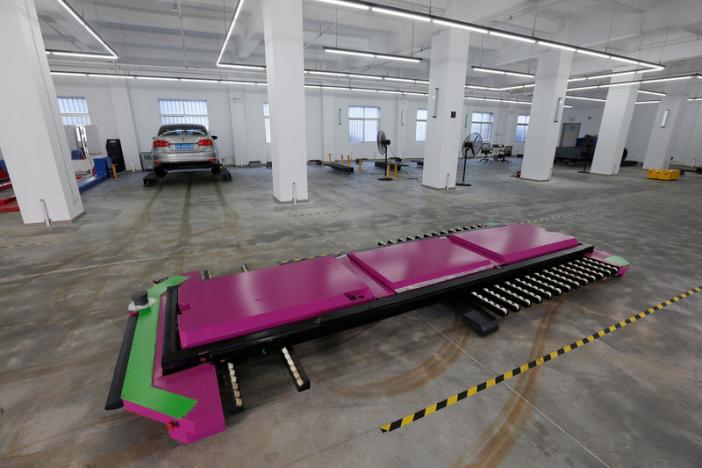 Image: REUTERS/Bobby Yip
Recommended for you (article continues below)
Even though Yeefung Automation Technology has been working on this concept since a couple of years now, the confirmation of a functional prototype has just come in by a Chinese firm. The green and purple robots are expected to be worth $150,000 each. Many cities have shown interest since Geta is smart enough to identify empty spots through its computerised tracking of predefined spots.
The brainchild of Geta, Marco Wu, said that, 'there are many companies interested in our products, such as commercial property companies in Singapore and London, public parking companies and developers in the Middle East,  government's as well as public parking companies in China.' He further talked about how this innovation can prove to be a game changer by saying that, 'the parking robot is designed to increase parking space. The robot can go everywhere, and will reform parking in the future.'
However, it won't be as easy as it sounds. In order to introduce Geta into the real world, existing parking ramps would have to be amended and a sufficient number of robots will be needed to make it through rush hours. The whole increased efficiency concept could fail if one has to wait for an hour for the robot to fetch his/her car. But it sounds like a step in the right direction, so let's just wait and see how it goes!