This Car Buying Guide Is All You Need To Read Before Buying A New Car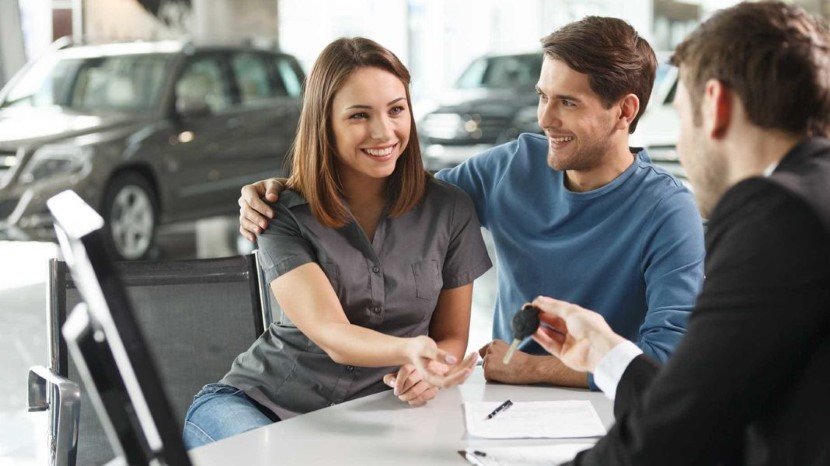 Image Credits: Mystock88photo | Dreamstime.com
Buying a new car is no monkey business.  It requires a serious investment of time and money hence making a decision on what sort of car best suits your needs in the budget you can afford should be thought through thoroughly. For times like these, a car buying guide could really come handy.
Recommended for you (article continues below)
Here's your own car buying guide!
There are numerous reasons why people tend to avoid buying a new car, one of them has to spend a large sum of money (no doubt) but others include the vigorous thinking and then dealing with pushy car salespeople. People tend to find it easier to just take care of the car they already have, have it maintained, keep changing its oil and etc. but there comes a time when it just will not do. For times as such, here is a guide to help you choose your budget appropriate car.
1. Do your Research
One of the first and the most vital steps to buying a car is doing your research. You can ask around your friends who have a good idea about cars, which is the latest, which has the best features, what are the price ranges etc. The other thing you can do, which is honestly more sensible and reliable, is to go online. You can go to Edmunds.com, Consumer Reports, or Kelly Blue Book to start your research process. These sites provide you with extensive information regarding all sorts of cars and can definitely help mold a decision.
But first thing is first, it is the decision whether your plan on buying a new or a used car. If you want to buy a new car, you should know that you are looking for the 'invoice' price of the car and not the MSRP. The invoice price gives you the actual dealer price on the vehicle and the information can help while negotiating the buy.
In case you want to buy a used car and just save up some money, you should research the recent resale price of the car model you are interested in. All this information is vital before you negotiate for a car. If you plan on just trading your car for another one, make sure that you check the features of your car and the one you are trading it for to know if it goes along your needs and that the price is balanced between both the cars.
2. Pre-financing
Money is the biggest factor in any decision one has to make, and an integral part of this car buying guide. Buying a car requires a big budget and it is often best to look into the pre-financial option. The two main sources can be the financial interest the car dealership has to offer while the second one is the bank loan or credit unions even in a low rate environment. The interest rates the car dealership have to offer are quite high especially in comparison with the bank loan hence it is best to go for the latter option. Bank loans and credit unions also offer a 'relationship discount' making them an even more solid option for car loans.
In order to check your credit score before knowing what interest rate suit you best, go to Credit Karma and get a clear point of view. The next step is to compare multiple financing quotes at once, for this purpose you can go to Lending Tree which compares up to five financing quotes at once.
When checking your credit, if it comes out to be lesser than you had anticipated, maybe you should think about buying a car as number two on your to-do list and first work to rebuild your credit and get your debt cleared away.
Another factor that might assist in getting you a car is signing up for Experience Boost or extra credit score. This happens with your Experience credit that is based on your financial information that has no real relationship with your credit score. In the end, when you receive any financial quote, have it in written form and use it for negotiating for a lower interest rate.
3. Look Around
It is always a good idea to roam in the market place and get an idea about the prices for anything you are about to buy especially when it is a big investment. The same is advised in terms of buying a car. Go to different dealerships to have an estimate on your desired car. It should be noted that leave at least one dealership empty-handed as they will also call you back for a final offer.
Another important tip to remember is that the prices of cars also vary in accordance to their location. Once you have decided on a car, make sure to run it through a reliable source such as TrueCar o get approximate on what you should pay for that used car or to double-check through a source such as Kelly Blue Book about what the price should be. Both of these sources provide you access to used and new cars.
4. Choose on the Internet
In what field of life the internet has not made it easy for us? Buying a car online can save you thrice the hassle of getting it from a dealership. First off it saves you from an annoying and nosy car salesperson. Not only is the guy annoying but he would also sell you a car at the highest rates possible since he gets paid on commission. The higher price he will set for you, the more money he makes. On the other hand, a person selling you a car online has a fixed salary. He gets a bonus if he sells more cars, not at what price range. Hence it is a win-win situation for both the parties
Secondly, it helps to avoid going to different dealerships. You can find everything you need on the internet. There is an entire list of inventory of different dealerships or sites from where you can make a decision. Non-dealer websites such as True Car and Kelly Blue Book or even eBay Motors provide you with the most impressive list of used and new cars with excellent customer support that further proves why ordering a car online is a much wiser choice.
5. Consider your Affordability
If you are looking to buy a second car, make sure you have enough in the bank and all your debts are cleared off from the previous car. It would be highly inconvenient to buy a second car when you are already paying dues of the first. In case you have finished your payments, try to still save the monthly dues for at least a year. This amount can help you as a down payment for your second car.
Any car buying guide will ask you to make sure that the car you are buying is according to your budget and something you can afford. If you get yourself a fancy car whose dues will become a factor to lose your sleep over, it will not be worth it.
On a side note, you can always use Turo to make some extra money for your new car. If you do not utilize your car every day, you can simply share it with other drivers using this app and make some extra amount. All you have to do is sign up.
6. Negotiate when Buying a Car
As previously mentioned, buying a car is one of the most important investments. You might have to pay for it for a few years as well.  Make sure you do extensive research about the prices of different models and relate the price with the various features the car has to offer. In this way when you start negotiating with the car salesperson, he would know that you are a person who knows their cars and that you cannot be shaken down easily. Always be confident while negotiating and do not feel down turning down offers. One tip for negotiating is to start with a very low number so that you settle on a sensible amount.
If the salesperson gives you an offer of a monthly payment of a specific price based on a 60-month loan, you can tell them that you want to opt for the same payment with a 48-month loan.
7. Speculate Old and New Cars
The wisest decision while buying a car is speculating used ones as well as new ones, as it can guide you to make a better decision. Buying a mildly used one can, at times, be a really good decision. This is because the value of a car greatly diminishes the moment you bring it home from the dealership. A car that has already lost that value for someone else, can be bought at a reasonable price by you. However, the drawback can be the fact that selling used cars mostly depends on supply, demand, the region where the car has been registered and of course, the economy.
Other tips and tricks to guide you on car buying
Here are a few extra things to keep in mind when buying a car.
Purchase Price over Monthly Payments
Make sure to never make the mistake of buying a car on the monthly payments, no matter how fancy the offer sounds. Car dealerships are keen on giving an illusion to their customers in the form of these monthly payments. The monthly payments are tough to handle in the long term especially when you have to get a 72-month loan.
Always go for the purchase price and to know what the purchase price of the car you are interested is because people at the dealership will only try to trick you into the worst possible decision. There can be numerous extra, hidden costs embedded into the price including certain taxes, delivery fees, and car preparation, and dealership costs that the people at the dealership will not mention unless you know what to ask.
Do not Mention Special Discounts or Trade-Offs
As previously mentioned, the car salesperson at the dealership always aims to sell you a car at the highest price possible since it is a commission-based job. In case you have any discounts or tradeoffs, make sure to not mention this information until the very end of the buying process because the car salesperson will use this information in your loss.
If you have a tradeoff of $3,000 and the car you are looking for is at a cost price of $28,000 and the dealership gives you a final price of $24,000, you mention the tradeoff amount at the end your final price will be $21,000 but if you mention it beforehand, the dealership will make sure to sell the car at a minimum of $26,000 so that they could still make a profit when your final price comes at $23,000. So make sure to closely plan your moves.
Such discounts usually are not offered, however, there is the very valuable 'employee pricing' for the employees and their families that work in the automotive industry, These benefits are almost always used in a negative manner giving the employee no real benefit. This is especially for people who own the GM BuyPower credit card whose points come in really handy when it comes to buying a car.
Insurance Costs
The insurance cost is a significant contributor in the overall price of your car. Factor costs for car insurance premiums into the purchase price of your car. You can get insurance premiums quotes online at Liberty Mutual or All State all you have to do is provide personal information such as age, marital status and driving records.
Different cars have different insurance rates. Cars such as Honda Toyota, Honda Accord or Honda Civic have a much higher resale value; hence they are usually the ones getting stolen. Since the insurance companies know this as well, the insurance premium costs for them are significantly higher as well.
No Impulse Buying
Impulse buying is cute when it is something as a piece of clothing or jewelry, not when it comes to big investments such as buying a house or a car. These investments have to stick with you a lot longer than some ornaments. Make sure to do extensive research and know exactly what you want and which car with all those features can you afford that too with the additional costs and insurance. If you impulsively buy a car because you liked the style or you have heard good things about it, it can become a cause of serious distress when you realize you cannot afford it or it does not provide you with the mileage you were looking for. Hence the research you will conduct should not only be about the price but also the features different companies and their models have to offer.
Do not Go for Add-ons
Buying a car in today's economy is already quite expensive, an investment for which you might be paying for the next few years, the add-ons can be unnecessary, and just more payments to be made. You need to ask yourself if you really need heating car seats and whatnot. Rust-proofing, a rear camera VIN etching, and a dealership maintenance plan are more add-ons that you don't really need.
Extended Warranties
This is another factor that you do not require. Extended car warranties can only be a nightmare because covering them becomes hectic and they do not really cover and real mechanical damages. Manufacturer's warranty can be plenty which covers most of the factors even when you buy a used car, most of these still have the manufacturer's insurance so there really is no real need of an extended warranty, especially if the warranty is coming out of a loan.
Test Driving
It is important to take the car you want to buy out for a spin. This can guide you about the car and your decision about buying it. 90% of the customer's test drive their car before purchasing. This is because there are numerous factors that you have to assess yourself and the internet cannot tell you about such as the comfort level of the drive and the seats etc. If you are going to be sharing the car, make sure everyone is on board with the comfort level and everything else. Other aspects you should be looking out for are:
View: Make sure the view from all of the mirrors is comfortable and easy. Also, assess if the mirrors give you a straight line view of all dashboard gauges.
Idle: The car should be smooth and quiet.
Handling and Brakes: These are the two most important features of a car and you have to make sure that they are easy to use and are sensitive.
Controls: Check all the controls of your car, like a kid with a new toy. Locate the turn signals, turn on the windshield wipers and flip on the air. At the end, make sure everything is easily accessible and working.
A Mechanic's Point of View Can Guide You On Car Buying
One of the best things you can help guide you when buying a used car is to take your mechanic along with you. The mechanic should be a trustworthy one who would give you a truthful opinion and does not try to benefit off of you either. But the expert point of view can come in handy when you are negotiating a price. There can be numerous technical issues that you cannot spot but they can grasp the attention of an expert, hence make sure that the mechanic takes a full look on the car you are interested in buying, for the price and as well as for comfort purchase.