Brooklyn SolarWorks' solar canopy solves the space issues for installing rooftop solar panels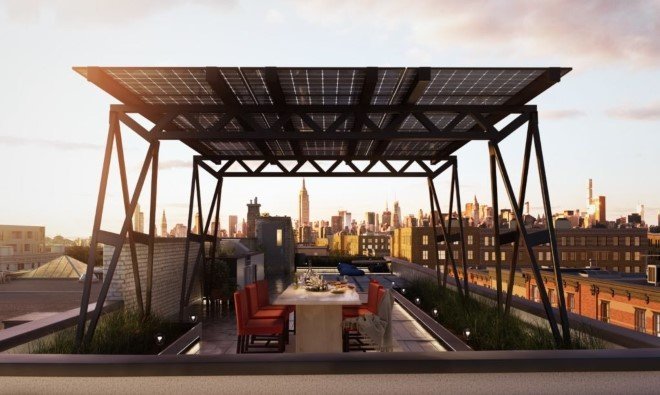 Solar power just got more accessible for New Yorkers. Brooklyn SolarWorks recently introduced their solar canopy, which helps the urban population overcome the issues encountered by putting up traditional solar panels. It offers solar energy in places where solar panels can't be provided due to fire codes or obstacles. Apart from provision of sustainable energy, solar canopy also provides new living spaces.
Brooklyn SolarWorks created various ways in which city dwellers can benefit from this product. Designed in collaboration with SITU Studio, the solar canopy is a rendition of how urban solar power could look like, for instance, a rooftop dining area.
Image: Brooklyn SolarWorks
The company's website claims that their company is "capable of putting solar panels on almost anything. Whether you have ample roof space free of obstacles or your roof is littered with vent pipes, skylights, and hatches, we will likely be able to figure out a solar solution."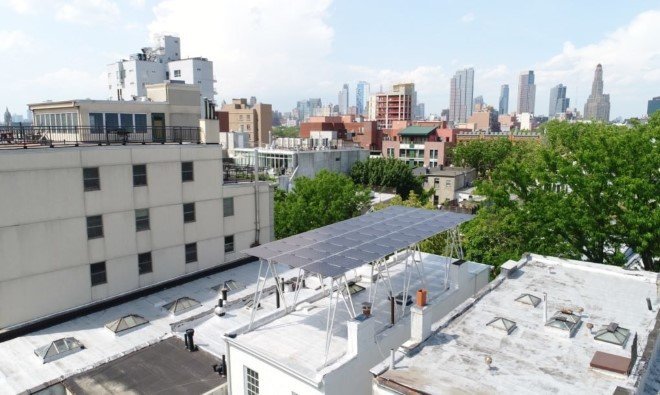 Image: Brooklyn SolarWorks
Recommended for you (article continues below)
Their motto proved to be correct with the advent of The Solar Canopy. By putting up high solar panels, urban dwellers can get away with the restrictive fire codes. Brooklyn SolarWorks use different solar panels depending on the needs. Their most famous ones are Silfab's SLA-M 310 Wp Monocrystalline panels, which promise to give 100 percent maximum power density and the LG NeON 2 355W panels that focus more on the aesthetics by having thinner wires.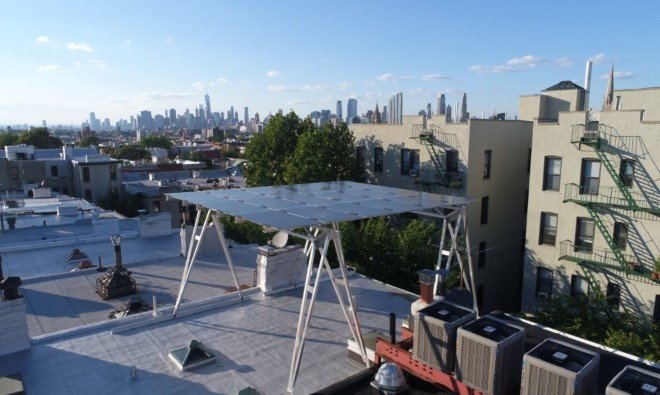 Image: Brooklyn SolarWorks
So what's the best part about the solar canopy? Well, you don't have to leave the comfort of your couch to gain information about the Solar Canopy. The company provides exclusive 3D models with virtual reality goggles to help you explore their innovative product. You can also check out their website for further information.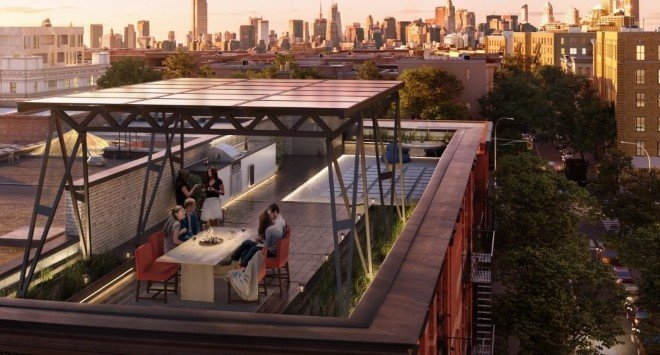 Image: Brooklyn SolarWorks
h/t: Inhabitat