British Army deploys bomb disposal robots equipped with haptic technology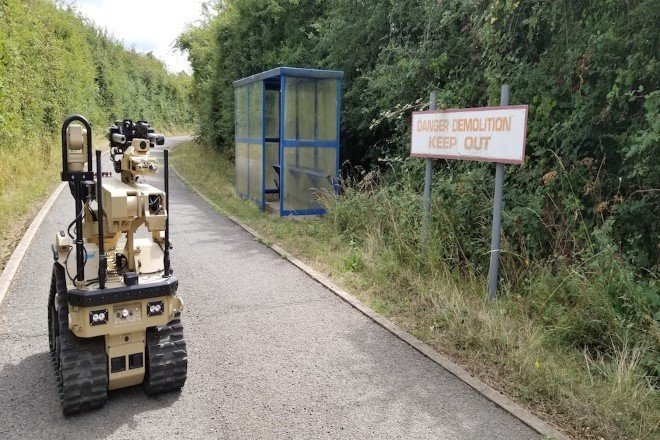 The people who work in a bomb disposal squad have one of the most dangerous jobs in the world, as it might result in fatalities due to a single mistake. But there is good news for such people, as the British Army has now developed a new tool for helping them with such tasks. This new tool corresponds to a ground vehicle which will help the bomb disposal team, providing them with the human-like agility while dealing with explosives.
The ability for the robots to feel and grab the things like humans is considered to be a seed of exciting possibilities in all form of fields. Such robots have force sensors which are installed at the point of contact of these robots, measuring if an item is heavy, light or delicate and for delivering haptic feedback for the remote users so that adjustments can be made if required.
The British Army is now eager to utilize the services of this intelligent machine in use with its efforts for disarming the explosives. The delivery of four purpose-built bomb disposal robots, known as the Harris T7s has gone through rigorous trials, which involved multi-terrain driving along with battlefield simulations and the tasks requiring agility, i.e., pushing the machine to its limits. Harris T7 is equipped with high-definition cameras, terrain treads for every terrain and the adjustable manipulation arm, which enable the robots to be used in real-life scenarios.
The British Army fleet of Wheelbarrow Mk8Bs would be replaced by this robot, which is a group of bomb disposal devices used by the British Army since the year 1972. The operators would be able to work safely from some distance using the advanced haptic feedback technology of the Harris T7, using a remotely controlled handgrip. The robot continually provides feedback to the users, with the agility which is human like.
Recommended for you (article continues below)
According to the UK Defense Secretary, Gavin Williamson, such robots would become an essential part of the kit, which would prevent harm to the innocent civilians. Such robots would provide the army with the latest form of bomb-disposal technology, which can be trusted both on the streets and in dangerous conflict zones.
These robots form a team of the first 56 robots, which are to be delivered by the Harris Corporation following the £55 million contract it has with the British Army. All of these robots are expected to be in service by December 2020.
Header Image: Courtesy of the British Army
Source: British Army