America's Biggest and Priciest Homes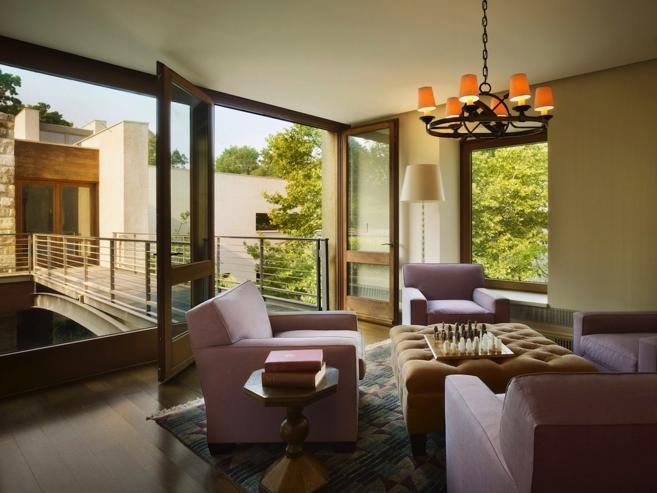 You can wish to have one of these mansions only in your dreams. Packed with luxurious amenities, these mansions come with big price tags too. You might empty your pockets and bank accounts to have one of these houses and still find yourself short of money. Check out these biggest and priciest homes in America.
---
Recommended for you (article continues below)
No. 13
Location: Boca Raton, Florida
Size: 32,511 Square-foot
Amenities: 16 bedrooms, Resort-style pool, 14 Car Garage, Banquet-sized dining room, Hair Salon, Billiards Room and a card room with stained glass ceilings.
Price: $6.95 Million
---
No.12
Location: Potomac, Maryland
Size: 33,000 Square-foot
Amenities: Made from limestone and hand-made bricks. 10 bedrooms, two elevators, a library.
Architect: David Niroo (Renowned and Premier Builder)
Price: $18 Million
---
No. 11
Location: Blue Heron Estate, Barrington, III
Size: 33,500 Square-foot
Amenities: Pool, Cherry wood wet bars, Porcelain floors, 1,300 bottle wine cellar, Two Master Suites, A stream, lake and fishing pond, Two-stall barn.
Price: $5,999,999
---
No. 10
Location: Wisconsin's Ellison Bay Manor, Michigan
Size: 35,000 Square-foot
Amenities: 5,000 square-foot master suite, A steam room, A garden room, Multiple parlors and galleries, Two storey wood paneled library, Three bedroom guest hoe and a beach house.
Price: $8.75 Million
---
No. 9
Location: Hillsborough, California
Size: 35,000 Square-foot
Amenities: 12 bedrooms, 12 full bathrooms, 3 Kitchens, A library, A pool plus a pool house.
Price: $23.888 Million
---
No. 8
Location: Philadelphia
Size: 36,957 Square-foot
Amenities: 29 exquisite acres, Stone Courtyard, Pool, Basketball Court, Main house with museum-quality galleries, Heroic Scale living room and a media room.
Price: $13.95 Million
---
No. 7
Location: Atlanta, Georgia
Size: 40,000 Square-foot
Amenities: 9 bedrooms, 15 bathrooms, Hair Salon, Home Cinema, 2 Gyms, Wellness Center and a Cigar Room.
Price: $19.9 Million
---
No. 6
Location: Valley, Arizona
Size: 40,280 Square-foot
Amenities: 2,900 square-foot guest house, Pool, 23 Bathrooms, Imported marble flooring, Olympic-sized pool.
Price: $10 Million
---
No. 5
Location: Beverly Hills
Size: 43,000 Square-foot
Amenities: 11 bedrooms, Pool, Tennis Court,
Price: $195 Thousand (One month rental ask)
---
No. 4
Location: Cartersville, Georgia
Size: 47,000 Square-foot
Amenities: 3 bedroom guest house, 3 bedroom caretaker residence, Stables, 14 fireplaces, 3 kitchens. Two story library. Home Cinema and Theater.
Price: $8.5 Million
---
No. 3
Location: Lantana, Florida
Size: 45,143 Square-foot
Amenities: Oceanfront, Gracious living and dining room, Home Cinema,
Price: $32.5 Million
---
No. 2
Location: Colorado
Size: 50,397 Square-foot
Amenities: 24 bathrooms, 10 fireplaces, 16 car garage, Panoramic sunset and sunrise mountain views.
Price: $14.9 Million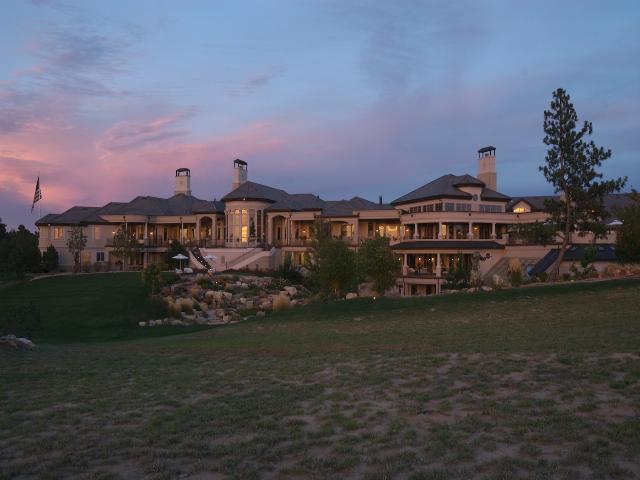 ---
No. 1
Location: Highland Park, III
Size: 56,000 Square-foot
Amenities: Regulation sized basketball court, Astounding interior.
Price: $16 Million
Source: Yahoo!