Amazon is rolling out 10,000 electric rickshaws in India to combat pollution
The world, now, is reducing the usage of fossil fuels and Amazon India just took major leap by announcing the addition of 10,000 electric rickshaws to its delivery fleet specified for India. India is the world's second most populous country and its roads are full of rickshaws which use petroleum as a fuel, generating and releasing large amounts of methane gas. Electric cars on the other hand produce far less emissions.  Amazon's CEO Jeff Bezos announced the news through twitter:
Hey, India. We're rolling out our new fleet of electric delivery rickshaws. Fully electric. Zero carbon. #ClimatePledge pic.twitter.com/qFXdZOsY4y

— Jeff Bezos (@JeffBezos) January 20, 2020
Amazon India's new fleet announcement was made after the success of the pilot program which was previously run across several cities. This roll-out program for electric rickshaws is supposed to start in 2020, and to be finished by 2025. The fleet will include multiple 3-wheeler and 4-wheeler vehicles, with the Amazon logo on them. These will all be manufactured in India. Initially, the vehicles are to be run in about 20 cities, including Delhi – National Capital Region, Bangalore, Hyderabad, Ahmedabad, Pune, Nagpur and Coimbatore and then slowly are to spread throughout the whole of India as the number of vehicles increases.
Recommended for you (article continues below)
Amazon still has kept further details about the program and the vehicle specifications unknown, but they have mentioned that they are looking for Original Equipment Manufacturers to partner with for the manufacturing of the vehicles. "The 21st century is going to be an Indian century," Amazon CEO Jeff Bezos said during his visit to India, where he announced the company's plans to leverage Amazon's profile to help create a US$10 billion market for Indian exports by 2025.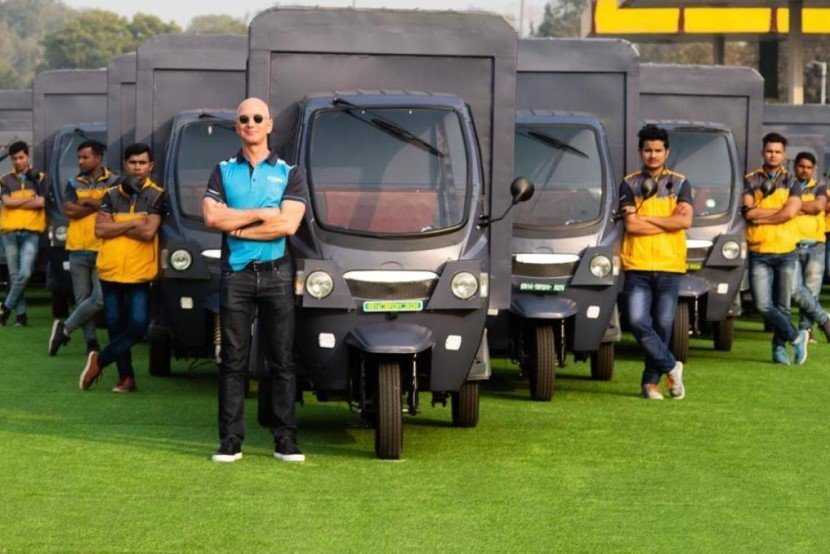 The program will give Amazon much greater push into the Indian market, alongside soothing environmental issues. Amazon announced its Climatic Pledge back in September 2019, and under this Climatic Pledge the company aims  to become wholly carbon neutral by the year 2040. They plan to add 100,000 Electric Vehicles to their delivery fleet before 2030 and also to create one million more jobs in India. This 2025 program is a part of the steps being taken for the sake of given long-term goals.
According to Akhil Saxena, Vice President – Asia Operations, Amazon, "The expansion of our electric vehicle fleet to 10,000 vehicles by 2025 is an integral milestone in our journey to become an energy efficient leader in the industry", he also said, "We will continue to invest in the electrification of our delivery fleet, thereby reducing our dependence on non-renewable resources."
Images: © Amazon
h/t: Design Boom