All New Acura TLX 2021 Provides Luxury, Comfort and Speed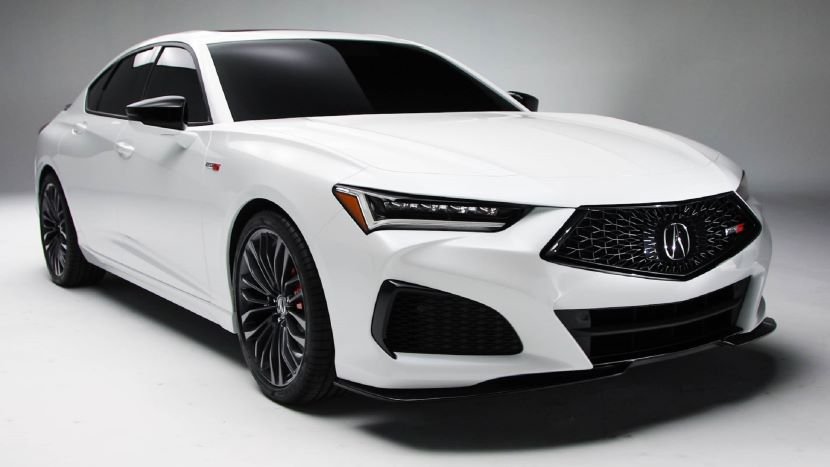 Image Credits: Acura
The all-new Acura TLX 2021 provides luxury, comfort and speed. A keen look over the Acura TLX's designs and built can prompt an image of the Acura Concept car as many of its visual features come from that. Acura is all set to launch its hefty V6 turbo model along with a regular base four-cylinder turbocharged model. One distinct advantage Acura has secured over other competitors is that all of its models now come with a built in Super Handling All Wheel drive feature.
TLX 2021 is equipped with a newly designed and more sophisticated chassis that provides better handling and more confident sturdiness. To help enter the TLX 2021 into the realm of premium sedans like BMW 3-Series and Audi A4, it has been given a sleeker, sportier and more lavish interior than its predecessors.
Quirks and features of Acura TLX 2021
Acura has given TLX 2021 a completely re-designed and re-imagined look. The company has put such effort and ability into its latest model that they had to nickname it "Seven-Second Knockout" which raises the expectation of the potential buyers. To ensure a better stability and faster pace of the Acura TLX 2021, its designers have added units to its proportions making it lower, wider and longer. TLX 2021 has a more powerful engine, enhanced chassis components and Acura's latest SH-AWD technology.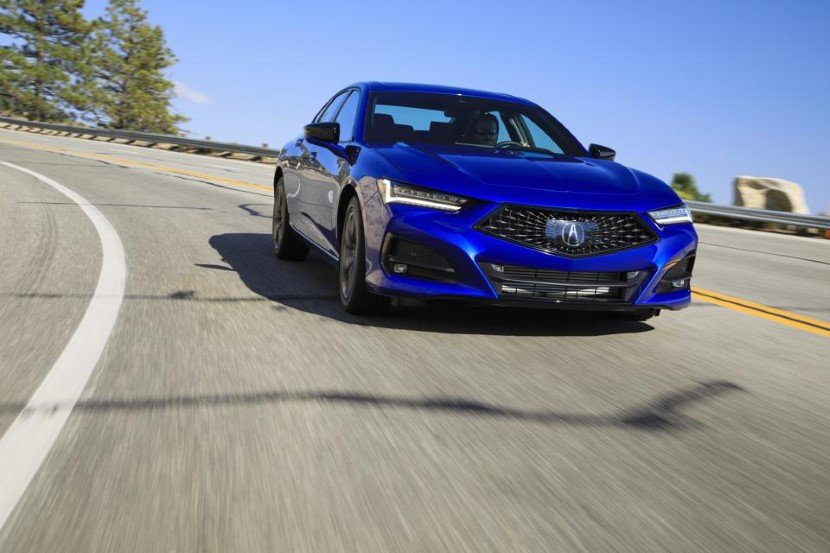 Price range of Acura TLX 2021
Acura has managed to develop a vast range of TLX variants with varying prices and features. The base model TLX 2021 is going to cost 38,525$. Next in line is the "Technology" variant priced at 42,525$ followed by a 45,272$ A-Spec variant. After that, there comes the "Advanced" model which carries the sticker price of 47,325$ and last but not the least, the "Type S" that has a price tag of a good 50,000$. This wide range of models ensure that it catches eye of buyers belonging to different classes, looking for different features.
The price ranges of Acura TLX 2021 can clearly classify that it has a far better value compared with its luxury competitors. Looking at the features that come with the base model and comparing them with those of "Advanced" and "Type S" we can see that there's a huge difference. Unlike the base model, the latter two come with leathered upholster, fancier infotainment, and wider wheels but adding nearly 8000$ to get those does not satisfy the value for money. Settling for SH-AWD base model is still a good enough offer making the car a sturdier and more versatile automobile.
Engine, Transmission, Suspension and Performance
The base model TLX 2021 comes with a stock 2.0-liters turbocharged engine that powers front wheels by default but all the variants of the model can be upgraded to all wheel drive by adding SH-AWD technology that divides the power equally among four wheels and provides the car better agility and traction.
TLX 2021 comes with a 10 Speed automatic transmission but the disappointing thing was the lack of subtle shift change response when sprinted. The mighty two-ton weight of the TLX 2021 slowed it down a bit compared to other premium sedans. Although the zero-60mph was a reasonable 5.9 seconds but its still lagging on the relative chart.
The quite admirable feature of Acura TLX 2021 is its wider chassis and enables it maneuver swiftly and gripped and it was evident that Acura can still make a sports sedan. The company doesn't provide the base model with the summer tires which is a slight setback but to cover for these little shortcomings, the well-anticipated Type S model is on its way with its newly developed V-6 Turbocharged engine that will juice the car with 354 lb-ft of torque.
Fuel Economy and Miles per Gallon
The Environmental Protection Agency estimated the Real-World MPG (miles per gallon) of the front wheel drive TLX 2021 to be 22 mpg in city while 31 mpg on highway. The values reduced for all-wheel drive version. The city mileage of the SH-AWD was 21 mpg and that of highway, 29 mpg. Coming onto the relative chart, it was noted that the 4-cylinder All-Wheel drive BMW 3-series is significantly more efficient than our contestant here.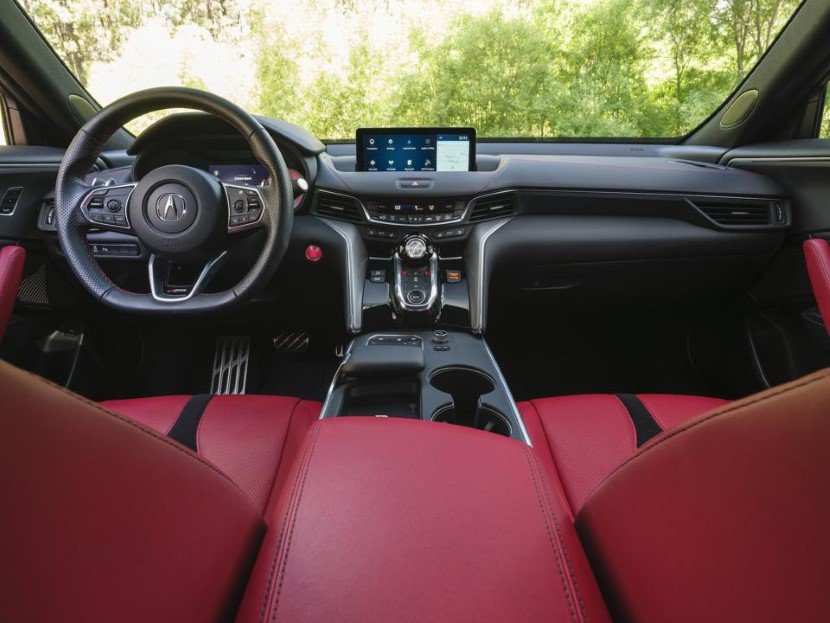 Interior, Comfort and Cargo
The TLX 2021 has a lavish and high-end interior design that compliments its sporty behavior. These include attractive analog gauges and a prominent rotary drive-mode selector in the middle of the dashboard. TLX 2021 houses a better build quality and more premium finishing than its predecessors. The cabin materials include open-pore wood and real aluminum that guarantees a luxurious driving experience. Despite being noticeably wider than the same range competitors, TLX 2021 has smaller rear passenger seats. The highly adjustable and comfortable front seats provide the driver and the front passenger a spacious and clearer front view.
Acura offers variety of interior colors, leather upholstery and distinctive other options to its buyers. It offers a 10.5-inch-wide head-up display and customizable ambient lighting. The fun part here is that each ambient light setting is named after iconic racetracks and driving destinations such as 'Pacific Coast' and 'Suzuka' which is a nice attention to detail.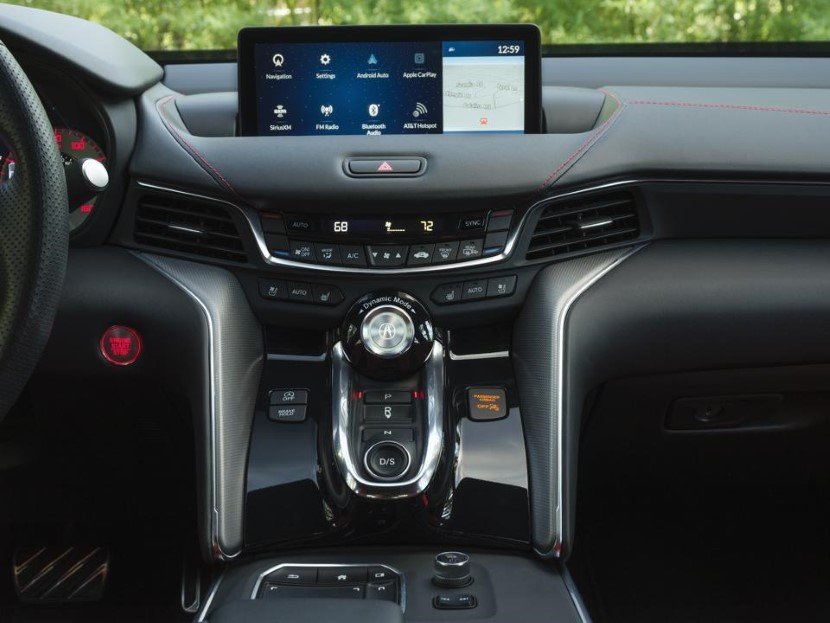 Infotainment and Connectivity
The Acura TLX 2021 exhibits a wide 10.2-inch infotainment system. The Infotainment system is controlled by a touchpad on the center console and some features of it can also be controlled by the steering wheel buttons. Acura cares for its drivers and so they have placed a padded resting place for your wrist so you can control the infotainment system more comfortably. The infotainment system in TLX 2021 support Apple CarPlay and Android Auto and also has Wi-Fi hotspot. The ELS 3D stereo system of Acura TLX provides a perfectly surrounded and balanced sound but to opt in for this feature the buyer has to go for the advanced package with which also comes a wireless charging pad.
Safety and Driver Assistance Features in the Acura TLX 2021
The Acura TLX 2021 has not yet been crash-tested by National Highway Traffic Safety Administration (NHTSA) or Insurance Institute for Highway Safety (IIHF) but that is not a hanging issue as every new model comes with AcuraWatch that comes with Driver-Assistance Technology. The premium sedan also has newer features to ensure fool-proof safety of its drivers that includes Traffic sign recognition technology and a driver awareness monitor. Basic safety features of TLX 2021 include
Standard forward-collision warning and automated emergency braking
Standard lane departure warning and lane keeping assist
Available blind-spot monitor and rear cross traffic alert
Warranty and Maintenance
Acura has secured several accolades for providing one of the longest powertrain warranties available on the market. The company does not offer any complimentary maintenance services though.
Limited Warranty covers 4 years or 50,000 miles
Powertrain warranty covers 6 years or 70,000 miles
No complementary scheduled maintenance.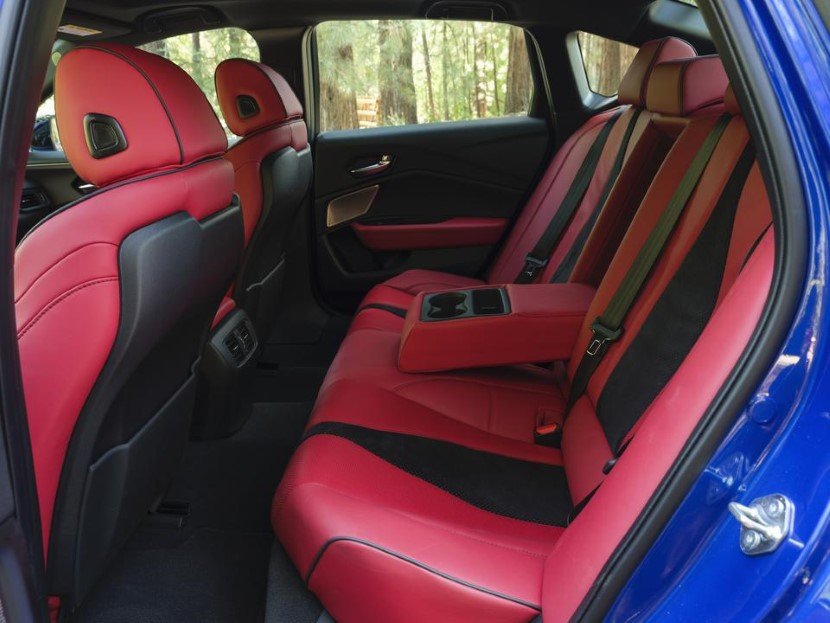 References: Car and Driver, Motor Trend, Forbes