Now You Can Draw Electric Circuits On Paper With AgIC Circuit Marker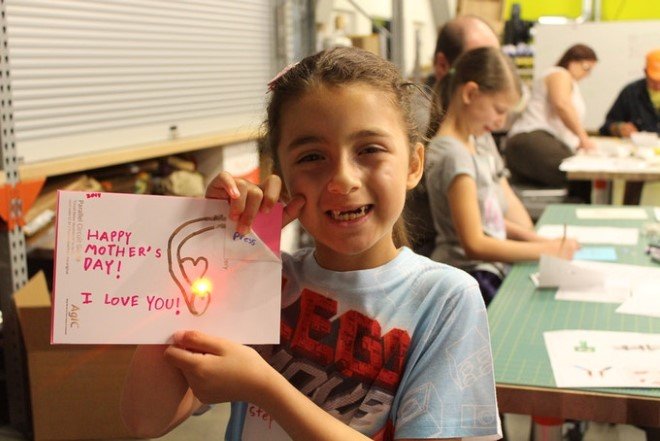 Getting sick of breadboards being blown out during circuit testing? Now you don't have to worry about that because Japanese tech start-up has made a special ink which can be utilized to draw or print electrical circuits on paper. Late advancements in material sciences have made it possible to develop such fluids which can be used to draw magical conductive figures. Japanese product AgIC – 'Ag' (silver's scientific symbol) inkjet circuit ink uses tiny silver particles in it, which conduct electricity and make life easier for prototyping low voltage circuits. The printed ink dries in a jiffy and instantly conducts electricity through. You can utilize it exactly the same as you use ordinary ink to print circuits at work or university.
Wiring in a circuit can be cumbersome sometimes, especially when your prototype comprises of a lot of integrated circuit (IC) chips and microcontroller boards. To avert this type of difficult situation no doubt computer based simulations do the trick, but to observe real-time behavior of circuits you have to shift to breadboards and at times it gets pretty problematic to cope up with the bundle of tiny wires. With AgIC print, you can make aesthetic electrical circuits on paper with existing illustration software for instance, Adobe Illustrator and Corel Draw.
Making circuits for the sake of testing on printed circuit boards (PCB) can be tricky, as there is always a chance for PCB to become dysfunctional during testing. After that, re-ordering it can be a lot hassle, as it wastes precious time and money. With AgIC print, before moving one to manufacture PCB, you can actually prototype your circuits on paper. In the event that you discover your model circuit works fine, you can send those PCB designs to concerned department for its ultimate fabrication.
Breadboard can be an alternate of PCB for faster prototyping, but it also can get messy as you'll still have to use wires here. Sometimes breadboards' interconnected wires get short and testing circuits on such boards certainly damages the electrical components in practice. AgIC printed circuits are much straightforward and sleek alternatives. You can imitate and go over your circuit designs as many times as you want.
The AgIC ink is not only compatible with inkjet printers but can also be used with brush pens to draw circuits by hand on papers. Fusion of imagination with circuit designing regulations to doodle out your fully functional circuits on notebooks is an exciting prospect for STEM educators as it seems an effective and economical way to get kids excited for electronics field.
The video from Vocativ below shows some of the imaginative and practical applications of this electrified doodle pen.
AGIC is available in variety of packs to buy which are as follows:
$19: Circuit Brush
Recommended for you (article continues below)
Conductive ink brush, 3 pcs of special coated paper (A4 size), 20 LEDs, 2 coin batteries, conductive tape, 12 supporter cards.
$29: PREMIUM CIRCUIT MARKER
One premium conductive ink marker, 12 pcs of special coated paper (A6 size), 20 LEDs, 2-coin battery, conductive tape, 12 supporter cards
$170: CLASSROOM KIT
10 premium conductive markers, 20 pcs of special coated paper (A4), 100 LEDs, 20-coin battery.
$299: AgIC PRINTING DIY KIT
3 filters, 3 syringes, conductive silver nanoparticle ink 25ml, 20 pcs of special coated paper (A4), 3 syringes of conductive glue, 1 premium conductive marker, 3 pieces of conductive tapes, developer's parts list. Note: This doesn't include inkjet printer, you'll have to buy one yourself as per your requirement.
$599: AgIC FULL PRINTING SYSTEM
One printer (already set-up and ink filled), 20 pcs of paper (A4 size), 20 pcs of special coated paper (A4), 3 syringes of conductive glue, 1 premium conductive marker, 3 pieces of conductive tapes, developer's parts.