A huge sea of plastic waste was found floating off the Bali Coast and we should be worried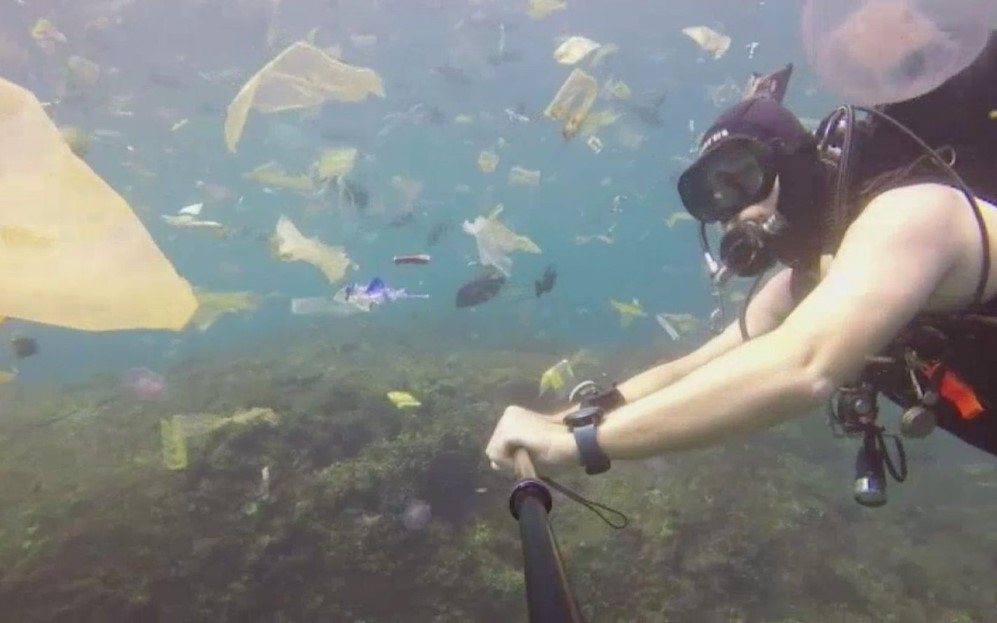 Plastic has proven to be mankind's nemesis, at least that's how environmentalists feel. The recent footage of a British diver swimming in a sea of plastic shows just how irresponsible we humans are and how we tend to take everything for granted.
Rich Horner filmed himself swimming through plastic waste floating on the turquoise waters of Bali (15 miles offshore from Denpasar, Balinese regional capital) to show the world how much of a real threat ocean pollution is. In the video, you'll see the alarmingly toxic levels of plastic waste resulting mainly from tourism. Even though the video was self-explanatory, Horner felt it was necessary to stress on the varieties he found so he wrote a comprehensive Facebook post saying, "Plastic bags, plastic bottles, plastic cups, plastic sheets, plastic buckets, plastic sachets, plastic straws, plastic baskets, plastic bags, more plastic bags."
A mechanical engineering graduate of University of Brighton, Mr. Horner lives in one of the most visited Indonesian holiday island – Bali. His video was shared by 16,000 people on Facebook which shows that the message was effectively put across!
Image: Sonny Tumbelaka / AFP/ Getty Images
Recommended for you (article continues below)
If you belong to that particular school of thought who believes the issue of ocean pollution is highly exaggerated then you need to expand your research for plastic debris as it is posing a real threat to whales and manta rays. Since this plastic disintegrates in water, it enters the food chain of these fish and ultimately increases the chances of them choking. According to the regional government, 5.7 million tourists visited Bali last year and the officials had to declare a 'garbage emergency' as 3.6 miles of the coastline was covered in plastic waste!  Indonesia is considered to be world's worst plastic polluters as studies show that 10 per cent of world's plastic waste comes from the 260 million population. Jakarta, the capital city of Indonesia, has been pictured as a large dustbin unfortunately.
The beach in Freedom Island is literally swamped with single use-plastics ( Image: Break Free From Plastic.Org)
Western countries have been quite smart in this regard as they have been 'offshoring' their plastic pollution to Asia. However, China took charge and banned the import of approximately seven million tons of plastic waste that is brought to Asia.  Sir David Attenborough, an English broadcaster and naturalist, says that 10-20 million tons of plastic dumped into ocean will turn it into a 'toxic soup'.  If you are familiar, you might have seen his Blue Planet II TV series which basically highlights the impact of plastic waste on marine life. He said that his crew witnessed plastic floating in every single ocean.
You and I are equally responsible for this, so let's pledge to be a bit more responsible when it comes to generating and disposing our waste!
Source: Telegraph