Acura launches its latest 2021 MDX premium luxury SUV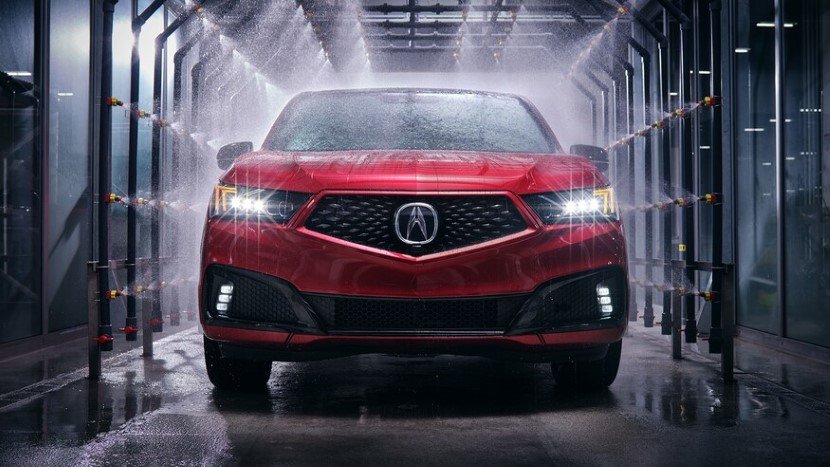 Image Credits: Acura
2021 Acura MDX gets the same Type S treatment from the company as TLX 2021 Type S. The manufacturers take deep pride in having their premium vehicles revamped by the Type S accolade. Let's go back to Acura TLX 2021 for a while. TLX Type S was juiced by a Twin-Turbo V6 engine that separated it from the non-Type S variants on mechanical premise. Similar is the modification that is employed in the Acura MDX Type S.
2021 MDX is getting a complete retouch on its interior and exterior both in order to bring back the filter of the modern sportiness. MDX 2021 is getting a high performance 355HP 3.0L V6 Turbocharged engine, 10 speed automatic transmission and a Double Wishbone suspension, making it a viable competitor in the auto market this year.
Updates on 2021 Acura MDX
2021 Acura MDX is getting most of its features revamped. New designs, new features, modern tech and unmatched power. Some of the latest updates MDX 2021 has received are mentioned below:
The sticker price of MDX 2021 is starting at $45,500.
First ever Type S MDX with 335 HP V6 engine.
Overhauled interior that shares a lot with that of TLX 2021.
The next generation 2022 MDX has been previewed with the prototype of Acura MDX.
Longer and wider dimensions for a gripped and controlled drive.
As Acura is all set to launch the MDX 2021 in the market, the expectations are higher. Following the successful launches of revamped 2021 RDX and the stylish 2021 TLX, MDX 2021 awaits much spotlight. The misconceptions that Acura had, when they unveiled their 2022 MDX porotype, have been removed by the company and it has been clarified that the prototype of MDX exhibited in late 2020 was in fact, the 2021 model. The quirks and features of the MDX 2021 are almost exactly as claimed in the prototype exhibit that shows how Acura is confident with their new contestant.
Model specs of 2021 Acura MDX
The all new MDX 2021 is set to break benchmarks with its excessive specs and features. From its aggressive exterior to its sleek and sporty interior, MDX 2021 is leaving no stone unturned. MDX 2021's powertrain couldn't be any better, as Type S MDX is getting a monster V6 3.0L Turbocharged engine. MDX 2021 can be placed somewhere between a premium sedan and a powerful SUV by virtue of its spacious and luxurious 3 row cabin.
With 5 trim variants i.e. Standard, Technology, A-Spec, Entertainment and Type S, Acura is providing their buyers with a vast variety based on their desired quirks and features. The company has aggressively priced the MDX 2021 which makes it the center of attention as it is, by a huge gap, less costly than almost all the premium luxury SUVs in the market. With its versatility and low price, 2021 Acura MDX is a strong candidate in this year's race of the SUVs.
Price Range: $ 45,500 – $ 66,000.
Release date: Early 2021.
Engine: 3.5L Naturally Aspirated V6 / 3.0L Turbocharged V6.
Transmission: 10 Speed Automatic.
Drive Train: All-Wheel Drive.
Trims: 5 Trim Packages.
The 2021 Acura MDX will be available in a variety of standard and trim specific colors. The standard colors range from Platinum white pearl, Lunar silver metallic, Modern steel metallic, Majestic black pearl and Performance red pearl. The trim specific color options are Apex Blue pearl, Canyon bronze metallic, Fathom blue pearl, and Gunmetal metallic.
Acura has graced the MDX 2021's standard variant with a 3.0L V6 engine. However, the confirmed and much anticipated Type S trim gets a 3.5L V6 engine. The revamped MDX 2021 has taken luxury, comfort and performance to a next level as it offers quiet and spacious cabin for up to 7 passengers. It features a cozy and stylish interior which is all set to take MDX 2021 to top of the list of 2021 three row luxury SUVs. Type S model has high hopes to match the line-up of the luxury three row SUVs this year like BMW X5, Audi Q7 and Infinity QX60.
Price, trims and features of 2021 Acura MDX
2021 Acura MDX is best known for its relatively abundant features and luxury for a very reasonable price. It shows off its sleeker design complimented by its intriguing LED headlights and taillights, sizeable alloy wheels providing an all-terrain performance with latest technology. The price tags of MDX 2021 range from $45,500 to $66,000, with the lowest for the standard trim and highest for Type S.
The latest line-up is expected to offer the same four exciting trims. Acura, as always, gives a variety of options to choose from and make your MDX unique. Varying interior options, luxury elements, and premium features are distributed across the base trim, Technology, A-Spec, and top-end trims. There is a new pumped-up engine on offer; a 355 hp turbocharged V6 for the 2021 MDX. Apart from the much-needed design update and a few interior updates, the Acura MDX is based on the same platform as the new 2021 Acura TLX.
Standard trim of MDX 2021
The Standard trim of 2021 Acura MDX is the base model with the lowest sticker price ranging from $45,500 to $48,000, depending upon the features. The higher price value is for the famous SH-AWD version of the MDX. With the Standard trim, Acura offers Tri-zone automatic climate control, power moon roof, power tailgate and a jewel eye LED headlights.
Technology package
The price of Technology package trim ranges from $51,000 to $53,000. With this trim comes rain sensing vipers, LED puddle lights and power folding mirrors. The upper limit of price tag is for the SH-AWD version.
A-Spec package
The base price of A-Spec is $56,500 and it is for the SH-AWD as this trim is not available in the front wheel drive variant. In this price, Acura offers Dark-Chrome lighting details, LED fog lights and A-Spec exclusive dual-exhaust outlets.
Advanced Package
The base price of Advanced package MDX 2021 is $57,750 and for the SH-AWD, variant it goes up to $59,750. With the Advanced trim, Acura gives an extensive list of features including auto-dimming side mirrors, body-color lower trim, sports seats with perforated Milano Premium leather – trimmed interior and contrast stitching and piping.
Entertainment package
The SH-AWD version of this trim comes with the sticker price of $55,000 and can be upgraded to A-spec features as well. Acura gives 11 speaker ELS Premium sound system with the entertainment trim. There is a 9-inch LCD overhead in Entertainment package that can be upgraded to a rear entertainment console with the Technology package.
Type S
This is the most premium trim of the MDX 2021 and it will come with extensive exciting features including a more powerful 3.0L V6 355HP engine. The Type S has a sporty design with tweaked front and rear bumpers and specific interior facilities including upholstery and badging.
It is expected that all of the trims from 2020 Acura MDX will be carried over mostly unchanged. The exclusive major addition is the upcoming new Type S trim that bundles in features from the Hybrid Acura MDX and additional curated features to highlight its sporty presentation. It includes special exterior colors and design elements to set it apart from the standard line-up. Even when comparing the pricing, the 2021 MDX is marginally higher than the 2021 MDX with the bump in price, ranging from $1000 – $1800.
Engine and performance upgrades in 2021 Acura MDX
MDX 2021 has a monstrous 3.5L V6 engine complimented by a highly responsive 10 speed automatic transmission, providing it with 290 hp and 267 lb-ft of torque. The much anticipated Type S version of MDX is set to receive a turbocharged 355 hp engine that will further raise the performance curve. Type S will push the limits of the 2021 Acura MDX with enhanced power and improved 0-60mph.
The famous SH-AWD technology that Acura is installing in their recent cars enhances the on and off-road stability of the SUV. The steering system of the MDX 2021 comes with power control that improves the handling abilities of the car at relatively higher speeds.
Comparison with potential rivals in the market
2021 Acura MDX has enough qualities to place it in line with the BMW X5, AUDI Q7 and Infinity QX60. In this section we will look through a detailed comparison between the contestants based on their price tags, engines, transmissions, power and torque.
| | | | | |
| --- | --- | --- | --- | --- |
| MODEL | 2021 Acura MDX | 2021 BMW X5 | 2021 Audi Q7 | Infinity QX60 |
| Price range | $45,500 | $62,195 | $55,795 | $47,375 |
| Engine | 3.5L Naturally Aspirated V6 | 3.0L Turbocharged Inline-6 | 2.0L Turbocharged Inline-4 | 3.5L Naturally Aspirated V6 |
| Drivetrain | AWD | AWD | AWD | AWD |
| Transmission | 10-Speed Automatic | 8-Speed Automatic | 8-Speed Automatic | CVT |
| Power | 290 hp @ 6200 RPM | 335 hp @ 5500 RPM | 248 hp @ 5000 RPM | 295 hp @ 6400 RPM |
| Torque | 267 lb-ft @ 4700 RPM | 330 lb-ft @ 1500 RPM | 273 lb-ft @ 1600 RPM | 270 lb-ft @ 4800 RPM |
The comparison shown in the table above clearly proves that not only is the MDX 2021 more affordable but a clearly worthy competitor in the class. The price tag on Acura is astonishingly cheaper than the closest German counterpart and by virtue of that, it is getting a lot of attention from auto enthusiasts. The BMW X5 still remains the most powerful among the lot but it must be kept in mind that with power comes a price to pay and that price is almost $15,000 more than the MDX 2021.
0-60 and quarter mile timings 2021 Acura MDX
The impressive 10-speed Automatic transmission present in MDX 2021 makes it go from 0-60 mph in a mere 6.3 seconds. This timing is for the AWD variant of the SUV. The clock lags a bit for the RWD and stretches to 6.5 seconds but that is still quite impressive.
The FWD MDX has a top-speed of 130 mph and it covers a quarter mile in just 14.3 seconds. For the AWD version, the top-speed stretches to an impressive 145 mph but the quarter mile timings remain almost just the same. Type S is believed to give an even better 0-60 due to its increased power and better stability. A quick comparison of 0-60, top-speed and quarter mile duration done between the MDX 2021 and rival SUVs will further emphasize its standing in that domain.
| | | | | |
| --- | --- | --- | --- | --- |
| Model | 2021 Acura MDX | BMW X5 2021 | Audi Q7 | Infinity QX60 |
| 0-60mph | 6.3 secs | 5.2 secs | 6.9 secs | 7.6 secs |
| Quarter Mile | 14.6 secs | 13.7 secs | N/A | 16.0 secs |
| Top Speed | 130 mph | 155 mph | 140 mph | 120 mph |
Even though the speedometer race clearly suggests that the BMW still wins but one mustn't forget that it comes at a much higher price. 2021 Acura MDX is much cheaper than the BMW X5 but its performance is worth considering it, nonetheless. The outstandingly cheaper price tag Acura put on its MDX 2021 makes it stand in line with odd rivals in the market.
The table shows that X5 and Q7 are leading in terms of performance by a huge difference but that comes at a huge cost and if you are willing to pay it, well go for it, but if you are not and money is an issue there, Acura has made MDX 2021 just for you and a lot comes with it.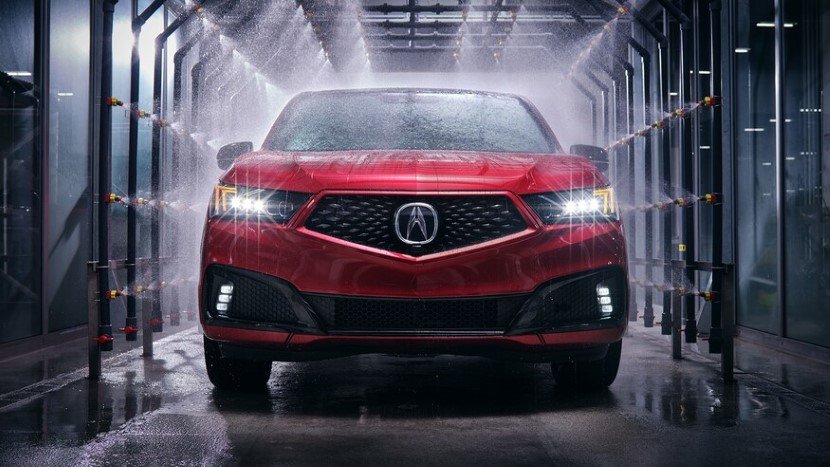 Fuel economy and miles per gallon of 2021 Acura MDX
No high performance luxury SUV in the market gives a really good economy and MDX is the same. With its high power and effective performance, MDX sure burns a lot of fuel. However, you can always opt for the Hybrid engine option that Acura has for its customers. It is a fact that even with the higher powertrains than the 2020 MDX, the 2021 model gives a better fuel efficiency.
MDX has been recorded to give above 19 mpg in city and around 26 mpg on highway. The hybrid engine gives a much enhanced economy on account of its smaller 3.0L V6 engine. It has been noted that the hybrid powertrain takes the MDX over 26 mpg in city and 27 mpg on highway. Acura has installed a big 19.5 gallon fuel tank in MDX 2021 which gives it a range of 429 miles. With the hybrid trim, the figure extends to an impressive limit of 527 miles.
Comparison between the fuel economy and MPG of the same contestants is given below:
| | | | | |
| --- | --- | --- | --- | --- |
| Model | 2021 Acura MDX | BMW X5 2021 | Audi Q7 | Infinity QX60 |
| MPG (city) | 19 | 20 | 19 | 19 |
| MPG (highway) | 26 | 26 | 23 | 26 |
| MPG (combined) | 22 | 22 | 21 | 22 |
| Fuel Tank Capacity | 19.5 | 21.9 | 19.8 | 19.5 |
| Range (City/Highway/Combined) | 371/507/429 | 438/569/482 | 376/456/416 | 371/507/429 |
The table shows that BMW wins the range race but it shares the MPG with that of 2021 Acura MDX. Audi has the least figures but with the engine power it offers, that makes sense. MDX 2021 has a great mpg and fuel economy as compared with these rivals overall.
Interior updates for 2021 Acura MDX
For the MDX 2021, Acura has a revamped interior with several top notch quirks and features. The spacious and leathered steering wheel has a wide range of controls and features. The cabin in the MDX 2021 is fully equipped with numerous latest tech features to accompany you on your long and city drives. MDX 2021 has efficiently used all of its cabin to carefully distribute the features all over it. The SUV has heated and cooled seats which adds to its overall comfort factor.
Heated seats feature is actually really common these days in premium SUVs but MDX has something extra; it has a heated steering wheel covered in leather to provide the best finishing and drive experience to its riders. MDX 2021 has a spacious trunk that can carry a sufficient amount of luggage but in case that is not enough, you can fold down the third row and get a large 91 cu-ft. space for all the luggage you want to carry.
A comparison between the seating and cargo dimensions of the 4 major competitors is done below:
| | | | | |
| --- | --- | --- | --- | --- |
| Model | 2021 Acura MDX | BMW X5 2021 | Audi Q7 | Infinity QX60 |
| Seating Capacity | 6 | 5 | 7 | 7 |
| Front Row(Head/Shoulder/Leg) | 38.1/61.1/41.1 in | 40.7/60.0/39.4 in | 39.9/59.5/41.7 in | 40.7/60.3/42.2 in |
| Second Row(Head/Shoulder/Leg) | 38.3/59.1/36.6 in | 38.7/58.1/37.4 in | 38.8/58.5/38.8 in | 38.2/60.4/41.7 in |
| Third Row(Head/Shoulder/Leg) | 35.6/54.7/28.1 in | N/A | 35.9/49.4/29.2 in | 36.5/57.1/30.8 in |
| Cargo Capacity | 15.0 cu-ft. | 33.9 cu-ft. | 14.8 cu-ft. | 15.8 cu-ft. |
The table above clearly suggests that MDX 2021 has spacious leg and head room and a very big trunk. However, the race is won by BMW X5 again as it has the most head and leg room and the largest trunk space.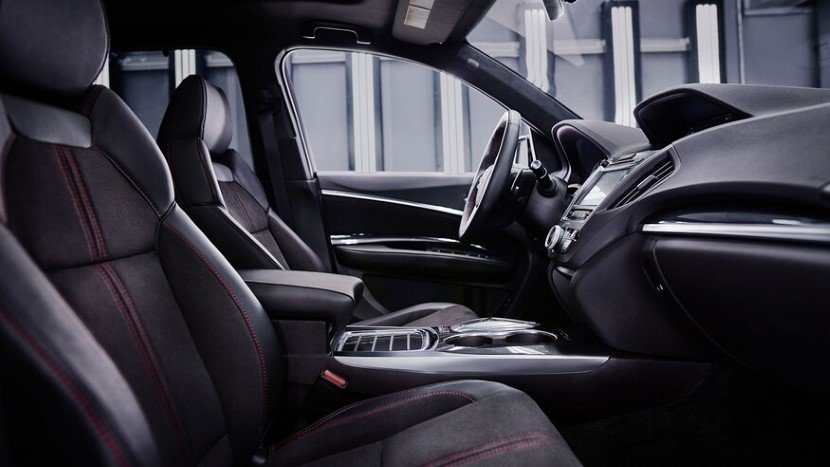 Various special interior features of MDX 2021 are described below;
Leather-Trimmed Interiors with fresh upholstery options.
Front 12 Way Power Adjust Seats with Power Lumbar Support.
Heated and Ventilated Front Seats.
Heated Rear Outboard Seats.
60/40 Split-folding second-row seats.
Tri-Zone Automatic Climate Control with Humidity Control.
Keyless Access with Push Button Start.
Auto-Dimming Frameless Rearview Mirror.
Heated and Leather Wrapped Electronic Tilt/Telescopic steering wheel.
Ambient Cabin Lighting and Active Sound Control.
Infotainment updates for 2021 Acura MDX
The infotainment system in the latest MDX is not too praise worthy given its slow user interface and a relatively dull display. The system does, however, have a full-on smart phone compatibility and features like Apple CarPlay. However, that alone doesn't match with the much superior systems, especially, the ones installed in the German wheels.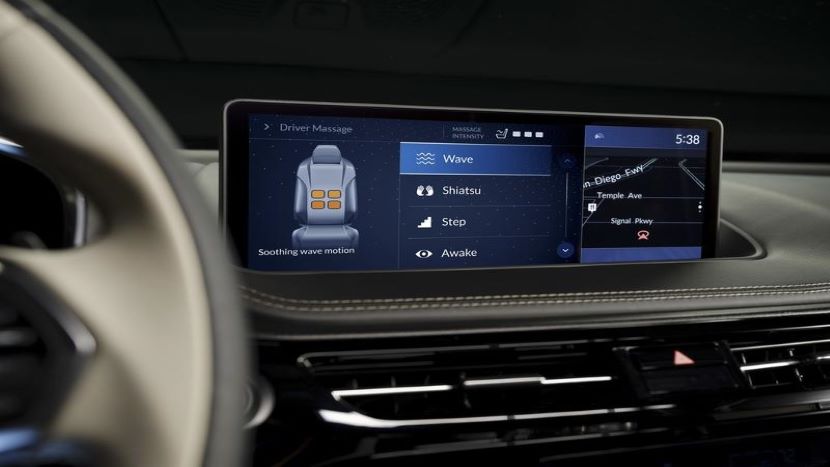 List of various features in the infotainment system in the MDX 2021 is shown below;
Voice Recognition/Siri with Bluetooth hands-free.
10 Speaker ELS Audio System.
USB Charging Ports and Media Connectivity ports.
SiriusXM/HD Radio with Bluetooth and AUX connectivity.
10.2″ Touchscreen Infotainment System with Navigation.
Apple CarPlay and Android Auto.
Audio USB with iPod integration.
Wi-Fi Hotspot.
Wireless Charging.
Exterior updates for 2021 Acura MDX
Among SUV makers, Acura has given the MDX 2021 a more premium look with chrome treatment, gorgeous LED headlights, sporty front grill and sleek outlook. Acura is expected to continue with the same design particulars and add a little bit more to not disturb the previously perfectly proportioned SUV. The higher trims of the 2021 MDX have new 20-inch sporty wheels and chrome-finish, which make it look even muscular and premium.
The various packages on offer enhances the exterior with varying treatments, and our personal favorite is the A-Spec package which darkens out everything, giving it a rather sinister look, even better in the red shade! Expect a restyled front and rear fascia that is in-line with the RDX SUV. The LED lighting setup also gets an overhaul with redesigned bits.
The comparison between the dimensions of the major SUV contestants is done below:
| | | | | |
| --- | --- | --- | --- | --- |
| Model | 2021 Acura MDX | BMW X5 | Audi Q7 | Infinity QX60 |
| Curb Weight (lbs.) | 4264 | 4813 | 4784 | 4519 |
| Length (in) | 196.2 | 194.3 | 199.6 | 200.6 |
| Width (in) | 77.7 | 78.9 | 77.5 | 77.2 |
| Height (in) | 67.4 | 68.7 | 68.5 | 68.8 |
| Ground Clearance (in) | 7.3 | 8.7 | N/A | 6.5 |
| Wheelbase (in) | 111.0 | 117.1 | 117.9 | 114.2 |
The table shows that MDX 2021 has the lightest chassis, smallest wheelbase and enough ground clearance to be a worthy SUV in the market. BMW X5 2021 has the largest weight in the list which makes it sturdier and better gripped but that comes at a raised German cost. The dynamic stability of the MDX 2021 is enhanced due to its lower height and sleeker body designs. Audi Q7 has the largest footprint by virtue of its much larger cabin. Height wise, Infinity QX60 stands the tallest among the lot.
Some notable exterior features of MDX 2021 are:
LED Headlights with Auto On/Off Function.
LED taillights..
20″ redesigned alloy wheels.
Powered Moonroof.
Remote Linked Power Operated Tail Gate.
Rain-Sensing windshield wipers.
LED puddle lights and fog lights.
Auto-Dimming, Heated and Powered ORVMs with Integrated LED Turn Signals.
Roof Rails.
Safety updates for 2021 Acura MDX
The driver should feel safe in the MDX 2021 because Acura has installed numerous high-tech safety features including lane-keeping assist, adaptive cruise control, surrounding view camera and much more. After the crash tests were performed on MDX 2021, agencies like IIHS and NHTSA have thoroughly acclaimed its safety features. The light weight chassis installed in the SUV makes it resilient to the crashes and relatively less damage is done.
Various safety features in the MDX 2021 are:
Driver, Passenger, Front and Rear Head, Front Side Airbags.
4-Wheel ABS.
4-Wheel Disc Brakes.
Brake Assist.
Electronic Stability Control.
Daytime Running Lights.
Child Safety Locks.
Integrated Turn Signal Mirrors.
Traction Control.
Lane Departure Warning.
Lane Keeping Assist.
The release date of 2021 Acura MDX
Acura is expected to release the much awaited 2021 Acura MDX early this year. Acura would most probably bring the Next-Gen 2021 Acura MDX as a 2022 model as compared to earlier reports of 2021 MY.
Is 2021 Acura MDX worth buying?
2021 Acura MDX is a premium luxury SUV with a lot to offer to its potential buyers. Sporty interior, sleek exterior and powerful engine, MDX 2021 has it all. MDX is budget purchase and compared to its rivals in the market, it offers much more in a much lesser price. It's actually the price tag on MDX that makes it so much desirable.
2021 Acura MDX can also be leased from your nearest dealership for a minimum amount of $409 with $2,999 to be paid upfront. This value is for the base model but if you want to opt in for SH-AWD trim, the payment per month would be $419.