Pizza Hut's 'Pie Tops' sneakers let you order pizza directly from your shoes
If there is one thing a psychic could not predict, it's probably the shoes that can order pizza. Yep, you read it right. Pizza Hut has introduced their limited edition "Pie Tops" which are high top sneakers whose primary job is to aid the delivery person to bring pizza to the wearer's location.
The Pie Tops works using a phone app as well as geolocation technology installed in the shoes. The wearer simply has to bend down to press the button that is located at the tongue of the shoe and the Bluetooth in the shoes send a signal to the phone app, which orders a pizza of any style that the wearer has saved. However, it's not that simple. Instead of automatically ordering the pizza at a push of a button, the app sends a notification and the user has to unlock their phone and confirm the order.
Image: Pizza Hut
Of course, it is important to mention any billing information and payment details upon placing the first order through the app so that it does not automatically order a large supreme pizza. Therefore, as cool as it sounds, it is not that different from any pizza ordering application or even any conventional means that are used.
While this invention is not revolutionizing the pizza industry, it is certainly a good way of advertising the Pizza Hut franchise. These hand-made sneakers –made by the Shoe Surgeon aka Dominic Chamberone-were part of last year's ad campaign and only 64 pairs of these shoes were made in order to represent the 64 teams that participated in the Basketball tournament: March Madness.
While the 64 pair of shoes were distributed to the influencers and social media members, Pizza Hut promised to bring out a few pairs for their die-hard fans.
Recommended for you (article continues below)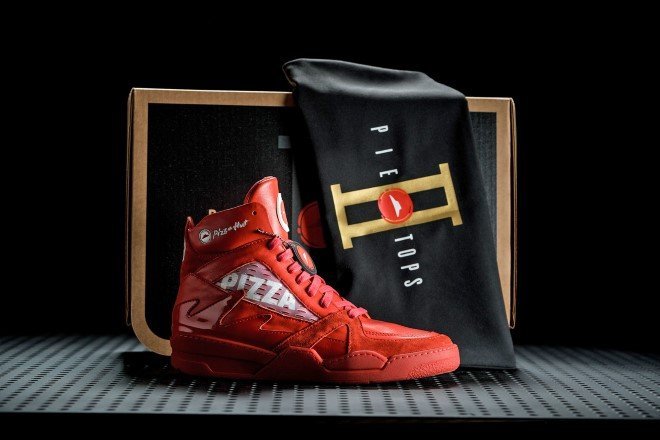 Image: Pizza Hut
This year too, as an official pizza partner for March Madness, Pizza Hut came back with an upgraded 'Pie Tops II' version of their former pizza ordering sneakers and for the first time these sneakers can actually be purchased through  HBX. With 'Pie Tops II', you can not only order a pizza (by pressing a button on the front) but can also pause your TV by pressing a button on the left of the shoe once your pizza has arrived at the front door. "Pie Tops II" will be available in two different colors; red and wheat. There will be multiple size options available, including for women and teenagers.
As of now, it is difficult to decipher whether these pairs of shoes actually provide any convenience when it comes to ordering pizza. However, one thing is certain; they are probably great for running!
Image: Pizza Hut
h/t: Engadget