Dubai is testing futuristic autonomous mobility pods in a world's first!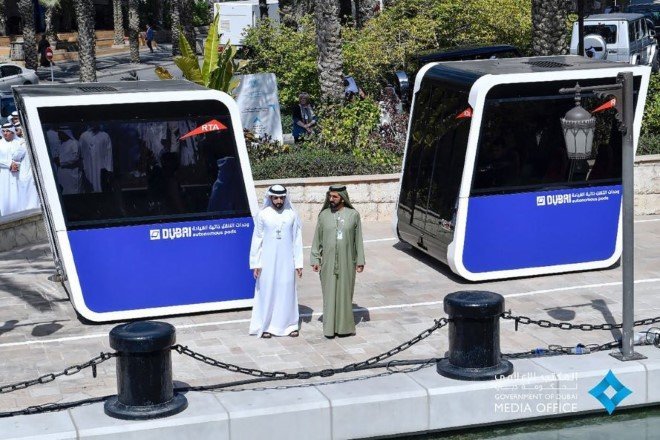 It is about time we familiarize ourselves with the concept of 'self-driving' because that is the future! Take Dubai for instance, it is all set to transform its conventional mode of transportation as the city's Roads and Transport Authority (RTA), in collaboration with Next Future Transportation, tested out the autonomous pod for the first time ever.
The all new autonomous mobility pods – first of their kind in the world – were tested at the World Government Summit and proved to be a success. They have the capacity to transport ten passengers at a speed of 12 miles per hour. As for the battery life, the autonomous pods can run for three hours on a single charge and take six hours to fully recharge. The pod itself is nine-feet-long, seven-feet-wide and nine-feet-tall!
Image: Dubai Media Office Twitter
As per the design, the pods can be used to transport people from short to medium length distances, and more interestingly, two pods can be combined under twenty seconds as well as separated in less than five seconds. RTA's Director General Mattar Al Tayer said that the prototypes being tested in Dubai are made in Italy. He further talked about the scope of these pods in Dubai saying, "It echoes the Dubai Autonomous Transport Strategy aimed at converting 25 percent of mobility journeys in Dubai to autonomous transportation by 2030.
Recommended for you (article continues below)
Image: Dubai Media Office Twitter
The success of initial tests of these units will bring about a breakthrough in transportation systems that offer innovative mobility solutions and ease snarls in the city." Moreover, if you visit Next Future Transportation's website, you'll see how it projects people making using of an app to use the pods.
Dubai's ready to take on this giant leap forward, are you?
Source: Gulf News (via: Inhabitat)