'FlexEnable' is a a 4.7 inch flexible screen that you can wrap around your wrist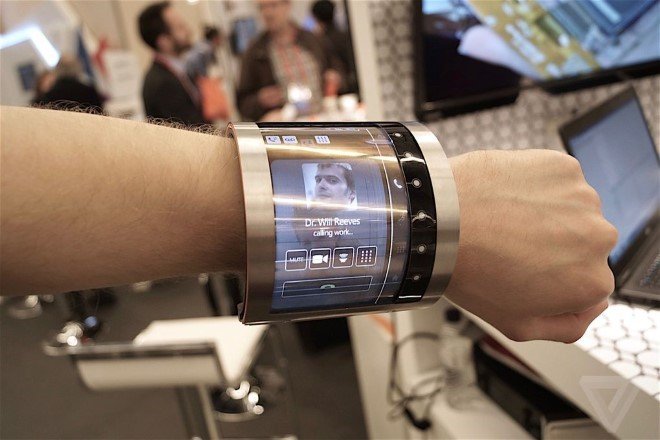 Flexible screens are now becoming a norm in the technological industry. From LGs 18-inch OLED screen to smartphones like the ReFlex, flexibility is becoming the key component and buying factor in the industry.
Recently, a British company unveiled a 4.7-inch screen that is wearable around the wrist. However, it is not responsive to touch. Rather, there are buttons located on either sides of the screen for navigation and selection. What's interesting about the FlexEnable is that the screen is made up of plastic-or as they call it: OLCD- rather than the regular OLED display that most companies adopt. Its plasticity is what allows it to bend at such sharp angles. Furthermore, the screen is a mere 0.3 mm, which is impressively slim.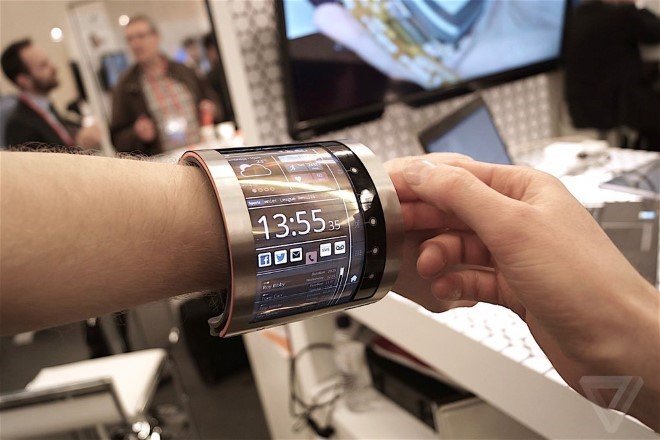 Image Courtesy: The Verge
The FlexEnable comes with a variety of features. Apart from using it as a regular smartphone or a reader, this contraption comes with fingerprint recognition. This feature enables the user to wrap the FlexEnable around any doorknob for extra security. Furthermore, the cameras installed in the device can recognize the person holding it and switch to the preferred setting according to the user.
Image Courtesy: The Verge
Recommended for you (article continues below)
Unlike Samsung that uses expensive OLED, the company hopes to create a cheaper version that is affordable to the masses. Hence, the use of inexpensive OLCD (Organic Liquid Crystal Display) panels is preferred.
However, the lack of aesthetics and bulkiness are a huge downside for the FlexEnable. Furthermore, it will not be available in the market anytime soon for the masses to buy.
Image Courtesy: The Verge
One cannot truly know the usefulness of this device until we attain hands on experience on this device. Until then we can only imagine!
Source: FlexEnable, The Verge